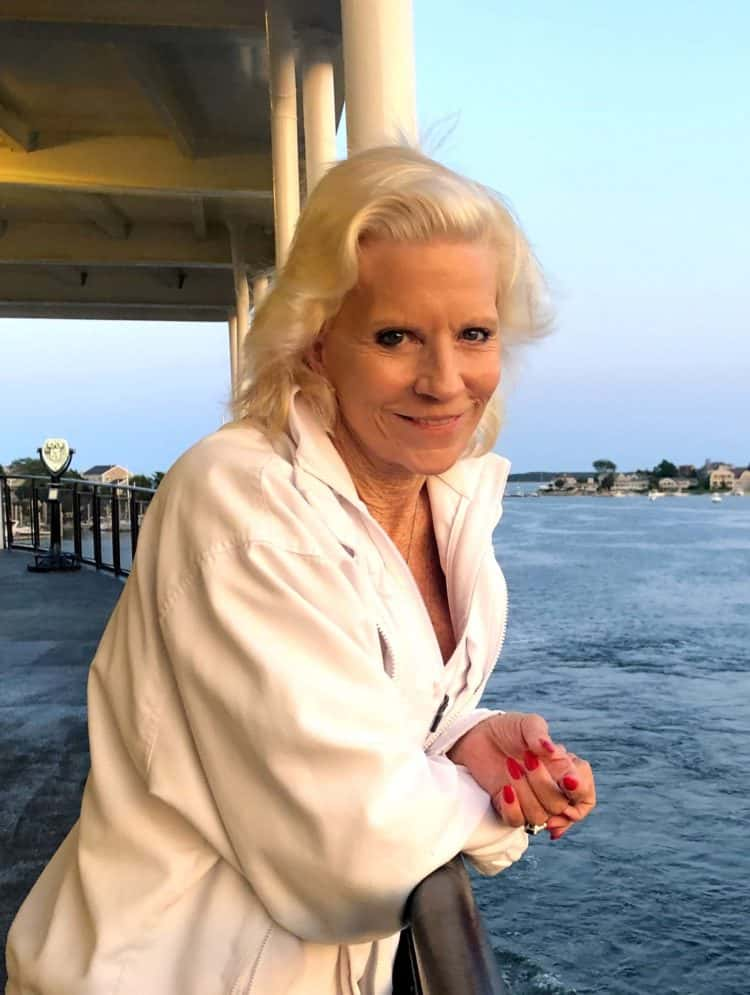 By Anne W. Semmes
If there was a time to look for inspiration, for ways we can make a difference, Sabrina Pray Forsythe comes to mind. "I'm a person you can set your clocks by," she introduces, quoting her late, great father, Malcolm S. Pray, Jr. Forsythe is being celebrated once again for her generosity of time, expertise in fundraising, and community commitment, this time with the 2020 "Chief's Award" bestowed by the Cos Cob Fire Police Patrol (CCFPP), at a benefit date TBD.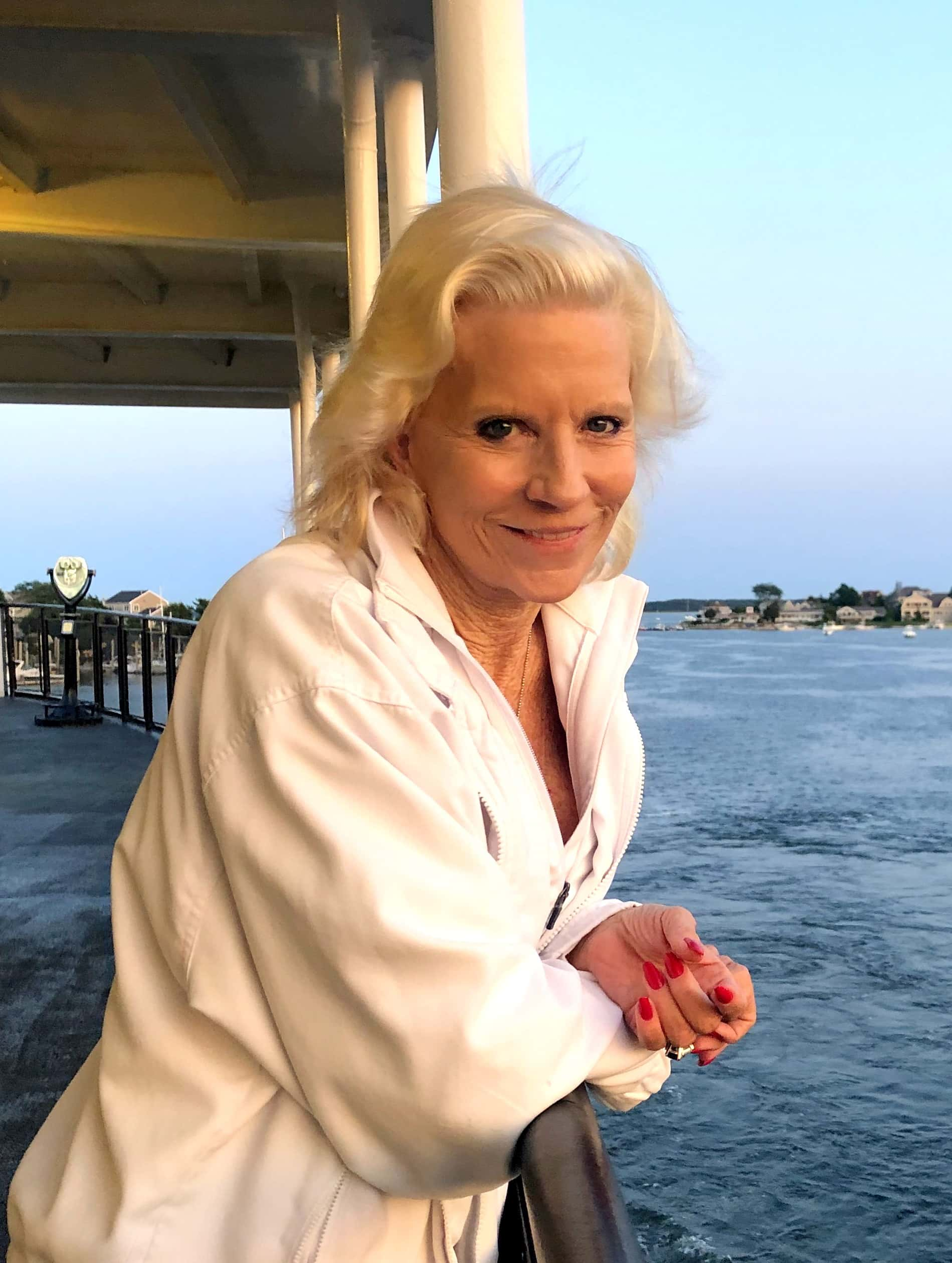 "I basically wear all of the hats there are in terms of fundraising," Forsythe shares, "whether it's the person who puts the auction together, whether it's the person who decorates the event, whether it's the person that writes the letters to the people asking if they could please donate to this wonderful organization. There isn't one job in terms of putting on a fundraising event that I haven't taken on. But the one they keep asking of me is to chair which I love so I can oversee everything."
"Sabrina has always been a champion of philanthropy," says Stephanie Dunn Ashley, president of the CCFPP Board of Directors. "Her dedication to First Responders, Veterans, and the Town of Greenwich is unparalleled."
CCFPP is seven years short of their centenary as a nonprofit gracing our town with some 25 volunteers on call as firefighters and first responders for salvage rescue, traffic accidents, downed trees or wires, flooded dwellings – both businesses and private homes – averaging a thousand incidents a year.
"These volunteers are putting their lives on the line," says Forsythe. "This organization is a perfect example of what I believe in."
It's the community comradery that speaks to her, such as the Red & White Ball benefit the Red Cross hosts at Westchester Airport. "We end up in that hanger at NetJets and we get a bunch of high school boys from Brunswick, and we all roll out the tables and set up every chair and tie the cushions on. It's very much hands-on and such a great way to know so much about people. It's kind of like being in the trenches with them. I've made really excellent friends this way."
Forsythe can trace her inspiration of nearly four decades of supporting Greenwich organizations from her childhood in her dad's backyard. "The Bruce Museum was holding its first galas there." She would later chair a Bruce Museum gala. In her twenties she was volunteering for the American Red Cross when her younger brother, Malcolm III was killed, age 17, in an automobile accident. With that tragedy came awareness and appreciation of "a fire department, police department, and ambulance services, and what they can do for us."
Daughter Sabrina was thus enlisted by her dad, a Boy Scout devotee, as fundraiser for
the Malcolm S. Pray III Memorial Building – a meeting hall at the Boy Scouts' Seton Reservation on Riversville Road. "I spent a lot of time and energy," Forsythe recalls, "asking a lot of my friends for money and they were happy to give it to build this building to honor my brother."
With her father's Pray car dealership fame, she remembers him inviting her to his office on West Putnam Avenue and sharing with her a list of the different organizations in town that he donated to, "every year, and why." And so, "It just became part of my thinking," she says, "It's what we do in this town."
Today, Forsythe's list is long of organizations she has and does put her shoulder to: YWCA, Greenwich Historical Society, Greenwich Adult Day Care Center, United Way, Convent of the Sacred Heart, Greenwich Riding & Trails Association, Greenwich Green & Clean, the Russell Maguire Foundation, and the D.A.R., and the list goes on.
"I have met the most extraordinary women who are much like I am," she notes, "believing that we have been given a tremendous gift and an honor to live in Greenwich. We really love to give back to those in our community who are not as fortunate as we are." She points to the YWCA's Domestic Abuse Program that she supports. "It's quite extraordinary in a town like this," she notes, "there could be a need for such a service, but it's a reality."
This Spring Forsythe will be running once again the YWCA's gala. "I love that there's three fabulous co-chairs," she says, "who are so positive and have so much energy and are good at being frugal about the whole thing. Obviously, the more money you put into it the less money you have to give to the organization that you're making money for."
Being savvy about that bottom line shows that Pray business sense that no doubt has aided Forsythe in her fundraising efforts. She appears to have imparted that savvy to her two daughters. Oldest daughter Courtney Fischer runs her grandfather's Pray Body Shop as president. Her daughter Nicole Fischer has a high-level job at Gucci in New York. "I am extremely proud of my daughters," says Forsythe, "and I consider them as my greatest accomplishment."
Note that her giving back spirit is also present in her offspring. Courtney manages to give volunteer time to the Red Cross and be a member of the Junior League of Greenwich. In their growing up years Forsythe says, "I used to take them to all the meetings I was going to because I refused to have a nanny. So, whether they were in one of those little carriers or playing off outside, they were very much aware of what I did."
So must her father have been aware of Forsythe's fundraising acumen – he died in 2013. "Oh, my God he was so proud of me," she says, but, "He was mad at me because he put everything that he did into notebooks, chronologically," where Forsythe just has "stacks of magazines and information on past events. I ran the Convent of the Sacred Heart gala three or four times?"
"I don't go for the accolades," she says. "I do it because I have that energy. It's like a drive I have in me. I don't even know how to explain it. It's like what I'm supposed to do.
It's the other people in this town that make it all so worthwhile, and just knowing that you're doing right by people that really need help."
Add to Forsythe's agenda her role with her father's Malcolm Pray Achievement Center in nearby Bedford, an extraordinary collection of world classic vintage cars. "My father brought me up," says Forsythe, "knowing that one day he would leave his collection for perpetuity and wanted me to make sure that happened.
"We currently have a director at the facility who explains my father's vision: 'There's nothing in life you can't achieve if you put your mind to it.'" With its educational efforts and eye-popping classic cars inspiring young people, she's proud to see, she says, her father's vision is being achieved. Plus, there's a bonus for Forsythe. "One of my favorite activities is spending the evening with the mechanic watching him work on the cars. It's my secret life. Better than TV any night."