March 6, 2020
Greenwich Observes Rare Disease Day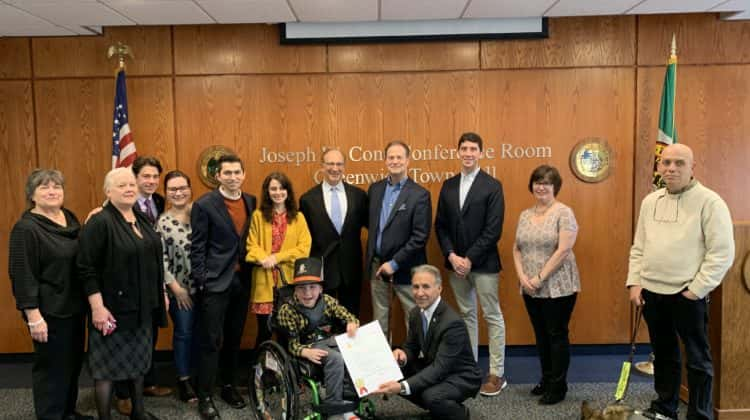 By Richard Kaufman
Greenwich started a new tradition last week when the town observed Rare Disease Day for the first time during a moving event at Town Hall.
First Selectman Fred Camillo proclaimed Feb. 26 as Rare Disease Awareness Day in Town, after having participated in similar ceremonies in Hartford for 11 years as a State Representative. The hope is that residents will raise awareness of rare diseases and encourage others to recognize the impact on the community, and honor those whose lives have been changed.
"Rare diseases rarely get talked about. Worldwide there are over 300 million people that are affected by one or more of the 6,000 identified rare diseases. Here in Connecticut alone, there's 300,000 [people affected] that we know of. We're only a state of 3.5 million."
A disease is considered rare when it affects less than 200,000 people. Camillo said the day hit especially close to home for him, as Feb. 26 is the 52nd anniversary of his sister Donna Marie's passing from Leukemia.
Several speakers from various rare disease foundations spoke about their experience, and how their organizations have helped people.
"There are over 6,000 known rare diseases, most of them you can't pronounce, most of them unknown or underfunded with no cure or therapies for the most part," said John Hopper, president of the Fibrolamellar Cancer Foundation, which is based in Greenwich. Fibrolamellar cancer affects one in five million people.
"How do Greenwich foundations make an impact on rare diseases? Because we can. Even though all of us may be smaller than some of the large national organizations, we can make a difference," he said. "You have to be the mouse that roared."
Mark Carles, a beneficiary of the FCF, spoke about his journey with cancer. At the age of 24, Carles woke up in pain, and his world was turned upside down.
"I went to the doctor thinking I had abs of steel. It turned out those abs of steel was a seven pound tumor," he said.
"Rare diseases don't get the funding the big name cancers get," Carles added. "It's so important that the FCF exists. I wouldn't be here without them."
Glenville resident Allyson Buck spoke about her son, Sam, who was diagnosed in 2013 with Vanishing White Matter Disease, an extremely rare brain disease that causes white matter to disappear. It's untreatable, incurable and terminal. Sam is one of about 250 cases worldwide.
In 2016, Allyson and her husband, Nick, started The VWM Families Foundation to raise money for research.
"With so few cases, there's no money. The numbers don't really work on 250 cases worldwide," Alysson said. "The community here has been absolutely amazing, especially the Glenville community. They've pitched in, and the Glenville School [where Sam goes] has pitched in. We're really lucky to live in a community that supports us."
Phil Marella, one of the founding trustees of Dana's Angels Research Trust (DART) based in Greenwich spoke about his daughter, Dana, who was diagnosed at age eight with Niemann-Pick Type C Disease. It affects one in 120,000, and is characterized by an inability of the body to transport cholesterol and other fatty substances inside of cells.
Since 2002, DART, an all volunteer organization, has raised almost $5 million for research. "This community really is incredible," Marella said.
Greenwich resident Gregg Pauletti shared his story about his four year old daughter who was diagnosed with cancer almost two years ago. Fortunately, Pauletti said, she's doing well today. Pauletti and his wife created the Tiny Dancer Project for pediatric cancer research. The foundation's three pillars are hope, community and research.
"With all rare diseases, you have to start somewhere and then you can make revolutionary breakthroughs that hopefully will impact everyone," Pauletti added.
Beth Breden was in attendance to speak on behalf of the Pacs1 Foundation, which was founded by Greenwich resident Taruna Reddy.
Several years ago, Breden's daughter became the third female in the United States to be diagnosed with Pacs1 Syndrome, and the 14th case overall worldwide. Those with Pacs1 have intellectual disabilities, developmental delays, epilepsy, autism, and significant language impairments.
Breden said it was overwhelming when her daughter received the diagnosis, but the Pacs1 Foundation has been vital.
"The Pacs 1 Foundation gives me hope that I haven't had in years; hope that something will work, something will help," Breden said.
Greenwich resident Alan Gunzburg, who has been a part of the First Selectman's Advisory Committee for People with Disabilities, talked about his diagnosis of retinitis pigmentosa in his 30's. After wanting to learn more about it, he found out he had Adult Refsum disease, a rare genetic disease in which the body can't process a long chain fatty acid called phytanic acid, which is found in milk products, red meat and other foods.
Gunzburg is on the Board of Directors of the Global DARE Foundation to help find a cure for Adult Refsum disease.
While he couldn't make it to the event at Town Hall, U.S. Senator Richard Blumenthal issued a statement.
"Now more than ever we need to focus on rare disease research. Out of nearly 7,000 rare diseases, far too few have nays out of treatment," Blumenthal's statement read in part. "This shocking lack of treatments must change, and I will continue fighting for strong federal funding at the national institute of health to usher in new cures, treatments and therapies."
Lesley Bennett, State Ambassador for the Rare Action Network, which is part of the National Organization Rare Disorders, was in attendance as well.
For more information, visit: fibrofoundation.org, vwmff.org, DanasAngels.org, pacs1foundation.org, defeatadultrefsumeverywhere.org.
For more information on rare diseases, go to rarediseases.org.
Tags:
greenwich
,
Greenwich Town Hall
,
Rare Disease Day