February 21, 2020
Obituary: Paul Horch, Jr.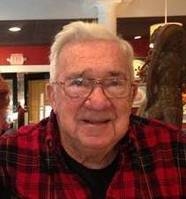 Paul (Jimmy) A. Horch Jr., 88, of Floral City, FL and Greenwich, CT, passed away January 19, 2020 at his residence in Floral City. He was born in Mt. Vernon, NY on December 9, 1931 to the late Paul A. Horch and Violet (Favre) Horch. Paul served our country honorably in the U.S. Army during the Korean War.
He was a mechanic for the town of Greenwich for many years and retired in 1992. He moved to Floral City, FL with his late wife, Edith (Morrell) in 1999. Jimmy was a member of the Cost Guard in both CT and FL. He loved boats, Square Dancing, camping, tinkering with anything mechanical and spending time with his family and friends.
He is survived by his children, Christian Horch (Lisa), Tiffany Chila (Steven), Heather Chila (Patrick) and Hillary Clifford (Steven), sister in law Pamela Merritt (Robert), 8 grandchildren and many nieces and nephews.
Paul was predeceased by his wife Edith in 2017, and his first born son Christopher in 1959.
Relatives and friends are welcome at a graveside memorial service to be held at Putnam Cemetery, 35 Parsonage Road, Greenwich, CT on Saturday, February 22, 2020 at 11:00 a.m.
Tags:
greenwich
,
Paul Horch Jr