February 10, 2020
Obituary: Marilyn Kaplan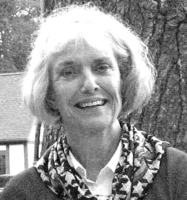 Marilyn Reck Kaplan died peacefully at her home in Greenwich on February 6, 2020 after a twenty-year battle with cancer.
Born on November 17, 1930 in Jamestown, North Dakota to John and Veronica Reck, Marilyn grew up on a farm at Spiritwood Lake and attended a one-room schoolhouse for all eight grades. In the bitter cold winters, she went to school by horse and sleigh. In good weather, she either walked or rode bareback on her pony, Black Beauty. After attending St. John's Academy, she earned a scholarship to College of St. Catherine in St. Paul, Minnesota where she graduated with Library Science and English Literature degrees. She took a job as a librarian with Special Services and was assigned to the Maison Forte Library in Orleans, France where she met her husband Stuart Ronald Kaplan who was serving with the U.S. Army. During the following year, they toured France on weekends in a used Hillman-Minx convertible. They were married at St. Agnes Church in Manhattan on November 16, 1957. Prior to raising a family, Marilyn worked as a Reference Librarian for First National Bank of New York on Wall Street.
Marilyn was an avid bridge player and a voracious reader. She was an active member of the Woman's Club of Greenwich and a passionate New York sports fan. She was fiercely independent and traveled extensively. She had a wicked sense of humor and an incredible love of family. She is lovingly remembered by her husband, five children and four daughters-in-law, Dr. Mark Kaplan (Linda) of Wellesley, MA, Peter (Julie) of Arlington, VA, Michael (Marixa) of Greenwich, CT, Christopher (Michele) of Sutton, MA, and Jennifer of Stamford, CT; and eight grandchildren, Billy, Andy, Abigail, Ashley, Matthew, Ella, Callie and Benjamin. She reunites with her brothers John and Michael and sisters Evelyn and Gardyce in heaven.
The family wishes to acknowledge the dedicated care provided by Dr. Dickerman Hollister and his staff at the Bendheim Cancer Center.
Friends are welcome to join the family on Monday, February 10 from 5 to 8 p.m., at Leo P. Gallagher & Son Funeral Home, 31 Arch Street, Greenwich, CT. The family suggests contributions to the Bendheim Cancer Center in Greenwich in lieu of flowers.
Tags:
greenwich
,
Marilyn Kaplan