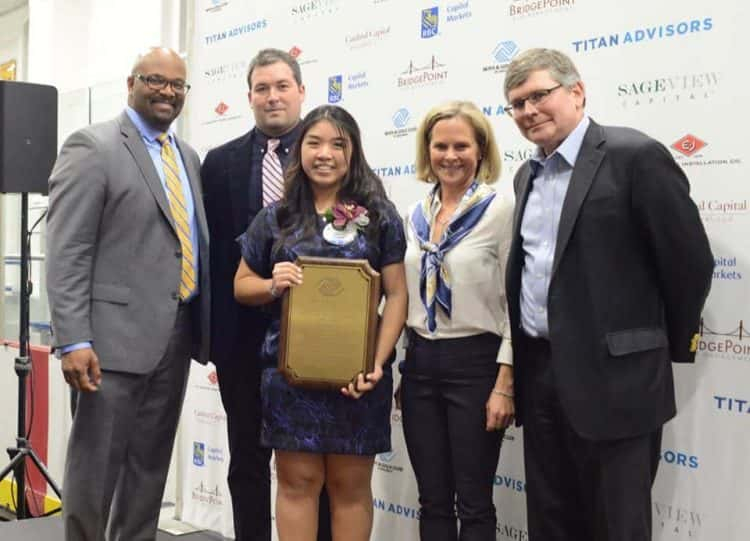 By Richard Kaufman
For a more expanded version of this story, be sure to check out this week's print edition of the Greenwich Sentinel
There were smiles all around last Thursday night at the Boys & Girls Club of Greenwich, as the community gathered to celebrate the club and announce the winner of the Youth of the Year Award.
Lara Javier, a junior from Greenwich High School, was named as the 52nd recipient of the award. She spoke to an audience of about 300 about how the club has impacted her.
"I wouldn't be me without the club. I wouldn't be the girl who is responsible, independent and strives to be a better version of myself that my club and family can be proud of," Javier said. "The kindness and programs offered led me towards greatness and helped me develop valuable characteristics. I am forever grateful that I was raised at BGCG. Coming from the background of an immigrant family, finding a place to rely on financially, with guaranteed security, countless opportunities, and educational support help will forever be unforgettable, not just for me, but for my family as well."
Javier first joined the club when she was six. She explained how the staff and the club as a whole allowed her to come out of her shell, which has given her friends for life.
"I am confident that I have made many lifelong friends here, particularly on the swim team," she said. "Swimming has opened many doors for me, I have gained confidence, and I have learned sportsmanship and the value of true friendship."
Along with participating on the Barracuda Swim Team, Javier has been involved with the Keystone Club, having just recently been elected as vice president of the club.
"My goals moving forward include getting ready for my SATs, looking for colleges, maintaining my grades, as well as continuing my career here as a part of the swim team," Javier said. "None of this would have ever been possible if my mom hadn't signed that club membership form, and made me a club kid at the Boys and Girls Club of Greenwich."
The other Youth of the Year finalists were GHS students Alessandra DeVito (senior), Max Pisacreta (senior), and Keely Rodriguez (junior), along with Andres Rincon, a senior from Westhill High School.
Torren Murphy, a former club kid, spoke about how the club opened up doors for him to pursue his passion for cooking, and allowed him to pursue a career as a firefighter in nearby Stamford.
"The club was my gateway to do anything in this world that I wanted to do," he said.
Murphy revealed that he will sponsor one project each for the Keystone and Torch Club every year for the rest of his life.
Susan Bevan was the Champion of Youth honoree. She  joined the BGCG Board in 1999 and served as Vice President. She also co-chaired the capital campaign (2001-2005) that rebuilt the pool and clubhouse and added a hockey rink. She is a philanthropist and non-profit volunteer, as well as a former corporate attorney. Bevan has served on many boards, both locally near her home in Greenwich, as well as internationally.
U.S. Sen. Richard Blumenthal was also in attendance, as he spoke briefly about the BGCG. The event was chaired by Rob and Liz Kirkpatrick & Dan and Kristen Rosenbaum. Tony Mann & Hal Shaw served as honorary co-chairs.
PHOTOS