February 5, 2020
Pet Pantry Warehouse Launches 75th Anniversary Fundraiser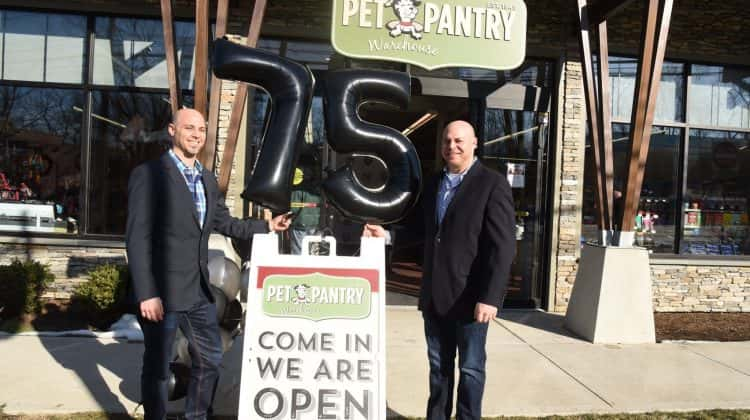 On Friday, January 24, Pet Pantry Warehouse Executive Vice President, Adam Jacobson announced the launch of a 75K fundraising goal with community leaders at the PPW Riverside location (1191 East Putnam Ave.) 
This event marks the beginning of a year-long celebration, honoring 75 years as a family-owned and community-based business. The community outreach theme for this milestone anniversary is inspired by Pet Pantry founders, World War II Army Air Forces servicemen, Mort Davis, and Jac Cohen.
"Today is a great day for Pet Pantry, as well as our local business community as a whole," said Jacobson. He continued, "We are living proof that independent retail is not a thing of the past. We serve as a testament to the fact that a company's success is not measured by the money it makes but by the difference it makes in the well-being of its customers and community it serves." Jacobson went on to explain that his team carefully evaluates each and every product sold at the seven retail locations and provides pet food and products that support animal health and well-being. He also pointed out that PPW staff, over 50 people, are thoroughly trained and tested in animal nutrition to meet each customer's "animal companions' needs" for optimal health. "In our world pets should thrive and not just survive," he stated.  
The event was attended by Ari Jacobson, Vice President; Joshua Roth, Vice President; Cynthia Fox, Creative Director, and Emery Kriegsman, General Manager; in addition to non-profit partners which included Adopt-a-Dog; Guiding Eyes for the Blind; Greenwich Police Department K-9 Unit and Pets for Vets® – Roar-Ridgefield, CT.  First Selectman of Greenwich, Fred Camillo and the Greenwich Chamber of Commerce President, Marcia O'kane followed Jacobson's remarks with their short congratulatory speeches. 
"We advocate, connect, promote and educate business just like Pet Pantry and we celebrate and applaud your 75 years in business. We know that you've been a success because you're an intricate part of our local community. We wish you continued success and congratulations," said O'kane
"I am a customer here," said Camillo. He continued, There aren't many businesses that you can say have been around for 75 years, that goes back to the second Roosevelt administration and that give back. We are proud of our businesses here in Greenwich and we want to promote them. On a personal note, we're working on making Greenwich a more pet-friendly place and we will be reaching out to you to partner moving forward. Thanks again for all that you do for our community and pets and I wish you success for the next 75 years." 
New in-store events and community outreach activities will be announced throughout the year, a monthly social media giveaway was launched earlier this month and a commemorative logo featuring the original Pet Pantry retro-inspired pooch was used to update all social media pages. 
In addition to annual fundraising events that Pet Pantry Warehouse hosts with community partners in Connecticut, the team at Pet Pantry will deliver an enhanced in-store fundraising program with point of sale vouchers and the Clean Paws for a Cause initiative. The first fundraiser, titled Paws for Love, starts on February 1st at all PPW locations. This event runs throughout the month in support of Adopt-a-Dog. Following this campaign, May will be dedicated to Fairfield and Westchester County Police Department K-9 Units, September is dedicated to Guiding Eyes for the Blind and November will be dedicated to Pets for Vets® – Roar-Ridgefield, CT.
For more information, please visit ppwpet.com
Tags:
75th Anniversary
,
fundraiser
,
greenwich
,
Pet Pantry Warehouse
,
PPW
,
riverside