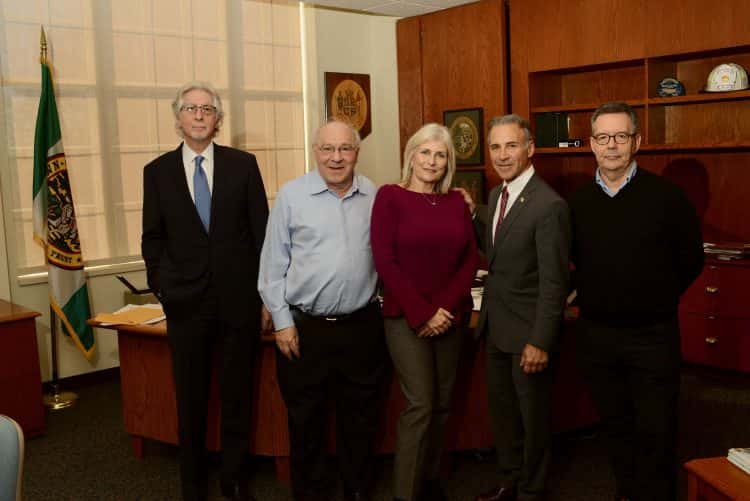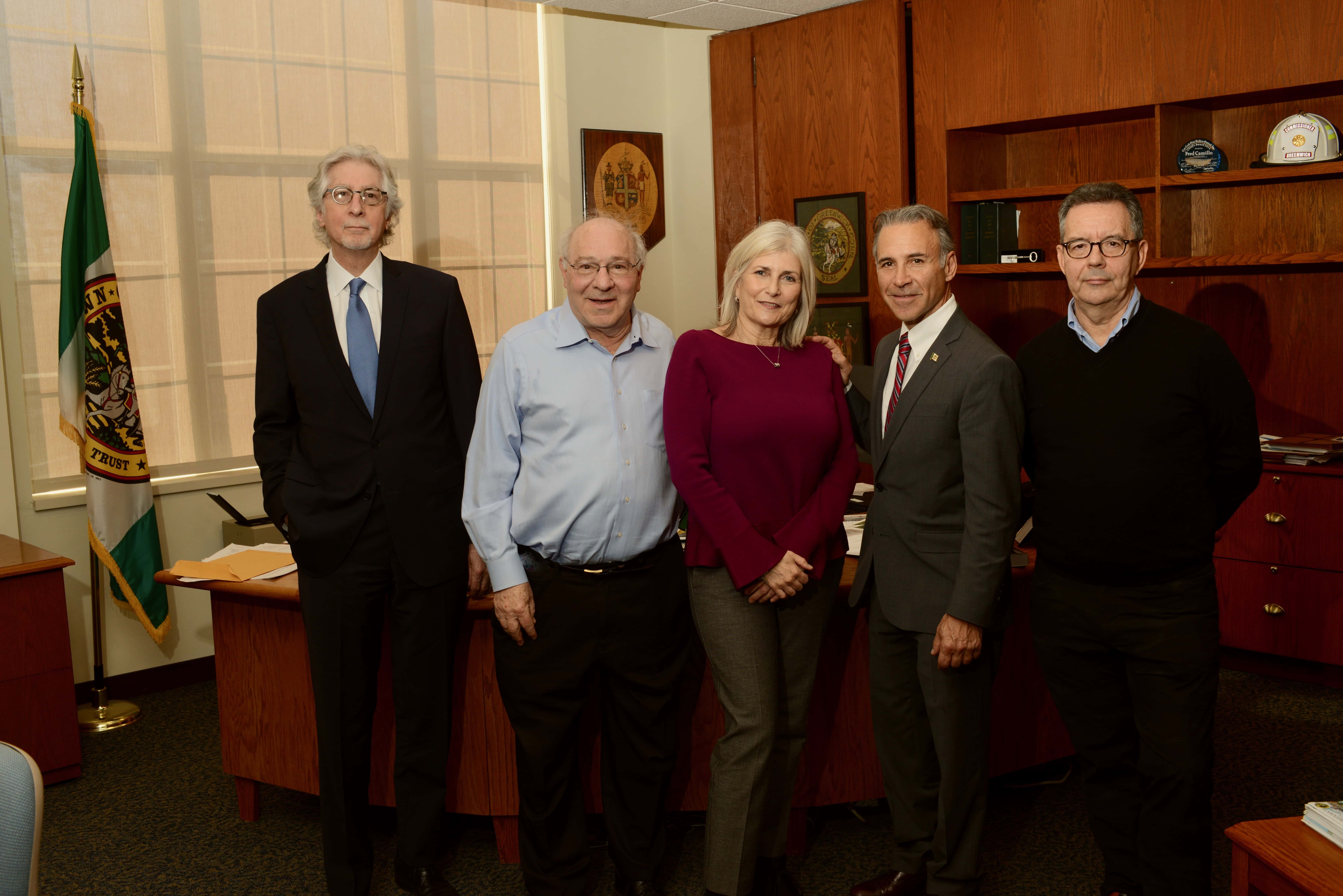 By Richard Kaufman
Sentinel Reporter
Seven years ago, then State Rep. Fred Camillo, and Greenwich resident, Joe Kaliko, started Needs Clearing House, a 501(c)(3) organization which helped charities help the needy around the state of Connecticut.
Now, two years after NCH closed, First Selectman Camillo and Kaliko are reuniting for a public/private partnership to address food insecurity in Greenwich.
On Wednesday afternoon inside Camillo's office at Town Hall, Camillo, Kaliko, Commissioner of Greenwich's Department of Human Services, Dr. Alan Barry, along with Neighbor to Neighbor (NTN) Executive Director, Margaret Tjimos Goldberg, and NTN Operations Manager, Duncan Lawson, met to announce the Greenwich SNAPback Public/Private Partnership.
With potential federal level cutbacks for the Supplemental Nutrition Assistance Program (SNAP) on the horizon, the partnership aims to help qualifying schoolchildren and their families with gaining access to food.
"Whether the SNAP cutbacks happen or not, we all know there are people here who go hungry. We're a town of 63,000 people, we're very diverse, but there are people who struggle," Camillo said. 
The partnership is a natural fit. Barry said the town had been looking for ways to better approach the issue of food insecurity, and one idea was to tackle the problem in area schools. 
At the beginning of 2019, Neighbor to Neighbor, a nonprofit organization in Greenwich which creates access to food, clothing and basic living essentials to those in need, piloted a program where they distributed food for six months to qualified families at New Lebanon School.
"It definitely worked. But what we really need is we need the social workers at the ground level to identify families for us so we can help them," Lawson added.
Kaliko, who helps to address food insecurity around the state with the help of private donations, turned to NTN and Camillo. They all met to find out what kind of help Greenwich needed.
"Dr. Barry and Margaret, they had an idea to possibly go into the school system here, where the principals and some of the elementary schools have knowledge of families that are food challenged, and that maybe we could develop a program to target them," Kaliko said.
Kaliko offered NTN a $5,000 check over a five month period from February through June, which they matched. 
The plan is to rollout a program beginning with four schools — New Lebanon School, Hamilton Ave. School, Western Middle School, and Julian Curtiss School — in mid-February that will distribute fresh produce, eggs and other sourced food items to qualified families.
The hope is that eventually the partnership can grow and help more schools, and more residents who need food.
Camillo said he will soon reach out to principals at the schools to discuss the initiative.
"This is a perfect example of how we can all sit at the table, and each one of us has that touch and treasure to say, 'Gee, I can reach out to that contact for you, I can open up that communication.' This is how things get done," said Goldberg. "Everyone is involved in this. Whatever side of the equation you're on, we're all a part of this endeavor. It sort of qualifies a sense of community identity across the spectrum."
Over the course of his campaign, Camillo stressed the importance of Public/Private Partnerships, or P3. This is one of the first his administration is introducing.
"I have to give First Selectman Camillo the credit for these kinds of partnerships. I think there's a tremendous amount of opportunity and advantage that we have in developing these kinds of arrangements," Barry said. "It seemed to be a natural partnership."
Camillo added that even through Greenwich has a reputation for being a thriving town, it still has its issues. He hopes this latest partnership can address an issue that some people might be embarrassed to talk about.
"We tell people all of the time that Greenwich is very diverse, and it's great because of its diversity. But not everybody is doing well, like in every town. But what makes Greenwich special is we rise to the occasion to make sure we help each other, and Joe is a perfect example of that, and so is the work that Dr. Barry does, the work that NTN does," Camillo remarked. "Anything that the Office of the First Selectman can do to help you all, just know you have a friend and partner here. No one should ever go without food, and no one should be embarrassed."
For more information on how to donate, or how to be a beneficiary, go to ntngreenwich.org, or call Neighbor to Neighbor at 203-622-9208