January 23, 2020
Arora is the Newest Greenwich State Rep.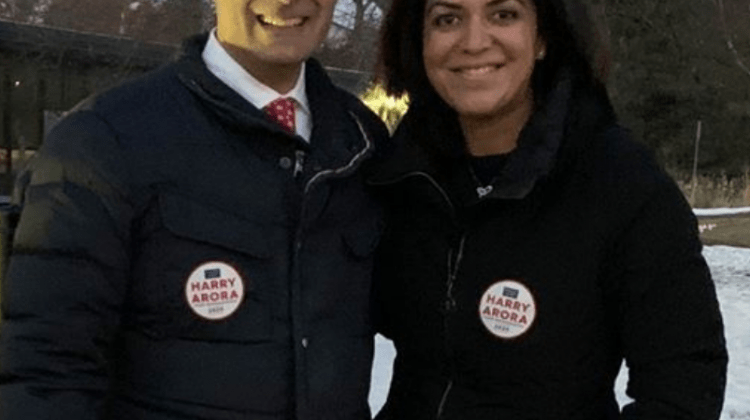 By Paul Siverfarb
Republican Harry Arora will be spending a lot more time in Hartford this year. During Tuesday's special election in Greenwich to find a new state representative of the 151st House District seat, it was Arora that came out on top defeating Democrat Cheryl Trepp Moss.
In the race to replace longtime state representative in the 151st House District Fred Camillo, Arora picked up almost 55% of the votes, totaling 2,345. Moss finished with 1,965 votes.
"I would like to thank all the residents of the district who trusted me with this very important responsibility," Arora said. "I feel a strong responsibility to so many people and promise that I will do my job with complete sincerity and to the best of my ability. That's the most important thing for me to communicate."
Arora said that while he picked up 55% of the vote during Tuesday's special election, he represents everyone.
"I just don't have a responsibility to the people that voted for me," Arora said. "I have a responsibility to everybody in the district and their interests in Hartford. I feel the weight of that responsibility and I feel that I have to make sure I do everything right and deliver for them as well."
Arora, originally from India, came to the United States for his graduate work, graduating from both the University of Texas and Harvard University.
According to his biography, Arora is a macro-investor who invests in commodities, currencies and equities. He analyzes the macro environment, supply demand of commodities and the geopolitical environment to identify broad investment themes and opportunities.
"This feeling is tremendous," Arora said. "It's the feeling of how powerful our country and our system is and how vibrant our town is. It doesn't matter if you grew up here or moved here. The residents of this town want people who are committed, people who have merit, and people with ideas that resonate. That embrace that I felt was tremendous."
Arora will take over the seat that has been occupied by Fred Camillo for the past 11 years. Camillo gave up his seat when he was voted in as Greenwich's First Selectman. Camillo has gone on the record to endorse Arora and the newest occupant of the 151st District seat couldn't be more grateful.
"Fred has not only endorsed me but has also served as a mentor in many ways," Arora said. "He has been in politics much longer than I have and that's why his endorsement meant so much. Fred, like so many people in this community, has helped me in this campaign and helped shape the political dialogue that we are having. I am quite excited that this is not about me. It's about the community. I'm just leading the charge, but it's not my charge. The reason we won is because it's very clear that people here want a change of policy. We now have to get to work."
As Arora said during his campaign, the most important item once he gets settled in at the State Capitol is to launch a growth plan for Connecticut, a set of policies that will turn the tide and begin attracting students and businesses into the Nutmeg State.
"The growth plan is going to have various elements to it, including attracting investments," Arora said. "But now we have to work on the details and that's what the priority is going to be."
Arora said that he's going to try and implement pieces of the growth plan now, acknowledging that as a republican in the minority it will be difficult.
"I do think that it will be tough," Arora said. "It will be hard to try and sell this to people who do not believe in growth."
He went on to say that, "We have to put forward a comprehensive growth plan …so that instead of being a place where people are fleeing and finding it hard to live and to work, we are the attractive destination. We want Connecticut to be a place where it's great to raise your family, to build your business, and to succeed."