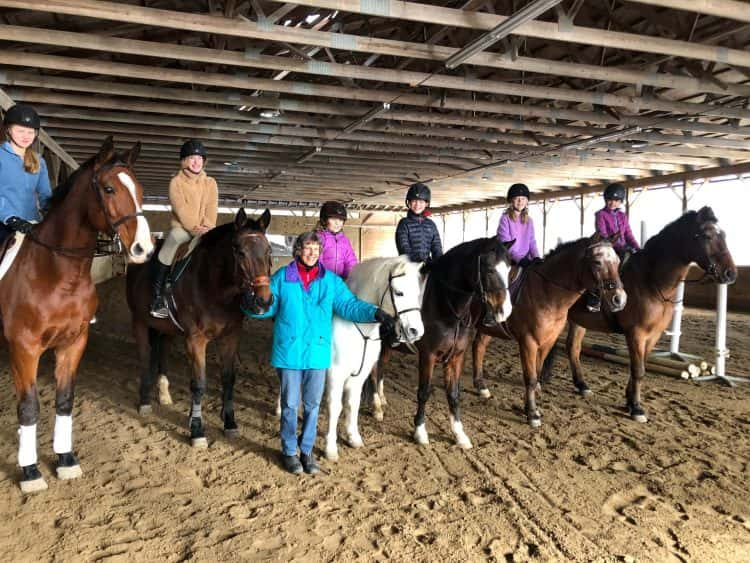 By Anne W. Semmes
So, where in this town can a child bond with horses, learn to ride, share in their care, whether pony or horse, become a part of a community, and have the joy of riding into nature. One place only, Kelsey Farm, back country, on Lake Avenue. With its now 70-year legacy, there's heartening news. Manager Elise "Easy" Kelsey is newly full owner of Kelsey Farm. "The Kelsey Farm tradition continues!" tells a jubilant Easy, as second generation owner. The story goes back to 1989 when Easy, as one of three siblings, was called upon by her parents, Elise "Sis" Kelsey and husband C.W. Kelsey, to take over managing the Farm, after her mother had managed it for 40 successful years. Two years later, in 1991, Easy became co-owner of the Farm with her mother giving the Farm to Easy, her twin sister, Sterett, and brother Trey. With her siblings otherwise engaged – her sister a noted sculptor and brother in the Greenwich Hardware business, Easy has been carrying on the fine traditions of her mother Sis Kelsey now for 30 years.
For sure, during those years the question arose between siblings whether to sell the Farm. Easy has now jumped over that hurdle. "I bought it!" she proclaims. "It's really important that I keep this as a horse farm. It's a tribute to my mom and dad to keep it going."
"It's the only commercial horse farm left in Greenwich," she notes. And yes, Round Hill Stables is gone, and so has Quaker Ridge Stables. Easy's first priority? "My first job is to make a deeded trail through Kelsey Farm to always be accessible to riders." Thus, Easy works closely with the Greenwich Riding and Trail Association (GRTA), the Greenwich Land Trust, Greenwich Audubon, and The Nature Conservancy to preserve those riding trials and open space in Greenwich.
Wonderful, that in this day of Internet fixation, young aspiring horseback riders have the opportunity to bond with one of those 18 ponies and horses at Kelsey Farm. Listening in as Easy shares her story is granddaughter Bix, at age eight at home on a horse. "Kelsey Farm was established as a place for kids to take care of their horses and learn to ride. I teach and my trainees teach, and everyone takes a part in horse care. We all haul buckets, muck out stalls, train, and ride." The morning of my visit Easy had already fed her horses, mucked out stalls, and, "I drove the tractor," she adds.
There's nothing grand on the inside of Easy's home, but it's full of warmth and history, with its field stone fireplace, beamed ceiling, and wide chestnut-plank floor. "This house is where the help lived," she tells of those years when her parents fixed it up. "They bought a cabin and used its beams and floor boards. Dad built the chimney and created the fireplace – and we gathered the rocks from the fields."
But outside there's the full complement of a horse farm – an outdoor ring framed by woodlands, and an indoor ring in "The Barn." "We give riding lessons six days a week, private and group lessons." She adds, "Students who lease or own horses can ride three times a week, with three-hour open rides offered on weekend days."
Young riders can gravitate into the U.S. Pony Club or the Horse Shows. Add to the mix – every spring and fall Pegasus Therapeutic Riding, offering therapy for riders with special needs. But surely siting astride a pony or horse you've come to know and love and care for is therapy for children of all abilities.
Easy tells of that first bonding with ponies with twin sister Sterett's (before their younger brother's arrival) soon after her parents bought the farm property from the larger Wilshire Farm. (See also Sis Kelsey's 2004 oral history of "Horseback Riding in Greenwich" at Greenwich Library.). "My mother brought two ponies from Playland – Peter Pan and Tiny Tim, she boarded for free over the winter and she started giving horseback riding lessons.
"It was a rural life. After we fed the horses, it was an hour bus ride for us to Julian Curtiss School. We rode and played with our ponies. Mom wanted us to have the responsibility and knowledge of taking care of horses. There was grooming and teaching. My parent's goal was to keep us from hanging out on Greenwich Avenue!"
Easy has shared before how her young riders gain in confidence and self-esteem from their being able to "competently handle an animal 10 times their size." And, she's related how, "Taking ownership of successes and failures whether in a lesson, in the show ring, or on the trails provides fundamental life skills of resilience and good sportsmanship." Easy is proof positive that she practices what she teaches.