November 25, 2019
Antiquarius Returns With Bold New Look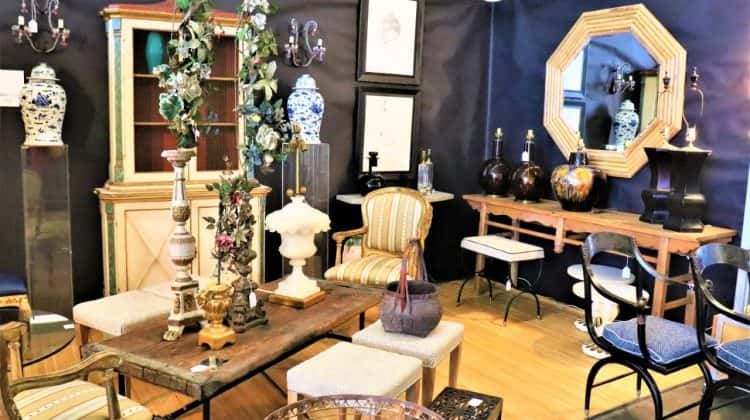 By Richard Kaufman
With the holidays quickly approaching, it's once again time for Antiquarius, a premier holiday event which attracts not only Greenwich residents, but those from across the region.
This year, the event has a bold new look, with the unifying theme of "Animal Instincts" which will be brought to life by Bronson van Wyck, a world-renowned event planner, who will serve as the honorary design chair on Opening Night, Dec. 6, at the Eastern Greenwich Civic Center. The Winter Antiques Show takes place from Dec. 7-8 at the EGCC, and the annual Holiday House Tour returns on Dec. 11.
The multi-faceted event serves as the primary fundraiser for the Greenwich Historical Society and its programs, since the GHS gets no funding from the town.
GHS Executive Director, Debra Mecky, highlighted the importance of Antiquarius to the historical society.
"It's about really providing essential support so we can continue to serve our essential functions," Mecky said. "We're a great resource for teachers to be able to give students experiences that really deepen their understanding of their history. Our archives and library are really growing and we're in the midst of a serious effort to really expand the amount of materials that are online that people can tap into. We have some important things that we're hoping to do for the community."
Opening Night for Antiquarius will take place on Dec. 6 from 6-9 p.m., at the EGCC.
Guests will have the chance to tour and shop the Greenwich Winter Antiques Show before it opens to the public (open to public Dec. 7, 10 a.m., to 6 p.m., and Dec. 8, 11 a.m., to 5 p.m.), and meet over 40 nationally recognized exhibitors featuring fine art, marine art, estate jewelry, American and continental furniture, prints, luxury handbags and more from the 18th century to the mid-20th century.
Greenwich designers Charlotte Barnes and Pamela Frisoli of Trovare Home, and Patrick Mele will also be showcased.
For those who purchase Patron tickets for Opening Night, they'll be treated to an intimate presentation from van Wyck beginning at 6 p.m., on holiday entertaining, and a personally signed copy of his book titled Born to Party: Forced to Work.
Van Wyck's style of entertaining has attracted a clientele featuring the likes of Presidents Clinton, Bush and Obama, as well as Hollywood figures, people from Wall Street and leading luxury brands.
"Bronson van Wyck is world renowned for his multi-sensory experience with events. He likes to engage his guests the minute you walk into the room, not just with your sight, but what you're smelling and hearing. He loves leaving guests wanting more and constantly surprised," said Victoria Bruzzese, Senior Special Events Manager for the GHS. "We're excited to see what he does with the civic center."
The Holiday House Tour, which has become a tradition in Greenwich for over 30 years, will take place on Dec. 11 from 10 a.m., to 4 p.m. This year's tour features five homes.
"They're not necessarily all historic, but they all have an interesting point of view," said Catherine Tompkins, co-chair of the GHS Board of Trustees. "The collection really gives everyone a nice overview of the different ways that people live in the community. We have some really spectacular homes in the community, and I would say this year's tour is no exception."
Bruzzese added that the house tour brings in people from all over the tristate area. "It gives them a peek into how people live and celebrate the holidays here in Greenwich," she said.
Overall, there are about 200 volunteers who work to put on Antiquarius, all to benefit the GHS, a treasure in the town of Greenwich.
"Greenwich has a unique and outstanding award winning, national recognized historical society. It's not common in every town and every community to have something on this scale, level and quality," Mecky said. "We have educational programs which are sought by people not only in Greenwich, but outside of our community and region because they don't have access to this kind of programming in their own communities."
For complete details and information on Antiquarius and how to purchase tickets, go to greenwichhistory.org/antiquarius.