November 15, 2019
Column: October Real Estate: Another Good, Average Month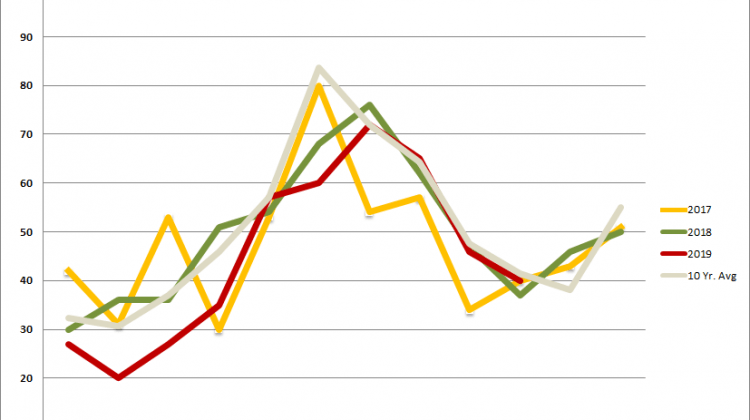 By Mark Pruner
October was our fourth month in a row that was "average". In fact, compared to last October's 37 sales, this October's 40 sales are up a little, and is only one sale below our ten-year average of 41 sales. From July to October, the four "good" months, we have sold 223 single family homes compared to 222 last year and a ten-year average of 225 sales. The problem with 2019 has been the first six months. In those first six months, we only sold 226 houses, down from 275 houses last year, which was down from our 10-year average of 287 houses.
For the entire year, we are down 9% in sales from 492 sales last year to 449 sales this year. And, the problem with problem with our last four average months is that so far, we are not making up much of that first half shortfall in sales. On the good news side, inventory is down by 22 houses to 587 single family homes and our 40 October sales were up from last October.
A couple of areas stand out; from $2 – 3 million our inventory is down 10% and sales for year are up 12%. The other stand-out area is from $5 – 6.5 million where inventory is down 32% and sale are up 40% from only 8 sales last year to 15 sales this year. The problem with this jump in high-end sales can be seen when you compare the sales price to the Tax Assessors 2015 assessment. Last year that ratio was 1.52 this year it is 1.41 or a drop of 8%. When you look at the $/s.f. that has slipped from $994/sf last year to $822/sf this year or a drop of 17%. The sales price to original list price is also down and the days on market is up.
For the glass half-empty and falling pundits this shows a weak and declining market. To me what is shows is a market adjustment that is likely near its bottom. Prices have dropped significantly in just one year, but sales are also up significantly. Three of the houses that sold between $6.5 and 10 million were on for an average of 1,265 days or 3.5 years. These three houses sold at 67% of their original list price, but they sold for a total of $24.2 million and an average price of $8 million. Buyers are swooping in to pick up these bargains as our 40% jump in sales show.
The Wall Street Journal has continued their Greenwich bashing with an article last week headlined, Television Host Regis Philbin Lists Greenwich Home for a Big Loss. The reporter sites her own previous article, Wealthy Greenwich Home Sellers Give In to Market Realities for support. This is her third Greenwich bashing article and is in contrast to her article on our neighbor Bedford, NY which is entitled, The Small Westchester Town That Draws Hollywood A-Listers and Billionaires. As I wrote above sales are down and prices are also down and I think that should be reported, but the reporting needs to be balanced to give an accurate picture of the market. The Wall Street Journal with her article President Trump's Onetime Greenwich Estate Relists for 29% Less gives a one-sided and slanted view as I wrote in my article about today's day-glo journalism.
One of the aspects of day-glo journalism is that other writers take a sensational article and further sensationalize it, often with a loss accuracy. We saw this with this week's National Review article, Who Wants to be a Millionaire in Greenwich. That article opens with the inaccurate statement that Regis Philbin just sold his house, rather than just listed it. The article goes on to say that "sellers routinely have been taking losses of $1 million or more" Given that our median sale price is $1,900,000 this isn't very likely. It is true of many high-end houses that were bought in the backcountry bubble from 2006 – 2010, but generally not true for folks who bought more traditional homes outside of north Greenwich.
So, what have prices done this year? Well our median price is up 4.6% from $1,816,250 last year to $1,900,000. This is due not to a shift in values in Greenwich, but is due to a slight increase in the percentage of sales above the median price. A better indicator of what prices are doing is the sales price per square foot where prices are down 2.5%. The sales price to assessment ratio is also down 5.3% Clearly, the change in federal tax deductibility of state and local taxes have affected Greenwich prices just as they have done in NYC and the northeast.
On the good news side, sales in backcountry are up 48% from last year with 49 sales so far this year. (I've had 3 of those sales.) Sales are up, because prices are a bargain. There a couple of listings that I think are just amazing. If you are looking there give me a call. Most folks are now adjusting their price expectations to the new reality and people are buying in backcountry. Our least expensive house went for $600,000; an 1829 house on 0.64 acres located on Riversville Road and our most expensive house went for $14.87 million, a 2011 house on 5.7 acres on John Street with 12,368 square feet.
Overall our market is better, but still challenging. Correct pricing is crucial and houses that need work are tough sells. This has become such an issue with today's picky buyers that I'm actually talking with builders and owners about renovating their properties before the sale and splitting the increase in value.
Our 87 contracts show a tilt to the higher end. This is a trend we are seeing post-recession with more sales above the median happening later in the year. As a result, our median sales price at year end may be even higher than it is now and thus even higher than last year.
Our market tends to change three times a year, so we are due for one more change before year-end. In Greenwich, average never lasts for long.
Mark Pruner is a real estate agent with Berkshire Hathaway and member of it's President Circle. He can be reached at 203-969-7900 or by email at mark@bhhsne.com
Tags:
greenwich
,
Real Estate