November 12, 2019
Greenwich Commemorates Veterans Day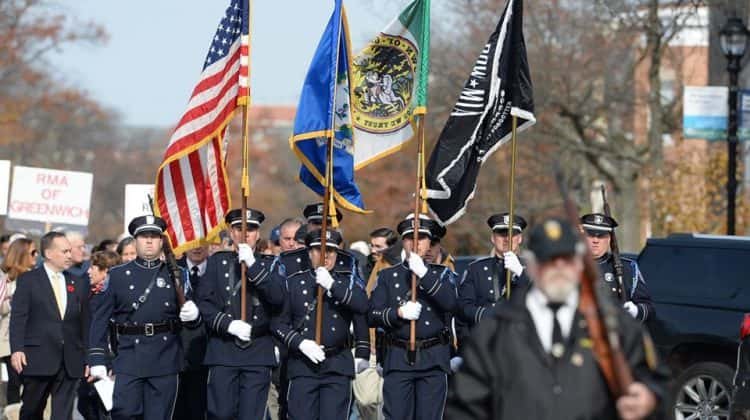 By Richard Kaufman
On Monday, on the 11th day, in the 11th month, during the 11th hour under sunshine and blue skies, the normally bustling Greenwich Avenue fell silent as the community came out to remember all those who have served, and continue to serve, in the United States armed forces. 
The annual Veterans Day Patriotic Walk began around 10:30 a.m., and proceeded down Greenwich Avenue to the World War I memorial.
The subsequent ceremony featured comments from American Legion Post 29 commander, Peter LeBeau, and outgoing First Selectman Peter Tesei. State representative Livvy Floren and American Legion member, Erf Porter, presented two local high school students with the American Legion Young Persons of the Year award. Col. Alan Clair, a decorated Air Force pilot and Vietnam veteran, gave the keynote address.
"There are far too many people in this country who do not know the true significance of this day," LeBeau said in his opening remarks. "Sadly, far too many people could care less. To them, this day is more about shopping than taking a moment to reflect on the tremendous sacrifices of the tens of millions of our nation's bravest who have fought, bled and died to preserve our way of life."
LeBeau went on to say that although there's been a reawakening of patriotism and an appreciation for veterans over the years, it's important to remind the younger generations about why Veterans Day is so important.
"It's therefore incumbent on all of us to ensure that our sons and daughters appreciate that freedom is not free. Whenever you meet a veteran, say 'thank you for your service.' That recognition alone means a great deal to me," LeBeau said.
Tesei, who attended his last Veterans Day ceremony as the chief elected official in town, thanked the Greenwich Veterans Council; American Legion Post 29; Byram Veterans Association; Cos Cob VFW Post 10112; Greenwich Department of Human Services; Ninth District Veterans Association; and the Vietnam Veterans of America.
"Each of these organizations represent legions of men and women who have provided their services to our country and sacrificed greatly," Tesei said. "We're here today to express our gratitude and to also express two words that are often under utilized in today's language, and that is 'thank you.' Thank you to the men and women who wear the uniform, who have worn the uniform and are serving today, because without you, we would not be here in the freest country in the world."
Tesei said "it's been a pleasure" to serve as First Selectman, but noted it "would not have been possible if not for the men and women who came before that ensured that our freedoms were protected and that democracy endured."
Tesei recalled the words of President Ronald Reagan.
"Freedom is never more than one generation away from extinction. We did not pass it to our children in the bloodstream. It must be fought for, protected and handed on to them for them to do the same," Tesei recited. "Or one day, we will spend our sunset years telling our children and our children's children what it was once like in the United States where men and women were free."
Col. Alan Clair, who served in the Air Force for 31 years, including two years in Vietnam, and received two Distinguished Flying Crosses among other commendations, was the keynote speaker.
Clair spoke about the history of Veterans Day, and his family's history of serving the nation. 
Clair's great uncle, Capt. Frederick T. Clair, enlisted in the U.S. Army prior to the country's entry into World War I. He was assigned to the British Armed Forces in Belgium, but was killed in the bombing of a hospital there. He was later brought back to his hometown in Philadelphia, Pa., in 1923, where he was laid to rest.
"One of my most cherished possessions is a large photograph of that ceremony in which there are people in military uniform, there are people in formal dress with top hats, friends, relatives, and hundreds of people in a town square," Clair said. "One day, I got to examine the photo with a magnifying glass. There at the end of the coffin was a man I recognized out of the hundreds of people there. It was my great, great grandfather, who was there witnessing the final ceremony for one of his grandchildren."
Two local students were honored for their academics, citizenship and community involvement by being named the American Legion Young Persons of the Year. Porter introduced Greenwich High School student, Tobin Hirsch, and Greenwich Academy student Izzy Kalb. Floren presented them with citations from the state.
"We were looking for 'impact players', and we have two exceptional impact players that we're honoring today," Porter said.
Hirsch and Kalb spoke about their experiences from Boys State and Girls State — leadership programs sponsored by the American Legion.
"I'd like to thank all the veterans here today and everywhere else, not just for the service they provided to our country and not just for the way they risked their lives defending us and our freedoms, but for the ways they continue to contribute in our communities here and across the nation," Hirsch said.
"Girls State could not exist without our veterans. All of its programs are run entirely by veterans, or their close family connections. Our veterans are the backbone of our community," Kalb added.
The day was packed with a slate of events to honor those who have served. Earlier in the day, ceremonies were held at various Greenwich schools, including assemblies and presentations at GHS. After the ceremony on Greenwich Avenue, all veterans were invited to the Redmen's Home Association for a luncheon and a performance from the USO Show Girls. 
Tags:
greenwich
,
Town of Greenwich
,
Veterans Day