November 8, 2019
Column: Civil Discourse, Big Concerns, Family and Community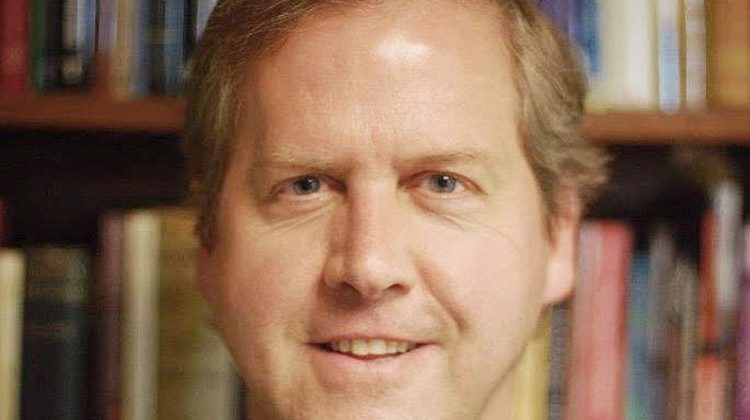 By Marek P. Zabriskie
Last Sunday, Christ Church Greenwich was privileged to host three-time Pulitzer-Prize winning author and New York Times columnist Tom Friedman, perhaps the world's most famous journalist.  He spoke to a packed sanctuary and overflow seating in our chapel.
Tom came to us courtesy of Bill and Anne Harrison, who know Tom as a personal friend.  His talk was a gift to the community. 
Christ Church has brought some amazing speakers to Greenwich over the years – President Jimmy Carter, Secretary of State James Baker, Archbishop Desmond Tutu, and Terry Wait, the Archbishop of Canterbury's envoy, who was kidnapped and held captive in Beirut for four years.
Over the past decade, our Courage and Faith Series has shared a wonderful array of poets, writers and theologians with the wider community.
Before Tom's talk, someone emailed me, "Why do we have to have politics in our church?"  Our focus, however, wasn't on politics, but rather on issues that impact all of us.  Before becoming a parish priest, I was a journalist.  For 90 minutes, I resumed my old role. 
A faith community should be a safe place for inquiry, where we can ask important questions about life and civilly discuss the major societal concerns.  If God created the universe, then all things have a religious dimension and the world cannot be neatly divided into things sacred and secular. 
Thus, our faith communities should not be afraid to explore economics, the environment, politics, cultural shifts, health, technology, artificial intelligence and social media, because these concerns impact all of us. 
Tom addressed US-China relations, the Middle East, protests in Hong Kong and the rise of nationalism, populism and fascism, but he focused most of all on the importance of family and community.  He explained that he was born in the northside of Minneapolis in 1953.  His grandparents had migrated from Russia.  Eventually, his entire Jewish community moved almost overnight to St. Louis Park, Minnesota.
The community was 20 percent Jewish and 80 percent Protestant Scandinavian.  "We called ourselves 'the frozen Chosen,'" notes Tom.  "If I wrote my autobiography, I would have to call it, 'Always looking for Minnesota,' because family and community shaped my life.  That's where I learned values, where I learned pluralism and where I learned respect for pluralism."
He elaborated, "I'm very old-fashioned.  I believe that 90 percent of everything is family and parenting.  It's education.  It's community.  Ninety percent of what you learn you learn at home. 
If it has a positive slope to it, it's going to express itself in everything around you.  The challenge today is that we're having an uncivil war.  We're uncivil to each other."
"We now spend 51 percent of our time is spent in cyberspace.  Today, we turn to cyberspace to find a date, find a spouse, find a house, get a mortgage, find a book, write a book, do your brokerage, buy your car, get your clothes, find your news and generate news.  We're all connected, but no one is in charge," he notes.
Tom explained that, "For the first time in history, humans stand at a juncture in space where one of us could kill all of us and where together we have all the tools that we need to feed, house and educate everyone on the planet.  We stand at a moral intersection where no one has ever stood before."
Tom is not on Facebook, Instagram or Twitter.  He notes, "In my book, Thank You for Being Late, I interviewed the Surgeon General Vic Murthy and I asked him, "What is the most common disease in America?  Is it cancer, diabetes or heart disease?'  He said, 'It's none of these.'  He said, 'It's isolation.'
"I said, 'Wait a minute.  We're living in the most connected age in history and you're telling me that depression-related isolation is the most common disease in the country,' and he said, 'Absolutely'."
Tom concluded by addressing the importance of community and why he is so optimistic.  He said, "The things that are important today are all the things that you cannot download – all the things that you have to upload the old-fashioned way, good parenting to a good child, good pastoring to a good flock, good teaching to a good student, good bureaucrat to a good citizen.  That's what really matters.  That's why I'm not on social media."
He noted, "In America, we're a checkerboard of communities that are rising from bottom up and communities that are collapsing from bottom down.  We have both.  I have really been on a journey to try to understand why one rises and one falls. 
"So, I have written a lot about Lancaster, Pennsylvania and how it went from a dying town to one of the ten coolest cities in America according to Forbes magazine.  These communities have lots of leaders without authority, who network together and create what I call a complex adaptive coalition.  I take this from nature, because that's what an ecosystem does to survive when it's confronted by climate change.  These communities form partnerships."
"In Lancaster, they meet every Friday morning for breakfast at Art Mann's house.  Art told me, 'You see that hook by the door.  The rule here is that you hang your politics on that hook, because in this room our politics is called 'what works.'"
Big issues can and should be addressed in a civil manner in our faith communities, because these issues impact all of us.  But Tom is right.  Ultimately, it is our family and our community that embrace us, build us and shape our world.
By the Rev. Marek P. Zabriskie, Rector of Christ Church Greenwich
Tom's talk can soon be found at: www.christchurchgreenwich.org
Tags:
greenwich