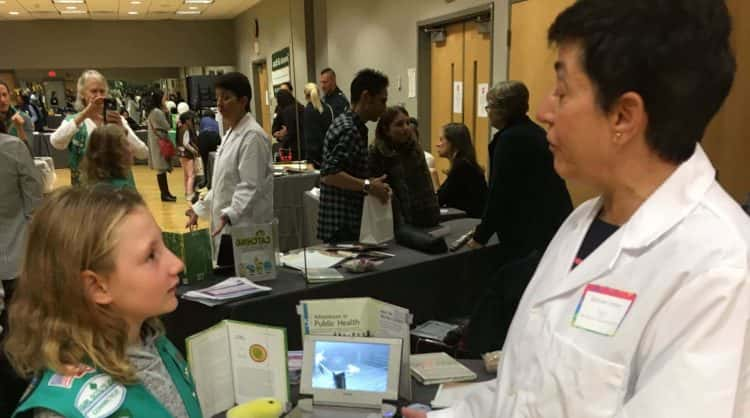 The Greenwich Girl Scouts held a free Career Fair for Girls on Sunday, October 20 at the Greenwich YWCA featuring more than 25 local women from various professions.The interactive event highlighted the responsibilities and required education for each job. Girls learned about careers in law, sampled delicious cookies made by a pastry chef, and observed a  microbiologist performing a science experiment. Women leaders in STEM (science, technology, engineering, and math) focused careers, such as a software engineer, explained to girls about the opportunities available in these fast growing industries. 
Donna Rosato, a professional journalist from Consumer Reports, gave the participants creative writing strategies they could use in their classes at school. Elizabeth Cleary from Lefebvre Financial Services used bills and coins to help girls visualize budgeting and smart money choices. Katie Fong, a Greenwich fashion designer, brought fabric swatches and paper dolls for girls to create their own dress designs.
Female representatives from the Greenwich Emergency Medical Services Explorer Post, along with Supervisor Eirinn Rickard, displayed a defibrillator as well as a fully stocked first aid kit for the girls to examine. The girls also enjoyed trying on turnout gear as Firefighter Lisa Wolak spoke about her experience in the Greenwich Fire Department. 
"All girls dream about what they want to be when they grow up but they often don't know what is out there or how to attain it. It is hard to imagine when you're young that writing essays in school can translate into a career in journalism, or learning geometry can be the path to becoming an architect. This Career Fair gives girls of all ages an opportunity to meet successful women who transformed their early interests into their life's goals. We hope that this event gives young ladies the knowledge and inspiration needed to follow their dreams." Annie Brown, Greenwich Girl Scouts.
Any girls interested in joining the Greenwich Girl Scouts can contact Volunteer Recruiter Annie Brown at 203-869-5344 or GreenwichGSRecruitment@gmail.com