October 31, 2019
Floren Leads Discussion on Youth Vaping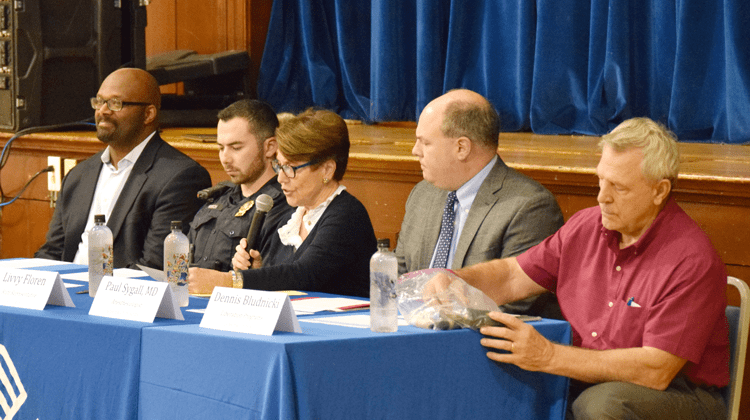 State Representative Livvy Floren (R-149) hosted a discussion on youth vaping on Monday, October 28 at the Boys and Girls Club of Greenwich. Joining the representative were the following panelists:
Bobby Walker, Boys & Girls Club CEO – Mr. Walker has spent over 20 years working with young people as an educator, administrator, and coach. He was chosen to lead the Boys and Girls Club of Greenwich as its chief executive officer in July of 2014.
Officer Fred Reisch, Greenwich High School Resource Officer – Before signing up with Greenwich Police Department in 2015, Officer Reisch was a therapist at the Institute of Professional Practice and the Boys and Girls Village working with children with behavioral disorders.
Dr. Paul Sygall, Anesthesiologist at Greenwich Hospital – Dr. Sygall is an anesthesiologist specializing in pain medicine and management at Greenwich Hospital. Dr. Sygall has used his medical background to give many lectures on the issue of vaping to students in Greenwich. He received his medical degree from the University of Miami Miller School of Medicine and has been in practice for more than 20 years.
Dennis Bludnicki, Liberation Programs Counselor at Greenwich High School – Mr. Bludnicki is a substance abuse specialist with the Liberation Programs. Liberation Programs is one of Fairfield Country's leading behavioral health organizations specializing in treatment for all types of substance use disorders. Mr. Bludnicki has worked out of Greenwich High School for six years.
Also present at the event were State Representatives Steve Meskers (D-150) and Fred Camillo (R-151), State Senator Alex Bergstein (D-36), Greenwich First Selectman Peter Tesei, Selectman John Toner, Board of Estimate and Taxation Chair Jill Oberlander, and Board of Education member Lauren Rabin.
"We had a great forum with an exception panel representing multiple fields and areas of expertise," Rep. Floren said. "This was a great opportunity for residents of Greenwich and Stamford to learn about vaping and e-cigarettes, the health effects on young people, the regulations governing these products, and ways to reach our children and guide them in the right direction. I thank our panelists who took time to educate us on this important issue. Together, we can make a difference in our community and end the youth vaping epidemic."
The panelists proposed various solutions including regulatory changes, one-on-one conversations with children about the dangers of vaping, more extracurricular activities and engagement opportunities for youth, and increased public awareness.
Vaping is the most prevalent form of nicotine used by middle and high school students, beginning as early as eighth grade. Although many have used vaping products as an alternative to cigarettes, they are just as addictive as traditional tobacco products and carry similar health risks including damage to the brain, heart, and lungs. While cigarettes, cigars, pipes and chewing tobacco are not as popular among younger generations, e-cigarettes appear to be the latest effort to bring this regrettable habit back into the mainstream.
Rep. Floren will continue to work with members of the legislature, the administration, local officials, organizations, educators, parents and students to address the issue of youth vaping and reverse the trend.
Tags:
discussion
,
greenwich
,
panel
,
Youth Vaping