October 31, 2019
Becoming Dogwood, A Local Gem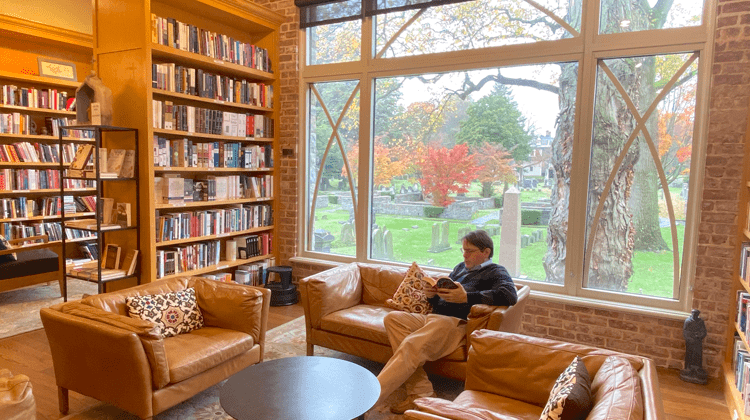 By Becky Ford
When you run a brick-and-mortar business you learn quickly what is and isn't working: the customers let you know with their words and wallets. In the years since I became the manager of Christ Church Bookstore in 2015, one thing kept becoming more and more clear: the store's name no longer described fully what it had become. "I thought you just sold Bibles!" someone would say as they ordered an iced mocha from our coffee bar. Or "I remember when this was mostly cards and cross necklaces!" another would remark as they perused our new book titles. It was true. The store had undergone tremendous change—the retirement of its founder and leading light Marijane Marks after 30 years, followed by an extensive expansion and renovation, and a total redefinition of what it means to be a store located within a church in a post-church store era. The constant surprise over the changes became like a chant. "No one believes me when I tell them this is one of the best stores in town!" It was time to change the name.
We chose Dogwood Books & Gifts, after the cross-shaped flowering tree that is planted all over our campus as a pretty, natural and symbolic way of saying Christ Church Bookstore. Dogwood symbolizes durability, resilience and rebirth—what better words to describe a store that has survived 35 years of change?
In 2013 a generous book-loving parishioner gave Christ Church the gift of an expanded bookstore. A coffee bar, a patio, a second floor with massive windows overlooking the churchyard and gorgeous wooden bookcases surrounding a seating area with deep leather couches and cozy oriental rugs was added to an already nice-sized ground floor space. The upstairs is a gem within the gem of historic Christ Church and must be seen to be believed. (Seriously—come see it!)
A task force soon followed, to figure out what exactly to do with our beautiful new space. At the time, I was running a popular book group at the church and had owned my own business for a decade in the city (an art gallery, but hey, storefront!) so naturally, I was asked to be chair (committee logic!) At the end of a brief and not-at-all-painful process, we had a plan: to be the welcome center for the church. It's hard to imagine anyone in town doesn't know, but every year Christ Church holds thousands of community events: AA, garden club shows, chorales, Soccer Allstars, Barclays, Suzuki, Neighbor to Neighbor and nursery school events, and gift shows (like Antiquarius and the Breast Cancer Alliance shows happening in the next two weeks—please come!). For a year we even hosted a whole other church! Christ Church is a cathedral-like presence in Greenwich serving the community in many, many different ways, spiritual and otherwise. Located where the main church, parish hall and nursery school converge, the store was in the perfect location on the campus to welcome visitors with a fresh cup of coffee, a comfortable place to sit and lots of interesting things to see. This was where we started—with welcome.
The next question that needed to be answered was: What exactly is a church store in this day and age? The heyday of both bookstores and church stores had been mortally wounded by the convenience and deep discounts of Amazon. What could we offer that would create both a sustainable business and the community feel that online commerce had removed from public life? It didn't take long to discover that church publishing is not very interesting these days. Just look in the Christianity and Religion section of Amazon's New Releases and you'll see the problem right away. There are tons of Amish Romance (a seemingly insatiable market), prosperity gospel and random small press offerings, but not much to build a mainline church store on. We immediately broadened the the "church book" category to include more general spiritual, meditation, self-help, classics, interfaith and evergreen titles.
And the Christian gift market is even thinner! The general need for stained glass reproductions, standing crosses, christening caps and first holy communion fames is situational at best. Church books and religious gifts are simply not enough of a thing on which to build a business in Greenwich anymore (to wit, the recent relocation of C. M. Almy.) It was then that I knew we had to widen the category of who we were and what we offered if we were going to not just survive but grow. The core spiritual value of Christianity is love, and love seemed like a delightfully generous modus operandi for books and gifts—we would be a store that offered books and gifts meant to be bought, given and received with love.
It has been four years for me now. Four Christmases, four Easters, thousands of books and gifts bought and sold, thousands of new friends coming through the door. It was not my idea to start a church store, nor was it my idea to expand it, but I was in the right place at the right time to help ask the question what does this store want to be? And what it's become has very much been defined by the people who walked through the door.
"The people" turned out to be a lot of women, mostly young mothers. Maybe it's our almond milk chai lattes, fun signs on the Post Road, youthful gifts and its proximity to a nursery school (or maybe just buying demographics which clock household spending at 80% women), but the store has become a hotbed of feminine energy. The more more we acted on our mission of welcome and M.O. of love the more creative we became. When describing my role in the evolution of the store to a friend recently I called myself its midwife, not mother. I have helped along the creative process, and loaned it much of my own as an artist, but what has been born came from the people who love it back.
Since Christmas and Easter are two seasons anchoring church life, they are also our retail focus. We created Stocking Stuffer and Easter Basket bars and placed the emphasis on small, unique and thoughtful gifts like fun books, family-centric games, and hostess gifts. It makes sense if you think about all of the dinner parties and kids' birthdays you get invited to in a town like Greenwich and the need to have a gift at hand. A scented candle, a sweet toy, a clever book, a holding cross for someone in the hospital—we've become that place. The one where you know you'll find just the right thing.
What else did people want? Books. Curated new and notable titles and gift books. We do carry the latest Barbara Brown Taylor, Anne Lamott and Pope Francis, but we also carry books like Where the Crawdads Sing and Bad Blood (last years fiction and non-fiction best sellers). And we've hosted several book parties for local authors like Deborah Goodrich Royce, Patricia Chadwick and Jill Woolworth. This has made for a wonderful cultural dialogue. Creative people, spiritual people and thinkers alike have become attracted to the store. We have become part of the swirl of seasons and daily life, offering comfort and friendship. We are more than a book and gift store, we are a community.
Dogwood means rebirth, durability and affection. It's a symbol for Christ, but it is also a symbol for the love of Christ—and that is what we have re-founded ourselves on, the church store reimagined through welcome and love.
Some stories that you are a part of are worth telling yourself. Thank you to the Greenwich Sentinel and Christ Church Greenwich for letting me tell the story of how Christ Church Bookstore became Dogwood Books & Gifts in my own words.
Tags:
christ church
,
Dogwood Books & Gifts
,
greenwich