October 25, 2019
Rabin, Litvack Debate in Backcountry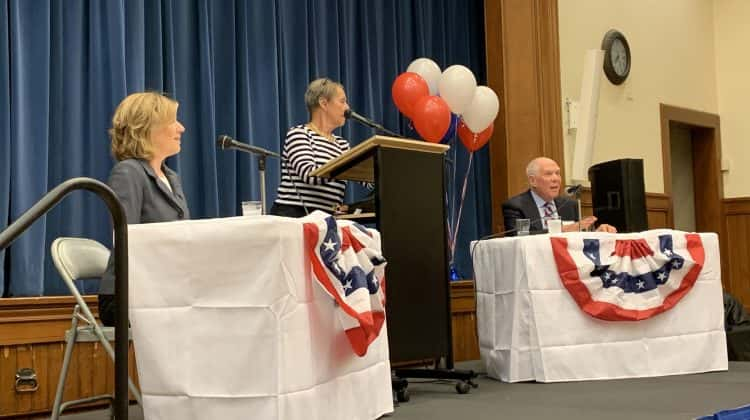 By Richard Kaufman
Before the First Selectman candidates took the stage on Tuesday night inside the Round Hill Community House in the Backcountry, Selectman candidates Lauren Rabin (R) and incumbent candidate Sandy Litvack (D), debated each other in front of a standing room only crowd of about 300 people.
The event was sponsored by the League of Women Voters of Greenwich, and moderated by Jara Burnett. The candidates took turns answering questions submitted by the Northeast Greenwich Association, Northwest Greenwich Association and the Round Hill Association. There were also a couple questions submitted by the audience.
From the Town website: the Board of Selectmen Office is the focal point of Greenwich town government. Along with its many responsibilities and duties, constituent contact with the public is an extremely important function of the day-to-day business of the Office. Every effort is made to keep open all lines of communications between government and the people it serves.
The candidates were asked what their role would be on the Board of Selectmen, and within the town, and how that role might be impacted if their party is in the minority? 
The BOS is a three-person board, made up of a First Selectman and two Selectmen. Currently, Republicans hold the majority with First Selectman Peter Tesei at the helm, and Selectman John Toner beside him along with Litvack.
Rabin and Litvack both said they'd work cooperatively and collaboratively with their colleagues, regardless of how the board is constituted. 
"I see my role as somebody working collaboratively with the other two members to move Greenwich forward in all the things we're trying to accomplish," Rabin said. "If I were in the minority, I would get my ideas across just as much as if I was in the majority. I would listen, because at the end of the day we're serving the community. We're not here to serve a specific party."
Rabin said her previous experience in the RTM, on the Board of Social Services and currently on the Board of Education would help her if elected. 
She said her role would involve embracing the new Superintendent to help her succeed and prevent turnover in that position. Rabin also said she'd help with nominating candidates for boards and commissions, and she'd bring her technological background into play and help Town Hall run more efficiently. Rabin recently left her job at Gartner, Inc., in Stamford to focus on running for Selectman.
Litvack pointed out his experience working on a Republican led BOS since 2017, and said his cooperation and collaboration wouldn't change if he was in the majority. 
"Particularly as a minority Selectman, and it's what I've done and suggest it's what anyone does, you make sure that the other side of every issue is aired. You make sure all the facts are before it. It's so easy as a majority, any majority, to slip into the comfort zone of just acting instead of asking the tough questions," Litvack added.
Litvack, an attorney and former Assistant Attorney General for the United States, and Vice Chair of the Board of Directors for Walt Disney, said his role would revolve around coming up with an economic plan for Greenwich.
"I want to bring economic development to Greenwich tor really move the town forward," he said.
Another question asked what the candidates would do to encourage and support local businesses, and how they would attract new businesses, especially to Greenwich Avenue where there are several chain stores.
Litvack reiterated the need for economic development. He said the BOS should reach out to business owners.
"The first thing I would do is make sure we talk to the existing merchants that are here," Litvack said. "We just assume that these people operating businesses here are here forever. They're not. They need to know from us what needs to be done, what help can we give."
Another idea, which Litvack said would attract business and foot traffic downtown, is to close Greenwich Avenue on warm, spring weekends and make it into a pedestrian mall. 
"Let's bring the restaurants out, let's put music there. Let's get people in the habit of going back downtown… That's how you attract people, that's how you attract business."
Rabin said she would use here background in marketing and apply those skills to help businesses in town. She said accessibility for people who want to start a business is a major issue that needs to be addressed.
"Most people have to hire a lawyer to navigate Town Hall in order to get through the process of establishing a business. There's got to be an easier way to get things done," she said.
A big deterrent and one of the causes for empty storefronts is high rent, Rabin noted. She said working with landlords could provide a solution.
"There has to be a sense that if these stores are vacant for a long enough time, that maybe there's going to be something we can do to work with commercial real estate to attract new businesses to the avenue," she said.
Rabin also mentioned her running mate, First Selectman candidate Fred Camillo, and his vision to connect Greenwich Avenue to the waterfront. "I think that would be a major revitalization in attracting businesses as well," Rabin remarked.
Rabin and Litvack were asked if they had any plans for Parks & Recreation assets.
Both agreed that fields are a major issue in Town, whether it's soil remediation or lack of open space.
"First and foremost what we have to do is to clean up the fields we currently have and make sure we're using things that are environmentally and physically safe for anyone who's using the fields," Rabin said, noting that remediation is somewhat out of Town control when working with state and federal agencies. "And to a degree possible, [we need to] acquire open space and put in additional fields."
Rabin also mentioned a desire to create more dog parks, with the help of public/private partnerships if possible, to get the community more active.
Litvack said the Town has "not faced up to the issue at all" over the years with regards to fields. He called open space "one of the most important things we have."
"We've got to make sure that it's usable. That requires facing the issues and dealing with the problems," he added. "When someone says, 'We're limited because of the state,' that I respectfully submit, is a copout. It's our responsibility. If the state isn't doing it, it's our responsibility to push the state."
In closing, Rabin said she's going to be a visible member of the BOS, and she wants people to understand that their voice will be heard.
"Greenwich is the last great municipality in our state. My friends are fleeing daily. I don't want to see that happen to our town. I know that together we will move forward, and we can make Greenwich even better and stronger," she said.
Litvack spoke about his running mate, First Selectman candidate Jill Oberlander, and the skills they bring to the table.
"I believe we know what Greenwich needs, and the one thing we bring, not to take away anything from our opponents, but what we bring is leadership, commitment and the fact that there are no sacred cows. We attack the problem day one," he said.
Tags:
backcountry
,
greenwich
,
Round Hill Community Church
,
Round Hill Community House
,
town hall