October 3, 2019
YWCA Kicks off Domestic Violence Awareness and Prevention Month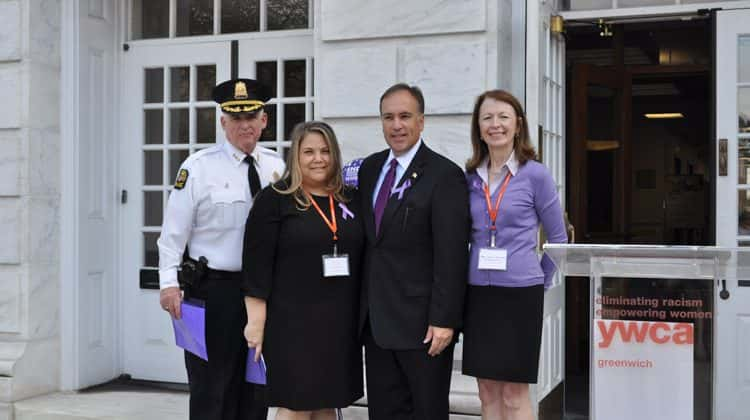 On what for most people was a perfect autumn day, First Selectman Peter Tesei, read a proclamation declaring October as Domestic Violence Awareness and Prevention Month. "Domestic violence is the most reported violent crime in the Town of Greenwich, and last year YWCA Greenwich Domestic Abuse Services responded to more than 3,700 calls to its hotline," said Tesei.
In attendance were members of the local and state legislature, Greenwich Police and Fire Departments and Greenwich Emergency Management Services. During the month of October members of these agencies will wear purple lapel pins and place purple ribbon magnets on official vehicles to show their support for victims of domestic abuse. 
"Domestic violence is a chronic public health and criminal problem in our community," said Mary Lee Kiernan, President and CEO, YWCA Greenwich. "It affects people of all races, genders, religions and income levels."  Nationally, one in three women and one in four men have experienced some form of physical violence by an intimate partner.  According to Greenwich Police Chief, Jim Heavey, in 2018 Greenwich police responded to 270 domestic violence calls and this year the number has already reached 191 domestic violence calls. 
However, abuse is not always physical. It can be psychological, verbal, digital, financial and even abuse of the legal system. Abusers use the legal system to continue to stalk, harass and coerce victims by essentially weaponizing the court system. 
Last summer, the case of Jennifer Dulos gripped the headlines and raised questions about the family court system.  "We don't know exactly what happened to Jennifer," said Meredith Gold, Director of YWCA Greenwich Domestic Abuse Services, "but through court documents we learned that she was afraid of her husband; afraid he would seek revenge for divorcing him and she was afraid he would hurt her or her children."
The Family Court system is complicated, but it is evident that reforms are needed urgently.  YWCA Greenwich is advocating with its partners around the state for much needed reforms.
Through the Civil Legal Clinic that YWCA Greenwich launched last year, they have provided free civil legal services to 44 victims of domestic violence being served by YWCA Greenwich. To add to that support, the organization launched Financial Literacy Coaching for victims that includes individual and group coaching sessions designed to help survivors create a sustainably recovery from abuse. 
YWCA Greenwich will hold events throughout the month to raise awareness about domestic violence in our community, including:
• October 6 – 8:30 am: Walk the Walk Against Domestic Violence a community-wide walk to raise awareness and funds for YWCA Greenwich Domestic Abuse Services and education. This family-friendly event that takes place at Bruce Park, Woods Road Picnic Area. Check-in will open at 8:30 am.  Members of the community are encouraged to form teams, come with friends and family, and even dogs are welcome.  There is still time to register, go to ywcagrn.org/walkthewalk.
• October 10 — 6:00 pm: Candlelight Vigil and Art Show Reception to honor Connecticut victims who lost their lives to domestic violence this past year. At the event, the community will hear from a  survivor of abuse, and YWCA Greenwich will present the Purple Ribbon Award to Patrick Mooney, a financial services professional, for his work in providing free  financial literacy counseling to YWCA Greenwich Domestic Abuse Services clients. Artwork created by Domestic Abuse Services clients and staff will also be on display in the Gertrude White Gallery for viewing after the event and through the end of the month.
• October 15 – 6:30 pm: DV Today: A Conversation with Professor Susan Sorenson of the University of Pennsylvania who is an expert in domestic violence.  She will join Meredith Gold, Director of Domestic Abuse Services for a conversation and Q&A about how domestic violence has evolved from a private family matter, to a public health concern, to a human rights issue and how it impacts the entire community.
• October 23 – 4:00 pm, University of Connecticut, Stamford, MPR (Room 108):  A talk by Meredith Gold, Director of YWCA Greenwich Domestic Abuse Services about intimate partner abuse and violence.  This will be a presentation on the foundations of family violence focusing on prevention efforts and interventions and services available for those who need help.
If you or someone you know is a victim of domestic abuse, YWCA Greenwich is on call 24/7 to help.  Their hotline number is 203-622-0003.  All calls are confidential and free of charge.
Tags:
Domestic Violence Awareness and Prevention Month
,
greenwich
,
Peter Tesei
,
proclamation
,
YWCA Greenwich