October 2, 2019
Historical Society Holds Opening Reception for New Exhibit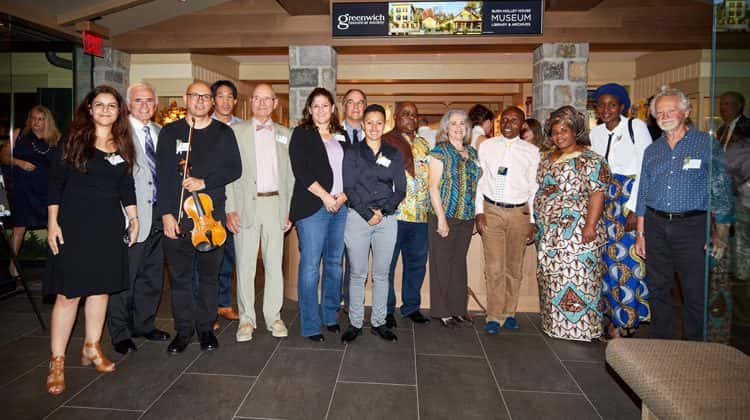 Immigrants and refugees throughout Fairfield County joined Greenwich Historical Society members to unveil "An American Story: Finding Home in Fairfield County." More than 150 attended the reception and celebration of the determination, resilience and courage of the human spirit.
Touching accounts of immigrants' often perilous journeys are featured on dramatic banners suspended from the museum gallery ceiling. A dynamic wall of historic and contemporary photos illustrates how many other individuals, including immigrants to Greenwich, have sought opportunity and added to the fabric of Fairfield County's communities.
"The outpouring of support from our members and the immigrants and refugees from Greenwich and throughout the County who have shared their stories in the exhibition is heartening," said Debra Mecky, executive director and CEO of the Historical Society. "We're confident the portraits will lead to an important dialogue on this timely topic and to greater understanding of people who risked everything for a better life in our County."
Organized initially by co-sponsors the Fairfield Museum and History Center and Connecticut Institute for Refugees and Immigrants (CIRI), the exhibition has been expanded by the Greenwich Historical Society. It is on display through January 6, 2020. Gallery hours are Wednesday through Sunday, noon – 4:00 pm. Guided gallery tours are available Wednesday and Saturdays at noon or by appointment.
The Greenwich Historical Society is located at 47 Strickland Rd. For more information and additional programming related to the exhibition visit greenwichhistory.org or call 203-869-6899.
Tags:
An American Story; Finding Home in Fairfield County
,
exhibit
,
greenwich
,
Greenwich Historical Society
,
Immigrants
,
Opening Reception
,
refugees