September 27, 2019
Column: On My Watch: Dazzled by Dahlias at Summer's End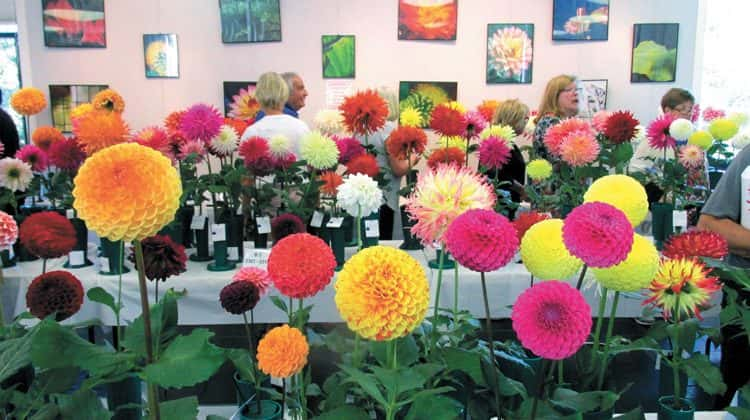 By Anne W. Semmes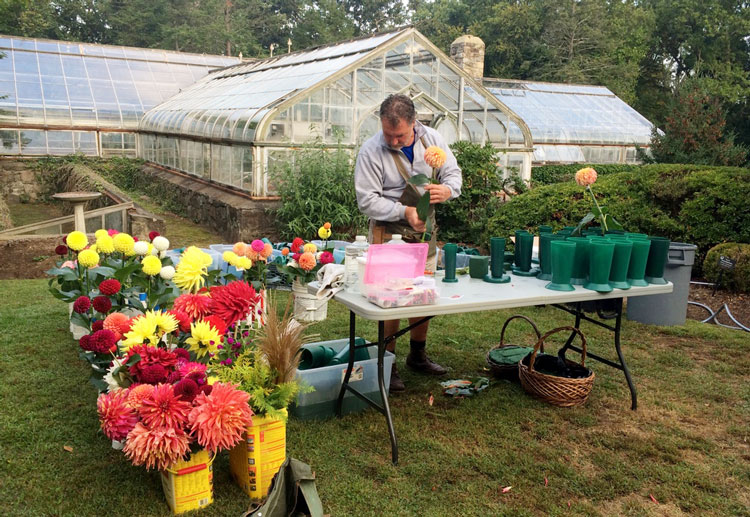 Last weekend a record 750 attendees were bedazzled by over 800 radiant blooming dahlias exhibited at the 2019 Greenwich Dahlia Society's (GDS) Dazzling Dahlias Show hosted by the Greenwich Botanical Center.  And yours truly walked off with (for $5) the "Largest Bloom in Show," appropriately named "OMG." It was a shimmering burst of "Flame" stretching 14-inches in width. Who would know dahlia flowers could get this big!
Horticulturist extraordinaire Tony Marzullo of Cos Cob would know. Now 90, Tony reigned supreme for decades as dahlia show prize winner. But this year's "Dazzling Dahlias" brought his exclamation, "It was the greatest show I've ever seen. I never saw such quality."
Tony grew the giants – the "dinner plates," like my proud purchase, "OMG," that he cited as new (as of 2018).  There are more than 20,000 varieties of dahlias with 100 new ones being added each year. Tony shares his passion with many of his Italian heritage who travel from all over to come to the show.
The "Largest Bloom in Show" dahlia was grown by "big winner" Jesse Peterson of the Connecticut Dahlia Society, based in the Hartford area. So, revelation number two – it's mostly men who win the big awards! 
Their dahlias make it to the Court of Honor table that parades the King of Show, Queen of Show, Prince, Princess, (all won by Jesse) Duke show winners (and Largest Bloom and Best Fully-Double Bloom won by Jesse). Officially, of 48 court of honor winners this year 27 were men, 12 women and 9 were couples.
"Men love dahlias," shared Barbara Collier, who co-chaired the GDS show. "Dahlias are tough. Men love the dinner plates. They grow tall. You have to stake them. They could grow to ceiling height." Those men are mostly retired, she shared, and, "There are several husband and wife teams."
Barbara was a grower and an exhibitor and co-founded the GDS 12 years ago. Last year she moved to Florida, but traveled north.  "I wouldn't miss this show for the world!"
Unpacking and handing out the many blue ribbons to be presented to many of the nearly 20 exhibitors, was Cos Cob gardener, Pam Schaefer. She entered the competitive field five years ago undaunted by the male dominance. Tony Marzullo was her mentor.
"He led me here," shared Pam. "He was always very supportive. He gave me his carrying case," a fitted out milk carton with four glass bottles attached by bag tie twisties.
Pam began with a tuber randomly bought at Home Depot. She attended the Dazzling Dahlia Show and was hooked. "I just fell in love with dahlias. I'm a bit of a sleuth and  wanted to search out the quality of tubers." She turned her backyard green lawn into a four-quarter flower garden circle dominated by dahlias. Last year she won the GDS Queen of Show and Best in Show with her "Islander" pink dahlia. In August, she scored with a First Place for her "Totally Tangerine" dahlia at the Connecticut Dahlia Society show.
Pam didn't make the Court of Honor at this year's GDS show (she won two blue ribbons), but was busily enthralling others with her Dahlia 101 workshop offered free to inspired show attendees. She walked them through dahlia history, from the Aztecs (who would use the tubers as a food source), to Spain, finally arriving in the U.S. in the late 1800's. Today, there are 68 dahlia societies across the U.S. with the most of them in Washington State with its "most favorable [dahlia] weather."
Dahlia colors come rainbow-rich, pink, dark red, white, orange, lavender, yellow – but no blues. Pam likened their growing season to tomatoes – "You plant them the third week in May  – in full sun…water from below. Disbud for the quality of flowers."
So, where to get the all-important tubers? Pam recommends shopping online at www.dahliaaddict.com. She also a shared a forthcoming GDS workshop on how to store tubers through the winter to be held November 2 at the Greenwich Botanical Center.
Scott Carroll from Riverside, and his wife Jennifer Kimura with their young daughter looked happily inspired by Pam's Dahlia 101 class. "We've been growing them for four years," said Scott. They were smitten after seeing Jennifer's grandmother's dahlias. "She had the big ones," confessed Scott.
Walking out with my Largest Bloom in Show,  I came upon the glowing face of Corinna Armstrong, 5 ½,  standing transfixed with her Greenwich family. She was holding a giant yellow dahlia. " I've never seen a flower this big," she said in a soft voice. With eyes near-closed in pleasure, she claimed, "It's the sun!"
Tags:
Dazzling Dahlias Show
,
GDS
,
greenwich
,
Greenwich Dahlia Society