September 7, 2019
Greenwich Point Comedy Night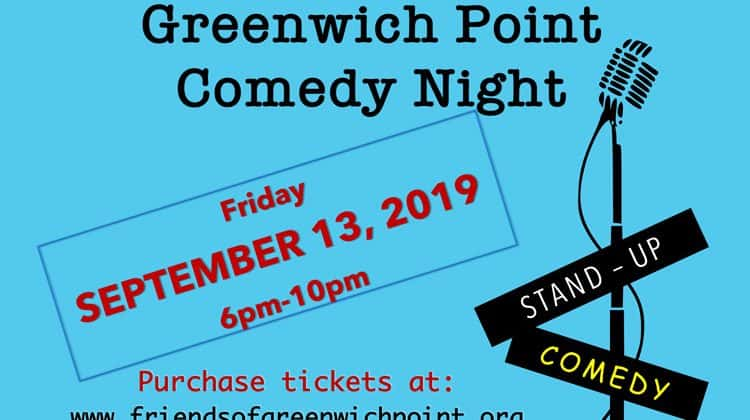 Join the Friends of Greenwich Point for a night of comedy. Greenwich Point's Comedy Night will be held on Friday, Sept. 13 from 6 to 10 p.m., at the Clambake Pavilion. Dinner is from 6 to 7:30 p.m., comedy entertainment will begin at 7:30 and the last hour, from 9 to 10, will be dancing to music from the DJ.
Proceeds from the event will benefit Friends of Greenwich Point programs. Tickets are on sale through the Friends of Greenwich Point website, friendsofgreenwichpoint.org
Please note that this event is BYOE and waste free. Bring everything you want for your table – tablecloth, food, beverages, table decor – or don't bring anything at all. No food or beverages will be available at the event. The Friends request that all guests leave no trace, meaning what is brought to the event must go home with you to be disposed of or cleaned. Reusables and recyclables are highly encouraged. Tables and chairs will be provided.
A few things to remember:
No flame candles (battery operated is acceptable)
Beach passes are not required; simply tell the gate attendant you will be attending the party
Advance ticket purchase only; no tickets will be sold at the door
Please bring a copy of your receipt to show at registration
Tables and seat assignment will be based on when you purchased your tickets.
For more information, visit friendsofgreenwichpoint.org or email info@friendsofgreenwichpoint.org
Tags:
Comedy Night
,
Friends of Greenwich Point
,
greenwich
,
old greenwich