September 6, 2019
Column: Valentine and Hart Leading with Love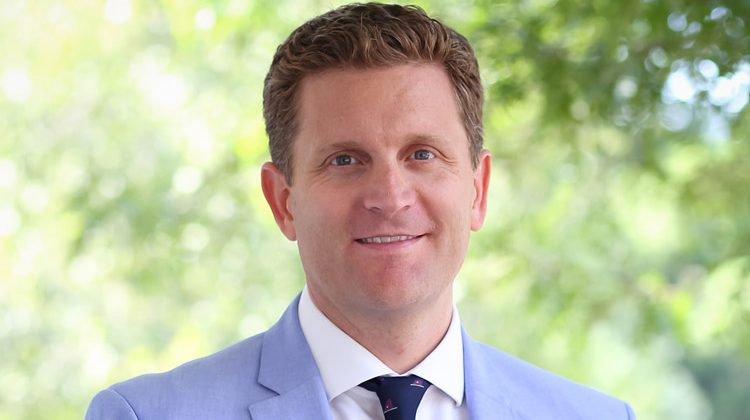 By Nathan Hart
Ben Valentine is the new Senior Pastor at Trinity Church. This is good news for Trinity and for our town. I am personally excited to partner with him in our churches' shared visions to influence our region for good in the years to come, especially because Trinity was birthed twenty years ago from Stanwich Church, where I now serve as Senior Pastor. Over those twenty years, both congregations have grown and expanded their reach in Greenwich and beyond. I hope you will get to know Ben through the ways he answered my questions below:
Nathan: How did you receive your call to go into pastoral ministry?
Ben: Funny enough, I had a sense that I was going to do this at a pretty young age, probably 4 or 5 years old. I even used to do "church services" with my stuffed animals. My dad became a Pastor when I was a kid, but even before that we'd always been very involved in our church community, both in France, where I spent six years as a child, and back in the U.S. I will say that at other times as I grew up, I was pretty opposed to becoming a pastor, and entertained other vocational paths, though I kept feeling drawn back to vocational ministry in a church setting. Today, I feel like I'm doing what I was wired and called by God to do.
You've been an Associate Pastor and a Campus Pastor at Trinity for several years. What is the biggest change as you step into the Senior Pastor role?
The biggest change for me is moving from a "single lane" focus, whether that was in the youth ministry, or as the Pastor of our Darien location, to a much broader role with the entire church. There is a natural learning curve for any new role, but I'm so thankful for the support of our incredible staff team and congregation. They've been very encouraging.
What are the greatest spiritual challenges that people in our region face?
I would say the exhaustion, anxiety, and isolation that often come from a performance-oriented culture. The great pressure to "succeed" starts very young, and extends to every part of our lives it seems, whether in the workplace, or in academics or athletics or even in our social lives. There's this unstated pressure to at least appear like we "have it all together", it's a really heavy burden to carry. I think all of this produces a certain level of busyness and loss of margin that fights against our exploration of the deeper questions of life, including faith.
How can churches like ours meet such challenges?
My conviction is that we're called first of all, to model an attractive counter-culture to the status-quo. People are desperate for lasting peace and satisfaction, and our role is to point people to the hope and health that's possible through following the way of Jesus.
Often though, "the Church" has simply matched the frantic pace and performance orientation of our culture. Instead, the Church is called to be a place that offers true rest, that graciously challenges our misguided attempts to find meaning and purpose in workaholism or perfectionism, and to discover a more resilient identity as a daughter or son of God.
We live in a very action-oriented place, which can be a wonderful thing. After all, God made us to create and add to the flourishing of this place where He's called us. At the same time, there is a shadow side to this, where we work in order to earn acceptance (either human or divine), rather than working from a place of acceptance in Jesus. The Christian idea of grace says that there is nothing we can achieve that will add one iota to our standing with God. His love for us is not based on our spiritual resume, but on his unmerited favor in our lives.
What strategic plans do you have for Trinity in the years to come?
The timing of my new role coincides with Trinity Church entering its' third decade. In this new chapter, I'm excited about Trinity becoming the healthiest possible version of itself, a group of people who are absolutely committed to following Jesus and being a blessing to this community.
My role is still very new, so I'm excited to start my leadership with listening, both for guidance from God, and the voice of our congregation to see where there are emerging "breadcrumbs."
Very tangibly though, I'm excited for more impact and to welcome more people in the days ahead, through the launching of a third Trinity congregation in Westchester County later in 2020. There's an incredible team gathering around that mission and it's amazing to see the momentum that's happening.
What do you like to do in your spare time?
My wife and I love to explore new places with our young daughter. We love walks together, either in nature, or in a developed area. Sometimes on my day off, we do "Sabbath in the City". Other than that, I listen to a lot of podcasts and love visiting good coffee shops!
Valentine and Hart…. do you think with last names like ours we could've been anything other than pastors?
You're totally right! We were either meant to be pastors, or maybe co-hosts of a "love & relationships" radio show!
On a more serious note though, I'm really grateful for you Nathan, I'm a big fan of Stanwich Church, and excited for new ways that we might work together in this coming season to see Greenwich and our wider region flourish. Oh, and let me know about that radio show idea!
Rev. Dr. Nathan Hart is the Senior Pastor at Stanwich Church. Nathan grew up in Holland, Michigan, where he attended Hope College. He later received his Masters from Princeton Theological Seminary and his Doctorate from Gordon-Conwell Theological Seminary.  He was serving in New York City before being called to Stanwich in 2011 and was elected as Senior Pastor in 2018.
Tags:
greenwich