August 27, 2019
Camp Simmons Celebrates Last Day of Camp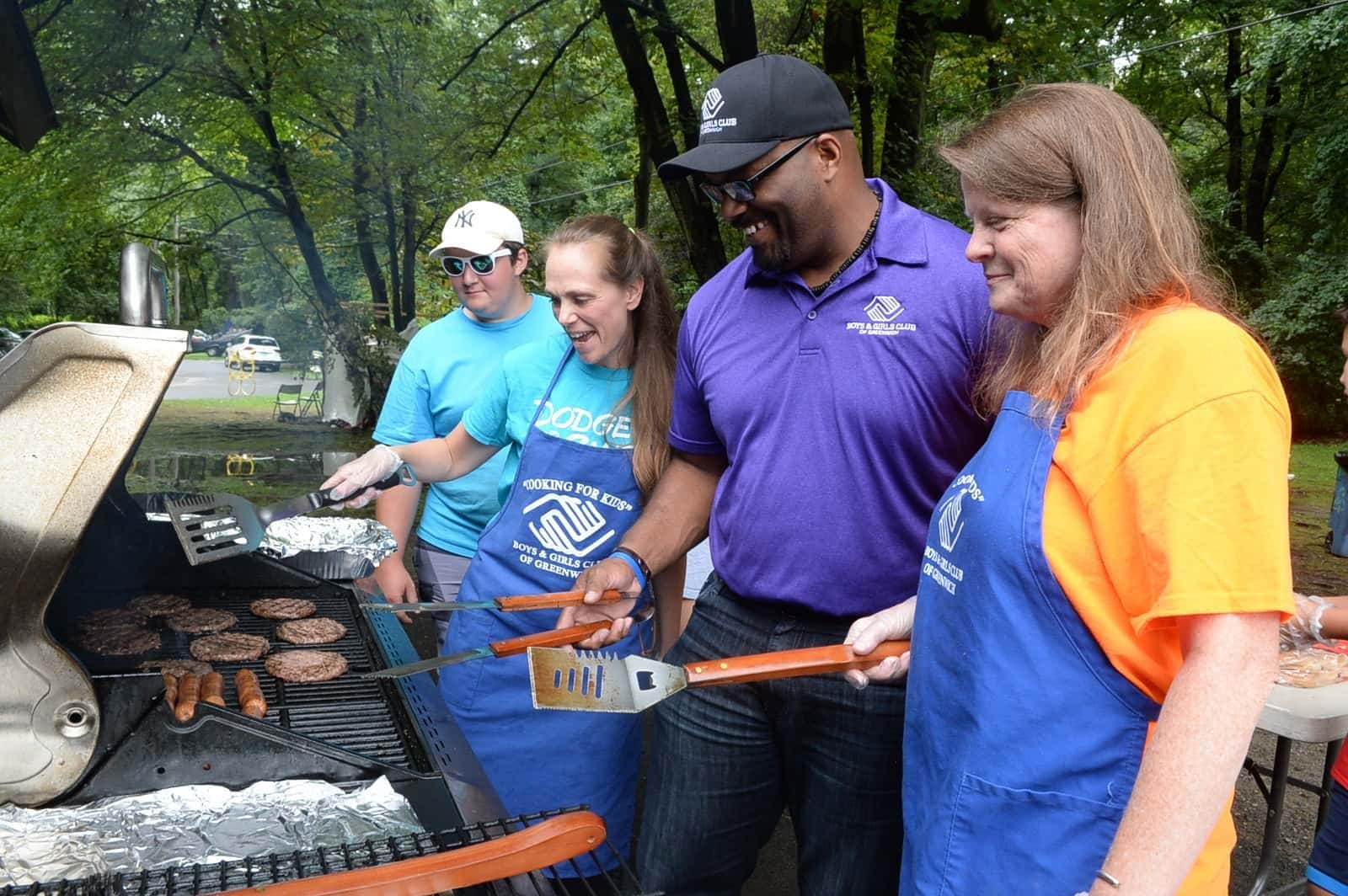 By Richard Kaufman
With summer unofficially drawing to a close, Camp Simmons celebrated the final day of camp last Friday.
This summer, over 400 children attended Camp Simmons, which is located on 77 acres of pure wilderness on Lake Avenue in Greenwich. For nine weeks, campers aged 6-12 took part in outdoor swimming, archery, canoeing and boating, various sports and special events. 
This year, members of the community visited the camp every week to help grill hamburgers and hotdogs for the kids. State Rep. Fred Camillo, First Selectman Peter Tesei, Parks & Rec Director Joe Siciliano and Greenwich Police Chief, James Heavey, were among the guests.
The concept of "guest grilling" was introduced by Don Palmer, Vice President of Programs for the Boys & Girls Club of Greenwich (BGCG).
"We started it after the first week of camp," he said. "I thought it would be a nice way to tie in community leaders to get them to spend some time with the kids and see the camp. It's been a nice partnership with the whole community of Greenwich."
Last Friday, Jenny Byxbee, Director of Children's Ministries at Round Hill Community Church, and Connie Blunden, a history teacher at Greenwich Academy and the Director of GA's Center for Public Purpose, got behind the grill.
"This has been a joy to be able to be here," Byxbee said, who shared a few laughs with the campers as they lined up for lunch. 
"This has been totally fun. I love the energy, I love the community. It seems like everyone's had a great summer. On the last day, that's what you want to see — everyone having a good time," Blunden added.
BGCG President and CEO, Bobby Walker Jr., called the guest grilling idea "an absolute success."
"It gets the kids connected to the community, the community connected to the kids. They get to see who some of our community leaders are," Walker added. "There's just a certain energy around the grill when those people are here. When the guests interact with the kids, it's really nice."
Although campers were in a celebratory mood, the last day of camp was bittersweet.
Kai Cayo, 11, has attended Camp Simmons for three summers now. He said his favorite activities are canoeing and swimming.
"But I'm going to miss everything," he said.
Sebastian Ojeda, 12, attended the camp for the first time, and said he made a lot of new friends.
"I'm going to miss the friends I don't go to the same school with," he said.
Walker said that Camp Simmons is a special place for the community and the club 
"Camp Simmons is this magical, throwback in time. It's just kids having a great time outdoors, doing some very traditional style camp activities, but at the same time building really tight knit friendships and relationships, not only amongst themselves, but with the staff," he said.
Tags:
Boys & Girls Club of Greenwich
,
Camp Simmons
,
greenwich
,
Town of Greenwich