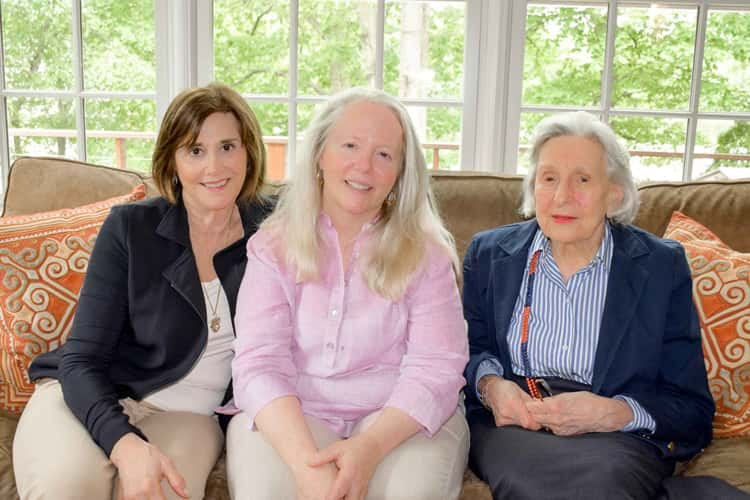 New Trustees Elected to Greenwich Library Board
Four new trustees were elected to serve on the Greenwich Library Board at the annual meeting of the Friends of the Greenwich Library in May. John Blankley, Jill Stauffer Cobbs, Marty Gendell, and Sophia D. Tawil will serve three-year terms.
"We are thrilled to welcome such esteemed members of the community to the Board of Trustees. They each possess a high level of thoughtfulness, insight, and leadership, and we know they will make valuable contributions to the Library's future," said Rob Marks, President of the Library Board of Trustees.
John Blankley is the chairman and founder of Flagship Networks, Inc., a private consulting company. Previously, he was the chief financial officer and board member of several shipping companies, and prior to that, the executive vice president and chief financial officer of BP North America. Mr. Blankley served for two terms on the town's Board of Estimate and Taxation and is a member of the St. Andrews Society of the State of New York, one of the oldest charities in the United States, where he sits on the finance committee responsible for the society's endowment. He received a MA from the University of Oxford, England. When asked why he chose to serve as a Greenwich Library trustee, Mr. Blankley said, "A library is the essential repository of human knowledge and culture and there is no better example than Greenwich Library. Serving on this board is one of the highest callings in our volunteer community and I am honored to join the board as it undertakes a major project of renewal and expansion."
Jill Stauffer Cobbs is a member of the Representative Town Meeting in Greenwich, serving as secretary for District 7 and the Public Works Committee. An active volunteer, she's held numerous leadership positions for organizations including Greenwich Library Friends, Greenwich Continuing Education, Choate Rosemary Hall, and Belle Haven Club Swim Team. She grew up in Greenwich and received a BSCE from Duke University and a MS from Columbia University. Of Greenwich Library, Mrs. Stauffer Cobbs said, "Since elementary school, I have been a big fan of Greenwich Library beginning in their Children's Room. Now in addition to checking out books and music, my family and I frequent the Flinn Gallery exhibits, Friday Films, and book talks. Greenwich Library has evolved to remain a relevant resource and is truly Greenwich¹s community center. I am honored to serve on its board."
Marty Gendell is an active community volunteer and longtime resident of Greenwich. She has served on the board of Greenwich Country Day School and the Field Club of Greenwich, and has volunteered for the Brunswick School, Greenwich Academy, Room to Read, The Sarah P. Duke Gardens, the Greenwich Adult Day Care Center, and the Boys and Girls Club of Greenwich. She received a BA from Potsdam College and an MBA from Fordham University. Mrs. Gendell worked at Parke-Davis, Division of Warner Lambert in various capacities in the sales and marketing department. A passion for gardening led to a professional Certificate in Landscape Design from the New York Botanical Garden and a focus on creating residential gardens. When asked why she chose to serve as a Greenwich Library trustee, Mrs. Gendell said, "As a 22-year resident of Greenwich and an avid reader, the Library has long been a part of my life and my family's life. I am deeply impressed by the scope and quality of the programs and the vital role the Library continues to play in our community. I look forward to serving on the board during this exciting new phase in its history."
Sophia D. Tawil is a strong advocate for education and public libraries. An accomplished lawyer, Mrs. Tawil is a senior attorney at Cravath, Swaine & Moore and previously worked at The Providence Service Corporation, where, among other roles, she held the position of senior vice president. Presently, she volunteers at The Whitby School, and in the past, she has volunteered with the NYC Bar Association Committee on Women in the Profession. Mrs. Tawil received a BA from Barnard College and a JD from the University of Pennsylvania. Of Greenwich Library, she said, "The New York Public Library played a significant role in my childhood. My sisters and I spent every Friday afternoon in the library, selecting a stack of books to sustain us through the coming week. We developed a special relationship with the librarians in the children's section, and their efforts resulted in a lifelong love of reading and learning for all of us. It has been wonderful to share the same experience with my children at the Greenwich Library ­ in fact, I think the Library was the first place in Greenwich that I truly felt at home when we moved here in 2013. I feel privileged to be able to support the Library as it fosters my children's and our community's intellectual and cultural engagement."
For more information about the Greenwich Library Board of Trustees, please contact Nancy Klein, Director of Development, at (203) 622-7657.
New Friends of Greenwich Library Executive Board
The Friends of the Greenwich Library elected three new officers to serve on the Executive Committee at their annual meeting in May. Hilary Martin Lea, Chairman; Linda Gordon, Vice Chairman; and Kathleen Gribbon Link, Treasurer, will serve two-year terms. Anne Shafqat will continue to serve as Recording Secretary.
"It's a pleasure to welcome such a dedicated group of new officers to the Executive Committee. The Friends devote significant time and energy into supporting the mission of the Library to enrich the lives of the community. We look forward to their contributions to help shape the future of the Library," said Barbara Ormerod-Glynn, Library Director.  
Hilary Martin Lea (Chairman) is the principal founder of Hilary Martin Lea Project Management, providing construction management and interior design services. A Greenwich native, she attended Greenwich Country Day School and Greenwich Academy, and went on to earn an AB from Wellesley College and MS from Columbia University. Ms. Lea has served on the board of the Junior League of Greenwich and the vestry of Christ Church Greenwich. As a teenager in the 1970s, Ms. Lea worked as a periodical aide at Greenwich Library and is thrilled that "life has come full circle and brought me back to the Library again," she said of serving on the Friends of Greenwich Library Executive Committee.
Linda Gordon (Vice Chairman) is an active volunteer in the Greenwich community. Along with her husband, Mrs. Gordon raised her two sons in Chappaqua, NY, where she worked in the independent bookstore, The Second Story, for 27 years, until the store closed. Since moving to Greenwich 13 years ago, she has volunteered her time, most recently working with the Greenwich United Way Reading Champions program, tutoring students at Julian Curtiss School to improve reading fluency and confidence. Of serving on the Friends of Greenwich Library Executive Committee, she said, "I look forward to supporting the Friends and continuing to share my love of books."
Kathleen Gribbon Link (Treasurer) is a longtime Greenwich resident. During her more than 30-year career, Mrs. Link worked in global asset management at UBS, the investment bank and financial services firm. She received a BBA in finance from Pace University. Now retired, Mrs. Link "is looking forward to working with the Friends of Greenwich Library Executive Committee."
For more information about the Friends of the Greenwich Library Executive Committee, please contact the Friends Office at (203) 622-7938.