July 24, 2019
Unified Republicans in Greenwich Nominate Camillo in First Selectman Race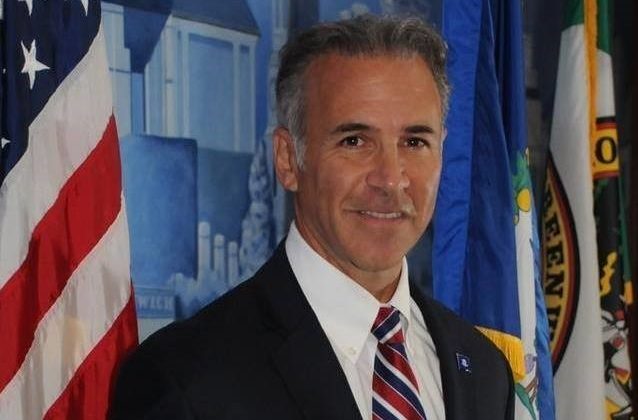 By Richard Kaufman
Sentinel Reporter
There was a feeling of unity and enthusiasm inside the Cone Room on the second floor of Town Hall on Tuesday night, as the Greenwich Republican Town Committee handed out nominations for November's municipal election. 
The GOP ticket will be led by current State Rep. Fred Camillo for first selectman, and current member of the Board of Education, Lauren Rabin, for the position of selectman.
The nomination meeting went smoothly and without any hitches, as all the candidates who were seeking positions that didn't receive endorsement stepped aside for the nominees to take center stage.  RTC chair, Rich DiPreta, commended everyone for coming together. 
"We've gotten to the point where tonight is about the endorsements. We have all the candidates and all the positions filled. Everyone is unified at this moment, which is so important at this time. There is no division," he said.
Camillo received loud applause after his nomination became official. He said that Greenwich "is the best run municipality" in the state of Connecticut due to its financial prudence, and the leadership from people like Peter Tesei, Jim Lash, Peter Crumbine and BET leadership from Michael Mason over the years.
"Is it perfect?" Camillo continued. "No, no town is perfect. That's why I'm coming home from Hartford. I love my job, but I love our town more."
Camillo said Town Democrats are running on a platform that would "overturn what has made Greenwich truly the envy of Connecticut," adding that Greenwich would turn into Hartford. 
"Don't believe it when they say we can never be like Hartford," Camillo said. "It energizes me when I hear that to make sure we don't go down that path. With people like Michael Mason leading the BET, we can stop that, but we're going to have to work together."
Jill Oberlander, the Democratic nominee for first selectman, has laid out a platform that revolves around the Three E's: Economy, Education and the Environment. 
On Tuesday, Camillo outlined his Three R's: Reform, Revitalize, Reinvigorate.
He said Greenwich must encourage and embrace public-private partnerships, and reform how projects get funded.
Valuable town properties, especially those on the waterfront, should be revitalized in order to "implement best possible usage of those town assets."
Greenwich must reinvigorate itself, Camillo said, and complete projects big and small to give future generations pride and enjoyment.
"But it's not going to be easy," he said. "[The Democrats] are coming for us."
Selectman John Toner, who is not running for reelection along with First Selectman Peter Tesei, nominated Rabin to take his seat.
"While I have no budget to fool around with or a staff to work with, over the years I have found myself very busy dealing with the citizens of the Town of Greenwich, and that was a real pleasure. Moving on, I have been looking for the individual available to step up to the job. I'm happy to say I've found that person in Lauren Rabin," Toner said.
Rabin described how her mother, a single parent, moved to Greenwich because of the school system in order to give herself opportunities for success.
"With my fellow Republicans endorsed tonight, I will work hard to show everyone in this town that we're real people with diverse backgrounds, but we have one purpose," Rabin said. "Together, we're going to preserve and enhance what makes Greenwich so special. We need to ensure we're financially strong to deal with whatever comes from the state or federal level."
Republicans will try to regain control of the BET after losing to the Democrats for the first time ever in 2017. 
Prior to the nomination meeting, the RTC Executive Committee had recommended incumbents Bill Drake, Andy Duus, Karen Fassuliotis, Debra Hess, Leslie Tarkington, and newcomer Dan Ozimir for nomination. But there was a shakeup late Monday night when Mason, who was previously running for first selectman, dropped out of that race.
Ozimir subsequently withdrew his candidacy for the BET, paving the way for Mason, a member of the BET for 16 years, to be nominated. He received a unanimous nomination on Tuesday.
Elsewhere, the GOP endorsed Greenwich High School Rugby coach, Joe Kelly, and Karen Kowalski, for the Board of Education.
Carmella Budkins, who has served in her role as Town Clerk for almost 30 years, was nominated once again. Heather Smeriglio, who is running for Tax Collector, received a nomination as well.
Tesei spoke briefly at the end of the meeting, and complimented all of the candidates that are running.
"We have a stellar group of candidates," he said. "And we're going to keep Republican traditions alive with Fred at the top."
Tags:
greenwich
,
Greenwich Republicans
,
Republican Town Committee
,
Town of Greenwich