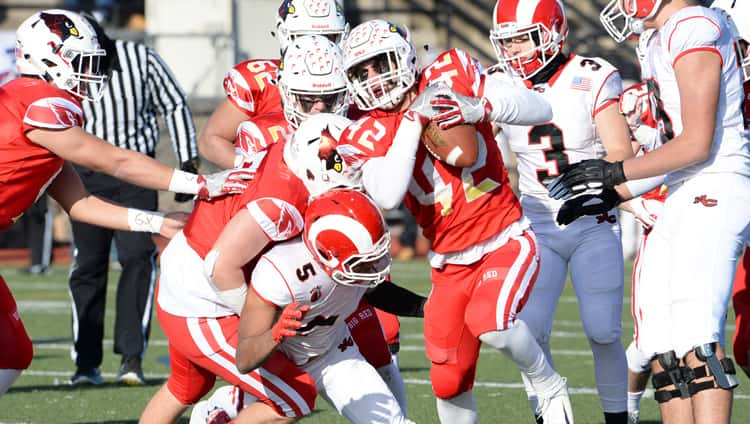 By Paul R. Silverfarb
Sentinel Editor
Something just seemed a little off for Greenwich resident Mozi Bici. The day started the same as it has for the past few years. He woke up, prepped for some 7-on-7 football and found his way to New Canaan High School.
But that's where the similarities ended for the recently graduated Greenwich High School football standout. A key cog to Big Red's state championship run last year, Bici was in unfamiliar territory over the weekend when Greenwich High battled Suffield Academy.
Instead of helping out Greenwich High, Bici, a post graduate for Suffield this upcoming fall season, was now lining up against the same flock of Cardinals that he called teammates.
"It was just as much awkward as it was really fun, to be honest," Bici said. "I got to play against some really good friends across from me. These are kids, like me, that bought into the program at Greenwich, and it was great to compete against them for something that meant something. It was actually funny because I think I actually heard 'traitor' on the sidelines and it cracked me up a little bit."
Bici was one of the main contributors to the Greenwich High School's state championship run last season. In 12 games, Bici was a beast on the defensive side of the ball. He netted 59 solo tackles and assisted on 38. He also took home a dozen sacks, nabbed four fumble recoveries and found the end zone once.
Now as a PG on Suffield, Bici had that chance to compete against the same team that he helped bring a state title to.
"It was really weird," Bici said. "I almost went to their sideline several times. They didn't want to play against me and would much rather have me on their side, which is a great feeling."
A key advantage for Bici could have been the fact he probably had the opportunity to know what play Greenwich was going to call, being that he is less than a year removed from the Greenwich High School program. However the key words were "could have" for Bici.
"If I wanted to, I could have just looked at Coach Avery and known the play right there," Bici said. "But I didn't want to do that. I didn't want to cheat myself. That's not the way I play. But it is an advantage because I ran their offense and know exactly what they are doing and how they try and break down the defense."
While Suffield Academy didn't come away with a 7-on-7 championship trophy, the nine members from the school fared quite well.
"I think we did really well," Bici said. "Everybody on Suffield is a playmaker and knows how to play ball. They are just unbelievable. It's different and I am starting to see how different Greenwich is by going to Suffield. It's not different in a bad way at all. It's just different. We only had nine players at the 7-on-7 and we were going both ways, while teams like Greenwich, Darien and New Canaan had 40 players at the tournament."
While teams like Big Red had the luxury of substituting players in and out of the game during the tourney, Suffield had its athletes playing both ways. And, while Bici said he was fine with that, he also stated the obvious…that the entire Suffield team was quite tiring.
"It was exhausting," Bici said. "I'm still sore and it was a couple of days ago. It was exhausting, but it was fun. We all gathered around each other when we felt tired and picked each other up. I really liked being a part of that. Honestly, I didn't know too much of what I was doing on offense, but they helped me out like I was one of their own. That was amazing."
And, while playing against Greenwich was certainly a strange experience, Bici didn't have to look far to find another oddity during the day of football at NCHS.
Like Bici, Will Rolapp is another post graduate for Suffield and the two played at New Canaan's 7-on-7 tourney together. However, they have seen each other before. Rolapp was a member of the Darien High School football team, Greenwich's main rival during Bici's tenure with the team. And, to say that Big Red and the Blue Wave don't like each other would be an understatement.
While Bici was concerned about playing alongside Rolapp at first, those questions quickly vanished.
"It's just really funny, to be honest," Bici said. "I knew it when I went to visit Suffield and Coach Gamere told me that I am going to have to get along with a kid from Darien. I told the coach that I wasn't sure if it was going to happen. But, I met him for the first time this weekend as a teammate and he's a really good kid. He'll be the only kid that I like from Darien."
The New Canaan 7-on-7 tourney was Bici's first real taste of what's to come. As a post graduate for Suffield, Bici has some lofty goals for his new team. He said that his top priority is to make the school as successful as possible.
"I will be giving it my all," Bici said. "I am going to bring that hard work and determination. They have it there, too, but I want to keep adding onto it and go all the way with them. I want to win every game. I really think we can make some noise and be the best team in the state. It's all about how hard we are willing to work and improve. Everybody has talent on the team. It's all about hard work and working together."
But for Bici, playing for Suffield Academy as a PG is like getting a second chance to prove himself.
"It's great to get another chance at playing football and playing at Suffield. Coach [Andrew] Gamere is a great guy, and he brought me into Suffield. Getting another shot to play high school football at a high level is great. Like I did at Greenwich, I want to try and be a leader and give it my all."