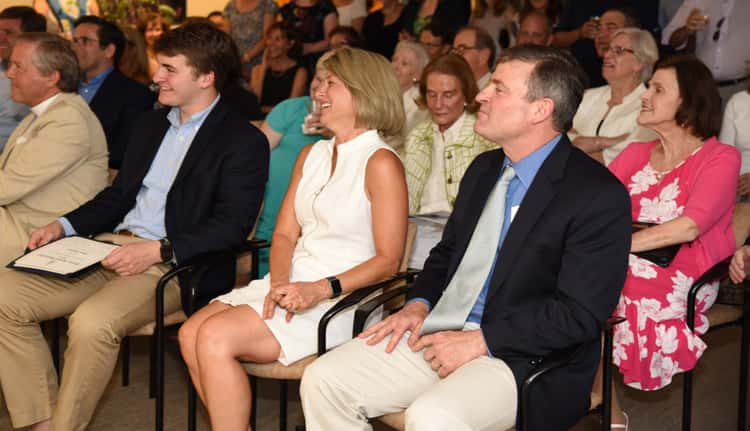 By Paul Silverfarb
Sentinel Editor
Last Thursday, countless residents from the Town of Greenwich and surrounding areas gathered at Audubon Greenwich to honor lifelong resident and business owner James McArdle.
McArdle, fourth-generation owner of McArdle's Florist and Garden Center, was honored by the Greenwich Sentinel for his dedication and devotion to the Greenwich community.
"It had a heavy impact on my heart," McArdle said. "Greenwich is more diverse than we give it credit for. To see so many different people from different avenues of life is amazing. I love that. I was so touched and moved from all the support."
During the July 1 event, Jim Himes, U.S. Representative for Connecticut's Fourth District, and U.S. Senator Richard Blumenthal, spoke about McArdle's passion for helping the Greenwich community and making the town a better place.
Fred Camillo, a member of the Connecticut House of Representatives for Greenwich's 151st District and also a candidate for the Greenwich First Selectman position, believes that McArdle was the perfect choice for the 2019 Greenwich Sentinel Award.
"The Sentinel hit a home run by way of putting together a great event and with the selection of a terrific honoree," said Camillo. "James McArdle embodies all that the Sentinel believes in and promotes in our wonderful town. Hats off to both."
Also coming up to the podium to speak about McArdle during the 2019 Greenwich Sentinel Award was Stanwich Church senior pastor Nathan Hart.
"[The Sentinel] organized a great evening that showcased all the best of Greenwich: community, natural beauty and servant leadership," said Hart.
Last year's Sentinel Award winner, Susan Wohlforth, was in attendance and was impressed with the turnout for McArdle.
"What a great night for the Greenwich Sentinel and James McArdle," said Wohlforth. "The Audubon was a terrific choice for venue, which was greatly enjoyed by everyone who attended. But the best part of the entire evening was honoring James McArdle and the Greenwich Sentinel. Both James and the paper are true 'Sentinels' for our community for all that they do on behalf of all of us. It was a pleasure to witness and an honor to help celebrate them both."
The newspaper's first Sentinel Award recipient, Greenwich Police Chief Jim Heavey, was also on-hand during this year's event at Audubon Greenwich and spoke about how much McArdle has done over the years both personally and through his family business and how he has done so with little fanfare. 
"The crowd of nearly 200 people was a great cross section of our community, and it was a true testament of Jim's significant contribution to making Greenwich such a special place to live and work," said Heavey. "Thank you to the Sentinel for recognizing Jim McArdle as this year's Greenwich Sentinel."
As guests mingled throughout the rooms of Greenwich Audubon, they enjoyed beverages from Val's Putnam Wine & Liquors, snacks served by Greenwich Staffing and viewed exotic animals courtesy of the Beardsley Zoo.
"It was very moving," McArdle said. "I was just very touched by the amount of support from the community. While I was proud of the moment, there were so many people there that were so caring and supportive, it compels me to want to give more because we have such a great community."
While McArdle was humble about how the community came out to support him, the fourth-generation owner said that he was equally moved by how much the community supports the newspaper that honored him.
"There are so many people that believe in the paper and see the purpose that it's serving," McArdle said. "We really need the Sentinel to bring our neighborhoods together and the people at the event want to see the paper succeed. It brings so much value to the community."
For McArdle, it has always been all about the customer. That's what makes his business so successful. He said that every customer has a different need and that it's important to listen well to what the customer is looking to accomplish.
"We don't take any customer for granted," McArdle said. "We have to earn their business, despite being around for 109 years. We have to still prove ourselves every time, and we strive to accomplish that. Whatever the customer wants is what our goal is. It's about having the empathy of meeting people where they are and trying to help them find a solution."