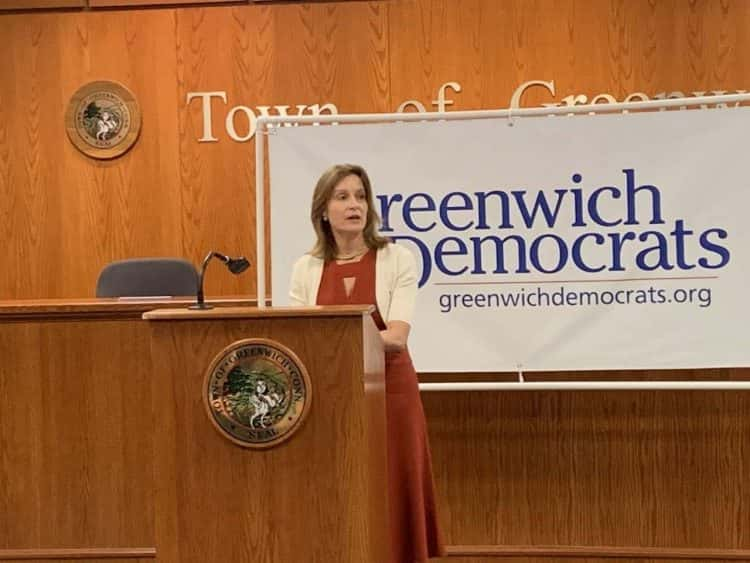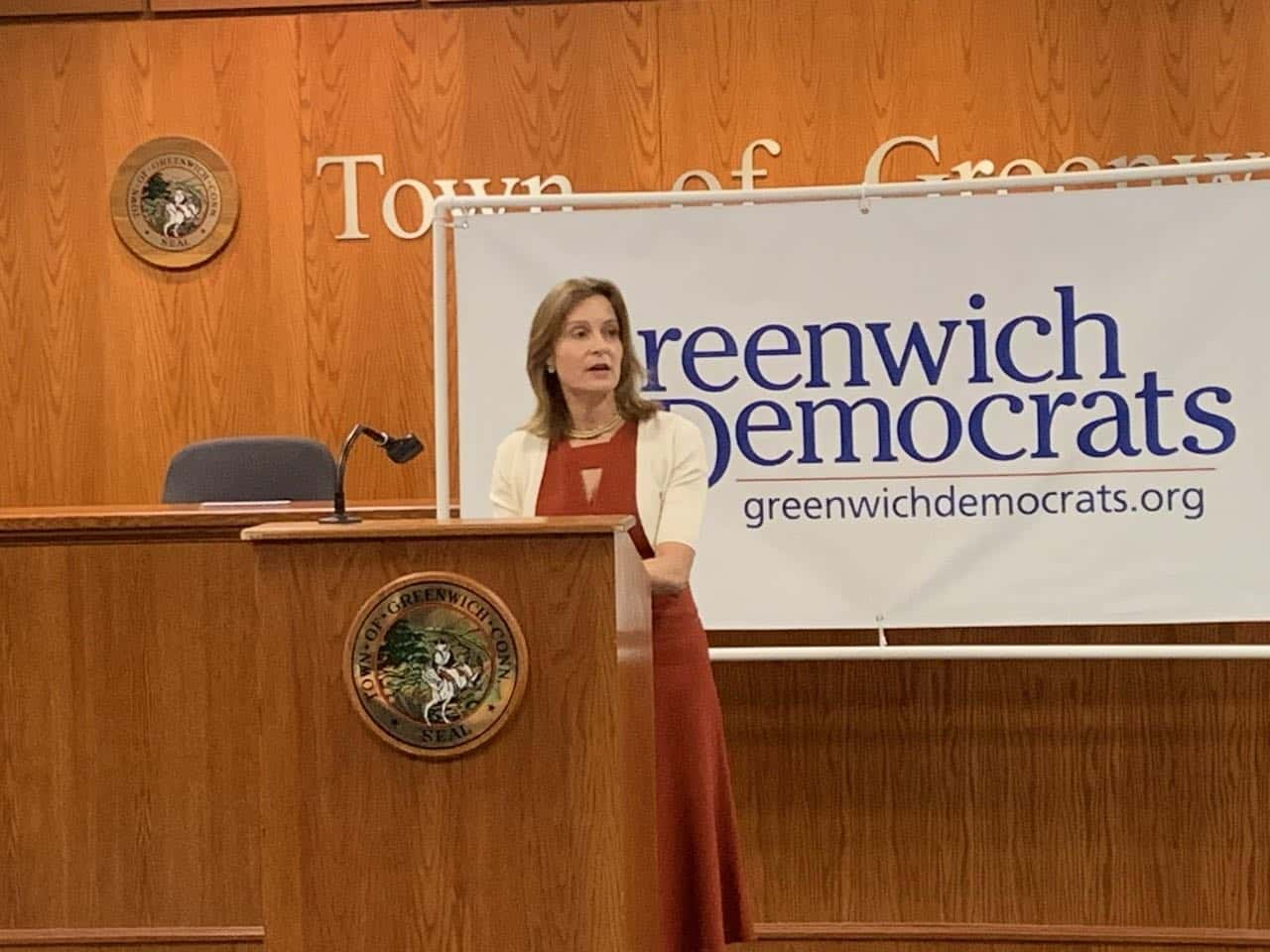 By Richard Kaufman
Board of Estimate and Taxation chair, Jill Oberlander, and Selectman Sandy Litvack officially and collectively kicked off their campaigns for first selectman and selectman in front of over 100 people inside the Town Hall Meeting Room on Tuesday night.
Supporters cheered loudly as the two were introduced by interim chair of the Democratic Town Committee, Gina Gladstein.
"The issues the town of Greenwich must face have become increasingly complex. We love our traditions and way of life, but in order to preserve all that we love, we must look for new and creative ideas to maintain them," Gladstein said. "Sometimes doing things the same way is not the best way. We believe our candidates have the skills to take on the very real issues we must confront now and into the future."
Oberlander is a former member of the Representative Town Meeting, who became the democratic chair of the BET in 2017. Now she's looking to become the first democratic first selectman elected in the town of Greenwich since 2001
Litvack, who is seeking re-election as a selectman, is a former Assistant Attorney General in the Department of Justice, and Vice Chair of the Board of Directors for Walt Disney. The pair will run together with the hopes of holding a democratic majority on the Board of Selectmen.
Oberlander said that if elected, she will focus on what she calls the "Three E's": Greenwich's Economy, Education and Environment.
On the economy, Oberlander said she will "focus on eliminating the stumbling blocks of starting a new business." She added that she would spend time "cultivating relationships" with existing town businesses to ensure they're meeting their needs.
"Economic growth will increase our tax base, support our low mill rate, and preserve our enviable bond rating," she said.
On the education front, Oberlander remarked that the town needs to continue to invest in schools, and bring infrastructure up to 21st century standards.
"We need to eliminate the achievement gap. We need to improve management operations and administrative record keeping to reduce unexpected costs and damages," she added.
By focusing on the environment, Oberlander said, Greenwich can move towards sustainability, which would save taxpayers money and protect parks and natural resources.
"By adopting policies that reinforce energy efficiency and resiliency, and access to our greenspaces, recreational resources and coastline, we can truly revitalize Greenwich for years to come," she stated.
"Greenwich needs a leader who has the expertise and experience to address these issues and move beyond the status quo. We need a leader who will operate transparently, collaboratively and proactively, with an eye towards the future," Oberlander said. "We need a leader who puts policy over politics, who will reach across the aisle and across town to find solutions to bring our community results. That is why I'm running for first selectman."
Litvack ran for first selectman in 2017, and lost to Peter Tesei, who is finishing out his final term in office as the town's chief elected official. Litvack instead took a seat as a selectman, but hesitated in doing so because he felt he wouldn't have a big impact on the town.
By teaming up with Oberlander, Litvack believes they can help lead Greenwich into the future.
"Wouldn't it be better to act as a team? Aren't two heads better than one?" Litvack said. "It takes a team. No single selectman, no single first selectman is going to be able to move the town forward the way the two of us can and will do."
On the Republican side, State Rep. Fred Camillo, and current BET member, Michael Mason, have announced they're running for first selectman. 
Republicans Dan Quigley, an RTM member; Granit Balidemaj, a Business Development Manager for Southern Glazer's Wine and Spirits; and Joe Kelly, CEO of Uranium Markets and Greenwich High School Rugby coach, have all announced campaigns for selectman.