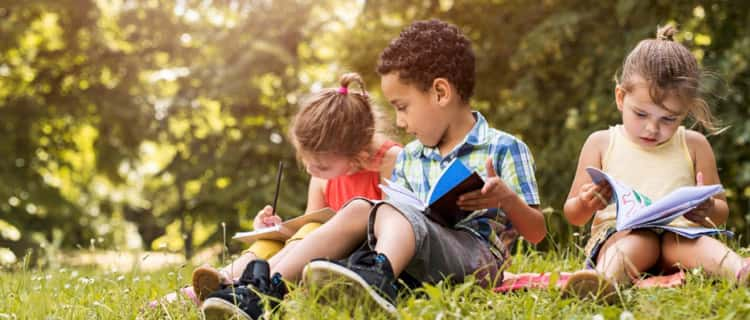 The theme of this year's Summer Reading Program at Greenwich Library is "A Universe of Stories," and it's all about inspiring children of all ages to dream big, believe in themselves, and create their own story. The program will also coincide with NASA's 60 years of achievement and its celebration of the 50th anniversary of the Apollo 11 Moon Landing. It features events and activities that encourage children to exercise their minds, spark their creativity and expand their universe of learning.
The goal of Greenwich Library's summer reading program is to keep children reading during summer vacation so that valuable reading skills won't be lost.
Greenwich Library continues to support students at public and private schools through its extensive collection of books that are found on school summer reading lists. While Greenwich Library has always provided print titles, the extensive offerings also include downloadable eBooks and audiobooks in support of the Greenwich Public Schools digital learning initiatives. Visit greenwich.lib.overdrive.com for the library's digital collection.
All children who are reading independently are welcome to join the Summer Reading Program. Students grades K-6 can register online or in person beginning Monday, June 10 at any Greenwich Library location.  Register online at greenwichlibrary.org/summerreading. Select Byram, Cos Cob or the Main Library summer reading program. Track your reading online, find out about special events and the prizes you earn when you reach your reading goals! Preschool children can join in the fun to earn small prizes in the Read-to-Me program at all Library locations. Visit the Library to register.
 Summer Reading Kickoff at Byram Shubert Library – A Universe of Stories with Space Laser Show
Wednesday, June 12 from 3:15 – 4:15 p.m.
Prismatic Magic Laser Programs will present an amazing laser show! Children will discover how lasers can transform space exploration, inform us about the planets and the sun, and why most advanced space probes carry laser-powered instruments. Register for the Summer Reading program and receive a reading log and a special prize. No reservations required. For more information visit the Library's online calendar or call (203) 531-0426.
Summer Reading Kickoff at the Main Library – Sciencetellers: "Aliens – Escape From Earth"
Saturday, June 15 from 11 a.m. – 12:30 p.m.
During a midnight meteor shower, something mysterious falls from the sky toward Earth–but it's not a shooting star. Two kids venture out to investigate and soon find themselves mixed up with a family of visitors from another planet! Trapped by a crazy space scientist, they must risk everything to rescue the aliens and get them back to their ship before it's too late! Throughout this intergalactic story, volunteers from the audience will assist in science experiments and demonstrations. Sciencetellers provides an action-packed, educational adventure that involves storytelling and science.
Greenwich Library kickoffs summer reading with this family program. All ages welcome. Doors open at 10:45 a.m. Refreshments and raffles follow the program. No registration required. For more information visit the Library's online calendar or call (203) 622-7940.
Summer Reading Kickoff at Cos Cob Library – "Space! The Cosmos for Kids" with Turtle Dance Music
Saturday, June 22 from 2 – 3 p.m.
"Space! The Cosmos For Kids" is a fun techno-space-dance-party for kids and families. Each song includes dancing, music technology, and information about our solar system to a thumping beat. Audience members will meet aliens from outer space, travel through black holes, discover the different characteristics of the eight planets, sing karaoke, participate in a rap battle about the sun, and learn about the differences between revolution and rotation. Each song is accompanied by hands-on, visual, and sensory experiences designed to help kids learn and have fun at the same time. No registration required. For more information visit the Library's online calendar or call (203) 622-6883.
Summer Reading is made possible through the Friends of the Greenwich Library. For more information about the Summer Reading Program visit greenwichlibrary.org/children.