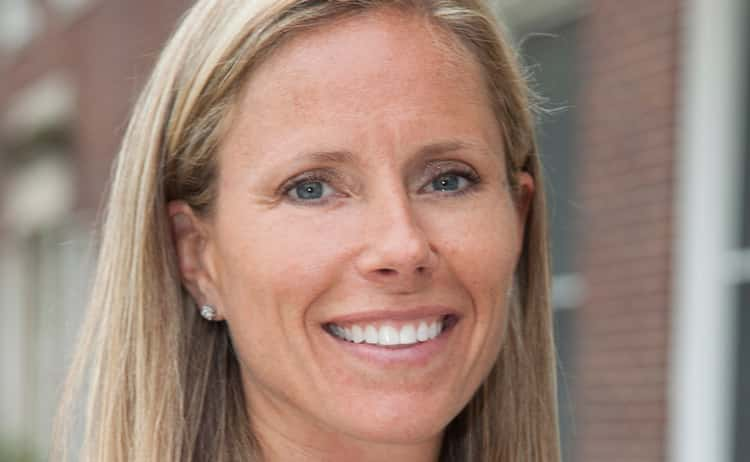 Superintendent of Schools Ralph Mayo has announced the selection of Ms. Crystal Kitselman, Grade 3 teacher at North Mianus School, as the Greenwich Public Schools representative for the 2020 Connecticut Teacher of the Year program. Kitselman will be recognized by the Board of Education at the June 13 meeting at Cos Cob School, at 6 p.m.
Mayo said, "One of the most difficult decisions I have had to make as Superintendent was in selecting our candidate for the Connecticut Teacher of the Year program. Each of our Distinguished Teachers would have been a wonderful representative for our District. I chose Ms. Kitselman due to her skillful and seemingly effortless ability to make learning personal for each and every student in her classroom. Her classroom is a place where students make exceptional growth on a daily basis. The hands-on learning that these students experience will not be forgotten as they engage in projects in all subject areas in such a way that the learning comes alive for them. The students in this classroom work extremely well together as they share with one another and demonstrate respect for both their classmates and their teachers. Ms. Kitselman has embraced the true spirit of making learning personal and I for one would have loved to have been in a class where the teacher guided the learning rather than directed it."
Kitselman will also be honored by the Distinguished Teachers Awards Committee and by the Greenwich Kiwanis Club at the June 13 Board of Education meeting. The Kiwanis Club will present Kitselman with the Joseph Mitchell Kaye Award. Kaye was a past President of the Greenwich Kiwanis Club, a Lieutenant Governor of the Kiwanis Club for the New England District, and served on the Greenwich Board of Education.
Kitselman is one of the six teachers selected and honored by the Distinguished Teachers Awards Committee this year in April. The Superintendent of Schools is charged with selecting from among the six Distinguished Teachers annually, the one teacher that will represent Greenwich in the State's program. Throughout the months of May and June, Mayo reviewed the nomination packets submitted for the Distinguished Teachers eligible for and participating in the District process for the State's program; spent time in each of their classrooms; and reviewed essays submitted as part of the selection process.
Bio Brief: Crystal Kitselman
An educator with the Greenwich Public Schools for thirteen years, Crystal Kitselman has taught at both Parkway School and North Mianus School. She describes that reflecting on a math unit set her on a path of discovery, which would change forever her life as a teacher, and the lives of her students as active learners. Kitselman had a vision, which she named "Pathways." The vision was for Pathways to replace whole group instruction. Kitselman recognized that her students had differing abilities and learning styles, and so she created four different pathways to mastery for each of the math standards. Students were able to choose the best pathway for their learning style, and having mastered a standard, they were encouraged to demonstrate their understanding in a way that was meaningful to them. Students were transformed as learners through their participation in the design of their own learning, and consequently, Kitselman's role as the teacher shifted completely; she had become a participant alongside her students, rather than the leader. Her discoveries were so powerful that the district adopted this way of teaching and learning – Kitselman's "Pathways" were renamed "Playlists", and are now an integral part of Personalized Learning in the Greenwich Public Schools.
Kitselman began teaching in 2006 as a grade 4 teacher at Parkway School. Since 2007, she has taught at North Mianus School (NMS) in grades 3 and 4. She is trained in the Orton-Gillingham reading instruction model, a language-based, multisensory program and was a participant in the Lone Pine Educational Foundation team, which trained with math specialist Greg Tang for two years. She has participated in several curriculum writing projects, is a PBIS Coach, a TEAM Mentor, and serves on the NMS Data Team.
Crystal Kitselman received her Bachelor's Degree in Sociology from The University of North Carolina at Charlotte, and her Master's Degree in Elementary Education from The University of Bridgeport in Connecticut.