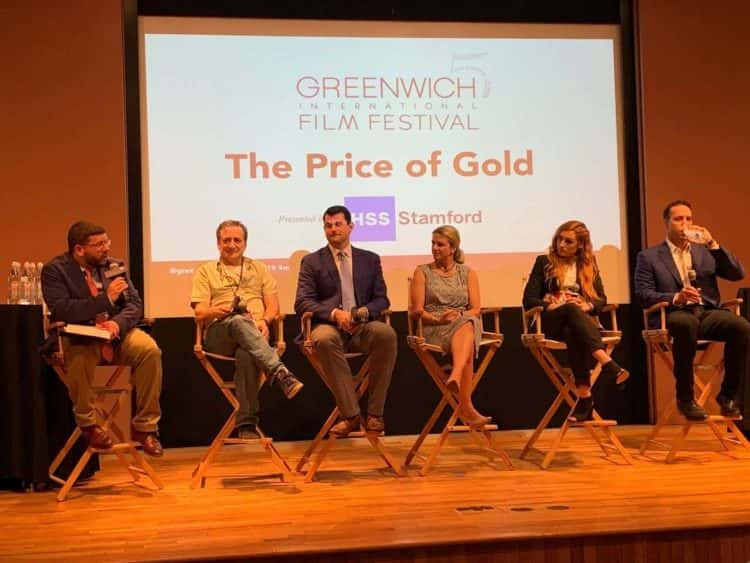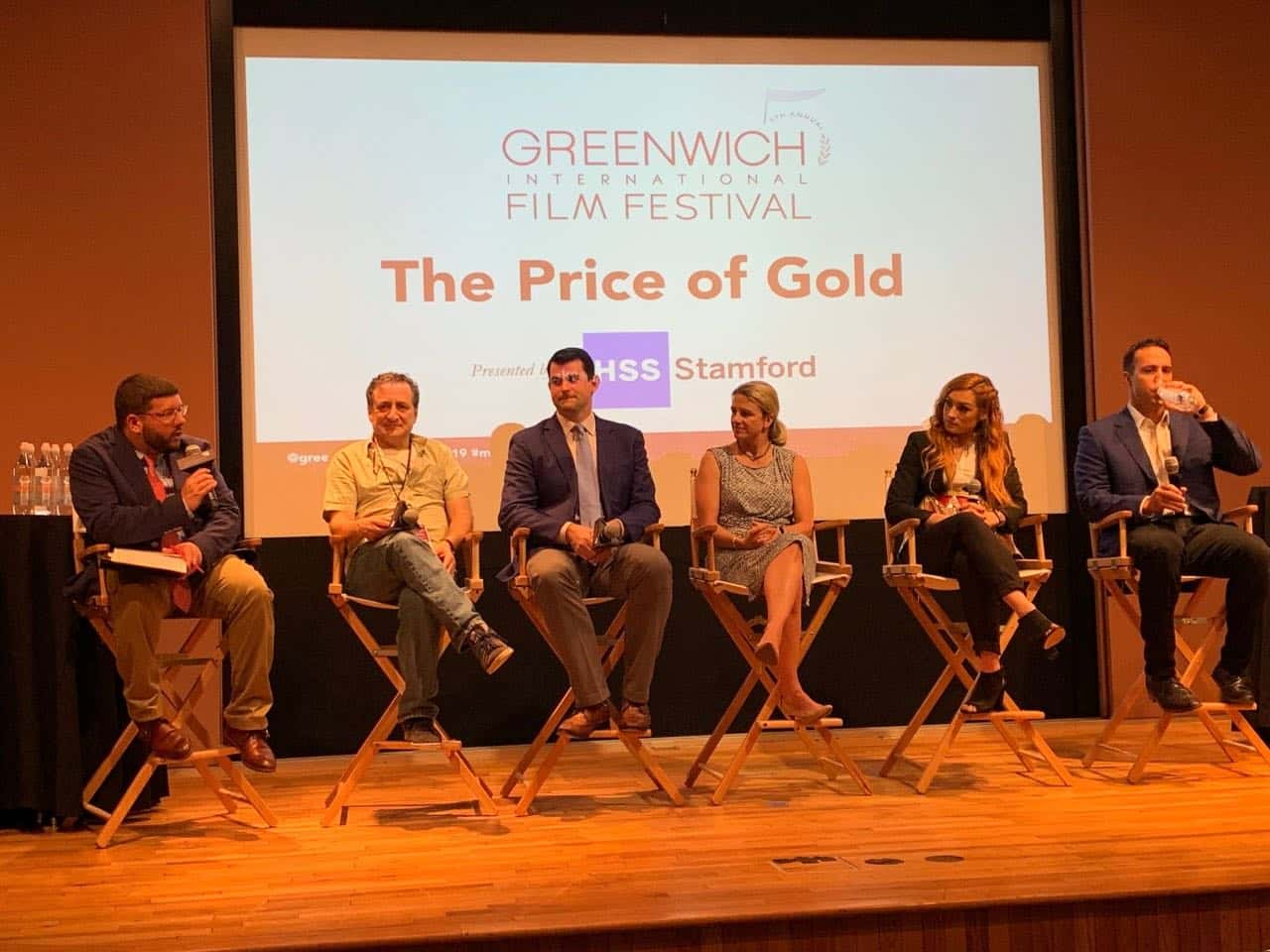 By Richard Kaufman
For many sports fans, they often only see how their favorite teams or athletes perform on television. But what goes on when the cameras aren't rolling? What does it take to reach the mountaintop in professional sports?
Several accomplished athletes spoke about the rich reward of chasing their dreams, and unplanned consequences on their climb to the pinnacle in their respective sports, during a panel discussion titled, "The Price of Gold." The event was presented by the Hospital For Special Surgery, in conjunction with ESPN, on June 1, at Greenwich Library, as part of the Greenwich International Film Festival.
The panel consisted of: Mark Teixeira, a Greenwich resident, and former Major League Baseball player and World Champion with the New York Yankees; Rebecca Quin, better known as Becky Lynch, a WWE Superstar and pioneer of WWE's women's division revolution; Sue Merz, a Greenwich native and member of the U.S. Women's National Hockey team that won gold in 1998; Dr. Sam Taylor, a Greenwich High School alum and specialist in complex knee and shoulder injuries with the New York Football Giants; and John Hock, an 11-time Emmy Award winning documentarian who has worked with NFL Films and ESPN.
Justin Barrasso, a writer for Sports Illustrated, moderated the discussion.
Lynch, who had plenty of fans in the audience, spoke about her struggles breaking into wrestling, and how she was able to become one of WWE's biggest superstars.
Lynch was born in Dublin, Ireland, and left home at the age of 15 to begin training as a wrestler. By the age of 18, she was traveling around the world appearing in shows, but, when her visa expired, she returned home. Lynch began to work in the independent wrestling circuit, with an eye towards being signed by the WWE. However, during one show, she suffered a serious head injury, and reluctantly took her mother's advice to pursue another career.
Lynch then bounced around from being a flight attendant to practicing martial arts, and even went back to school to become an actress. But wrestling was still calling her name.
While taking a wrestling class to prepare for a stunt job on a television show, she was persuaded to go for a tryout with WWE.
"Everything felt right again," Lynch said. "I felt that this is what I was meant to do."
Lynch signed with the WWE six years ago, just as women were being given a shot to succeed in the business. Lynch was still being overlooked, until last year when her character finally broke through and skyrocketed to the top of the industry. She recently won the first-ever women's main event match at Wrestlemania 35.
"All of those frustrations of being overlooked and not getting the ball to run with, just everything was more fuel. It was throwing logs on a fire that was sparking and sparking and eventually exploded," Lynch said about her recent success. "I always say that I run on spite and coffee. The more you can tell me that I can't do it, or the more obstacles that are put in my way, it's one more thing to leap over. It's constantly making me stronger."
Teixeira, a terrific all-around first baseman who played parts of 14 seasons with the Texas Rangers, Atlanta Braves, Los Angeles Angels of Anaheim and Yankees, talked about moving to first base as a minor leaguer. Gowing up, he had always played shortstop and third base.
"I was told I wasn't good enough at third base," Teixeira said. "I think every great athlete needs to have a chip on their shoulder. Something is driving them, and I would not have been a Gold Glove first baseman if I was always a first baseman. I'm a hitter that plays first base, but I said, 'Ok, I'll go over here and win a Gold Glove.' It was a lot of work."
Merz discussed winning the gold medal in 1998, the first year women's hockey was a full medal sport in the Olympics, in Nagano, Japan. 
"I've never been on a team like that before or after. Every single person on that team had a role, and we all had each other's backs. Because we had each other's backs and we had that common goal, we were unstoppable," she said.
Merz added that during that Olympic run, a few members of the team were distracted, and a team meeting helped bring them together towards the goal of winning a medal. "We weren't cohesive yet [before that meeting]," she said.
But things were different during the next Olympics, in 2002. The U.S. Women's team had a target on its back, and was the favorite going into the games. However, it lost in the gold medal round.
"We just didn't have the same kind of gel and cohesion. Only five players were different from the '98 to '02 team. It was a different feel. We were a much better team in '02 than we were in '98, and we just kind of imploded in the Olympics," Merz added.
Just like athletes have to trust their teammates, and wrestlers have to trust their opponents to achieve success, they also need to trust their doctors and physicians.
Dr. Sam Taylor, who played football at Harvard University, said his responsibility is to the player first and foremost, not to the franchise, when determining if a player is healthy to perform on the field. He added that professional athletes often have to make decisions and sacrifices when playing with injuries.
"These situations [with players] are not always clear cut. There's a lot of grey. The decision making for a pro athlete is very different in some regards to a normal human being," he said. 
Hock, who has directed and produced seven films for ESPN's Emmy and Peabody Award winning "30 For 30" series, said the key to any great story is struggle. 
"As a filmmaker, it's getting into that human being that paid whatever price they had to pay. There's always a high price to pay," he said.
During a brief question and answer session with the audience, the panel was asked what's next after you reach the pinnacle of your sport?
"It's one thing to get on top of the mountain; it's a whole other thing to stay there. For me, there's still that chip on my shoulder. There are more Wrestlemanias to main event, and I haven't had a singles match at Wrestlemania yet… There's still things to do," Lynch said. "I want to be the greatest of all time."