June 7, 2019
YWCA Greenwich Goes All Out to Celebrate 100 Years in Town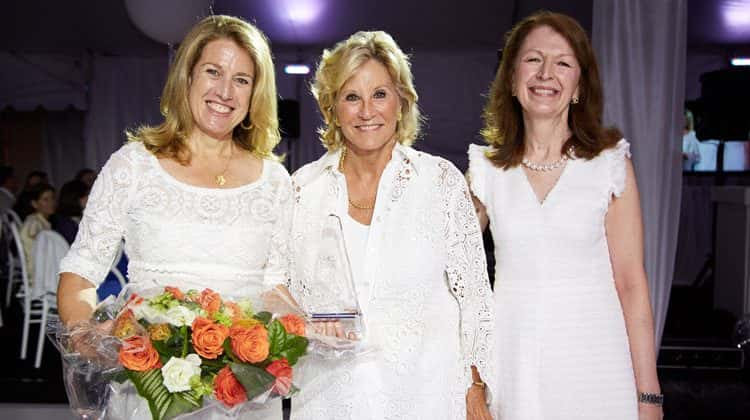 By Paul Silverfarb
Sentinel Editor
The YWCA Greenwich has gone through several changes in its 100 years in town. The building that has housed the organization has changed, the fitness areas have been upgraded and the programming with the YWCA has greatly expanded. But one thing that is unwavering and unchanged is how the YWCA is in Greenwich for good.
On Saturday night, the community, along with YWCA Greenwich President and CEO Mary Lee Kiernan, celebrated the organization's 100th year in town with a gala at YWCA. The evening featured dancing, dinner and a live auction that benefitted programs and services at YWCA Greenwich.
Jill Plancher and Sandy Waters were both honored with the inaugural YWCA Greenwich Founders Award for their volunteerism and service to the Greenwich community. Event co-chairs were Sabrina Forsythe, Susan Reynolds Lehman and Terry Lamantia. Former New York Mets manager and current Sacred Heart University athletic director Bobby Valentine was the auctioneer, while Donna de Varona was the emcee for the night.
Kiernan said that being around the YWCA and seeing the organization in Greenwich turn 100 years old has been quite the humbling experience.
"We are reflecting on the women that founded the organization and made it thrive for a century," Kiernan said. "Those women were true visionaries and wanted to establish an organization that would lift up other women and girls and families. They wanted to establish an organization that would focus on keeping the community inclusive and strong."
One hundred years ago, founders of the YWCA went out and raised $50,000, which would equal $750,000 in today's economy. They then purchased one of the old Greenwich Hospital buildings on Millbank Avenue and established the YWCA of Greenwich.
"The mission resonated with them and they made it happen," Kiernan said. "And, since then, there has been such a long line of visionary leaders who continued to help this organization succeed and have impact."
To see all the people that came out from Greenwich and surrounding towns to support and celebrate the YWCA Greenwich's 100th birthday was an amazing sight for Kiernan and her staff.
"It meant that our mission resonates and that our mission is important to the community," Kiernan said. "All of the supporters were so enthusiastic about being there and so generous on Saturday night, that we can see that what we are trying to accomplish here in the community is a priority for everybody that was celebrating with us."
And, the gala had a special moment when the husband of past YWCA President Toni Wyman, Ralph Wyman, was there to represent his wife. Kiernan said that under Wyman's watch in the 1970's, she led the campaign that purchased the building on East Putnam Avenue where the YWCA is currently situated.
"It was great to see her husband there with us celebrating the 100 years," Kiernan said. "He was there blowing out the candles on the birthday cake with us and some former board chairs and it was adorable. He is terrific."
And for Kiernan to lead the way at the YWCA now as its president and CEO is very inspiring and exciting, as she said that there's a great platform at the facility to launch into the next century and expand their programming.
The YWCA adopted a new strategic plan nearly a year ago and is starting to execute it now.
"It's really going to expand our impact on the community," said Kiernan. "We are planning on moving into sexual assault services. Right now we just provide domestic violence services. We're going to get our pre-school accredited. We have expanded our after-school program already this year and we are expanding our fitness offerings. We are also expanding our racial justice programming and all of our general community education opportunities."
With all the programs that the YWCA offers and has expanded over the past several years, it is a challenge for Kiernan to single out what has been the most rewarding part of her job.
"We have an incredible staff," Kiernan said. "Our swim team got silver status again this year and we are the only silver team in town. We have several swimmers going to Olympic trials. Our fitness director has taken over managing several Babe Ruth baseball teams in town. The huge bright star is the launch of our civil legal clinic last spring, which is basically establishing a law firm within the YWCA. That's taken off and they have already served 38 victims in that short amount of time. All that is really exciting."
And, what is in store for the YWCA Greenwich over the next 100 years?  Kiernan said it's all about the continued impact and success with the group's programs in the community.
"We want to continue to be the vibrant community hub, where people come to learn, to exercise, to have their children be educated and to lift up other members of the community."
Tags:
gala
,
greenwich
,
Mary Lee Kiernan
,
Town of Greenwich
,
YWCA
,
YWCA 100
,
YWCA Greenwich