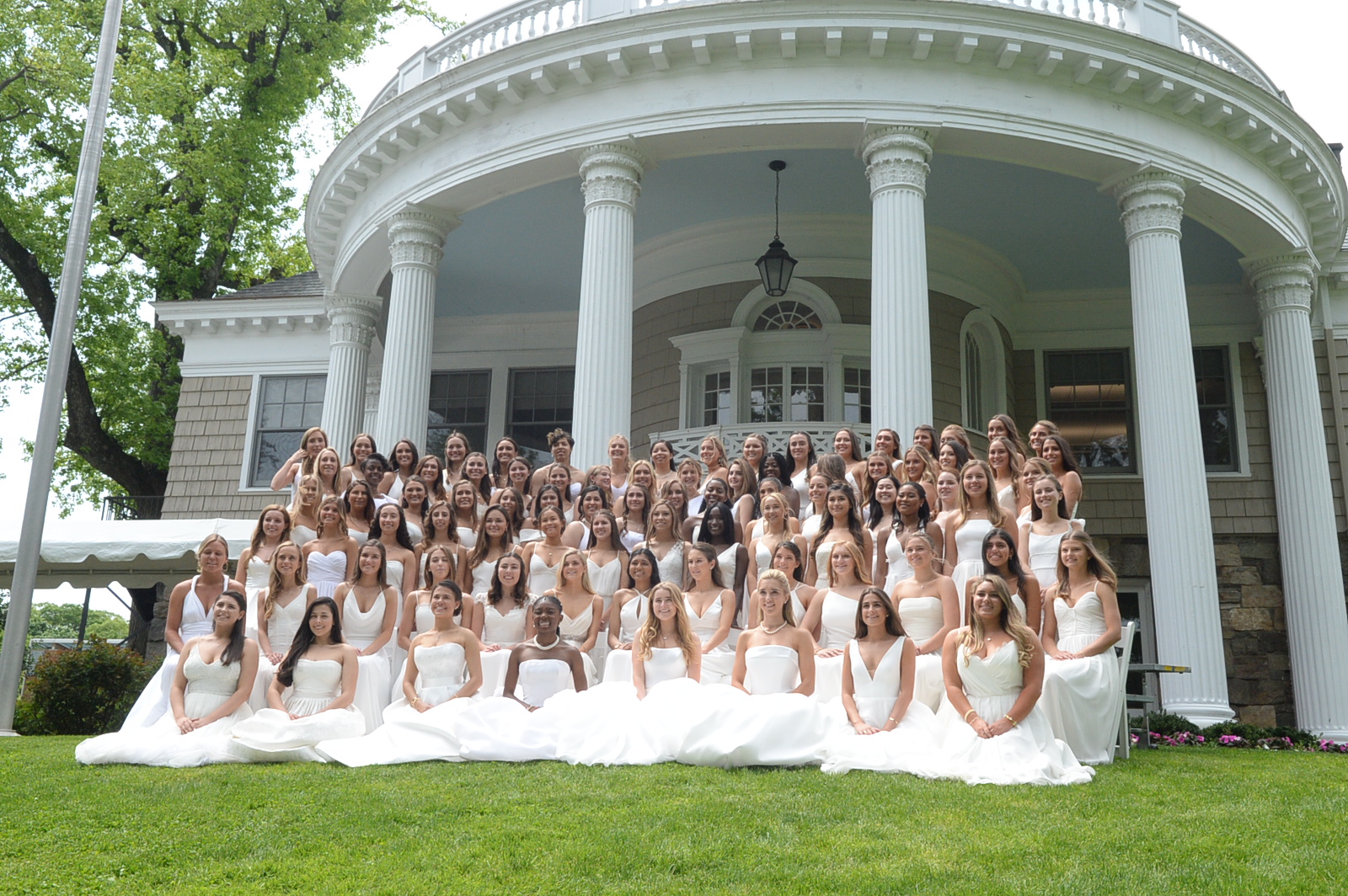 By Richard Kaufman
On a cool afternoon last Thursday, Greenwich Academy held its 192nd commencement ceremony, as the class of 2019, 84 graduates in total, received diplomas. The commencement address was delivered by GA alum and current editor-in-chief of Vanity Fair, Radhika Jones.
The ceremony was held under a tent on the front lawn of the campus, and each graduate, traditionally wearing a white dress and carrying a yellow flower, walked down from the school building to the stage.
Thomas Dunn, chairman of GA's Board of Trustees, and Molly King, Head of School, welcomed the graduating class and families.
"Although this ceremony represents the bridge between the past and the future, there is a continuity that will always exist between what has been and what lies ahead. The values, which you made your own at GA, will always have a role in tomorrow's decision making," Dunn told the graduating class.
King praised the classfor its kindness, joy and humor, and its perspective.
"These signature aspects of your character have made you incredible community builders and leaders at GA. You have such promise and potential," King added.
Valedictorian, Anisha Laumas, then introduced Radhika Jones Jones, who encouraged the graduates to face their fears, and speak up about the things that matter to them.
Jones described two instances where she did both.
After graduating college and living abroad for three years, Jones returned to New York to start a Ph.D. program in English literature at Columbia University. As part of the program, Jones had to teach a composition class to first-year college students. 
On her first day of class, Jones was halfway up the stairs near her classroom and began to panic.
"I thought, 'I can't do this. I can't stand up in front of a room full of actual students, I can't hold their attention, this whole program was a terrible idea, and if I just turn around and calmly go back downstairs, I can quit Columbia and figure out something else to do with my life,'" Jones said. 
Jones was able to compose herself, but she was so nervous that she had to hold herself up against a desk to keep from shaking.
"It's ok to be scared. But you should do the things you're scared of, because they really do make you stronger, and that sets you up for bigger adventures," Jones added.
Jones then described a moment when she started working at Time Magazine as the arts editor. After a story-pitch meeting, a coworker approached Jones and told her that her boss was a little hard of hearing, and she needed to speak up.
Jones, who acknowledged she was normally a quiet person, said it was like a metaphor had come to life. 
"So, I literally got louder. I raised my voice. And, once that happened, it was like a chain reaction. I found myself emboldened to speak about ideas and issues beyond my regular beat—about bigger stories I thought we should tell. And, gradually, my boss, who was the editor in chief of the magazine, began to see me as a leader," Jones said. "He gave me more and more responsibility, and I grew more and more confident, and that's part of the reason I'm here today as an editor-in-chief myself, because I learned that life is too short not to speak up and make yourself heard, about whatever it is that matters to you. You will not always prevail, but you will know that you had the confidence to speak."
Jones then encouraged the graduates to use their "built-in girls' network" to support each other. She also assured the class that they will find their platforms and messages as they go out into the world.
"Stick with them. Speak with conviction. Make sure everybody can hear you. Be open to every opportunity, especially the ones that scare you. Don't get hung up on perfection. Go and attempt great, difficult things. The people in this tent will be cheering you onward and upward, every step of the way," Jones said.
The commencement also featured songs and a poignant traditional ceremony in which future upper school students exchanged flowers with the graduating seniors. The Katherine Hewitt Award, given to a senior who is instinctively generous in her attention to others, was presented to Maddie Galbraith.
Kate Hazlett was chosen as the class speaker, and spoke about how she and her classmates have come to appreciate what GA has meant to them over the years.
"We are so lucky to be at a school where the teachers not only love what they do, but the teachers at GA also are willing to teach beyond the curriculum. They teach to the person. They go beyond the equations. They prepare us for college and for the world. They guide us to be good people, and they truly guide us to build our character," Hazlett said. "For years, we've watched this big white tent be put up for each graduating class, a visual marker that shows another school year is nearing its close, and that it's time to transition from one year to the next. But this time, the tent is for us, and we're the ones in white."
More photos below: