May 31, 2019
Column: They Paid the Price for Our Freedom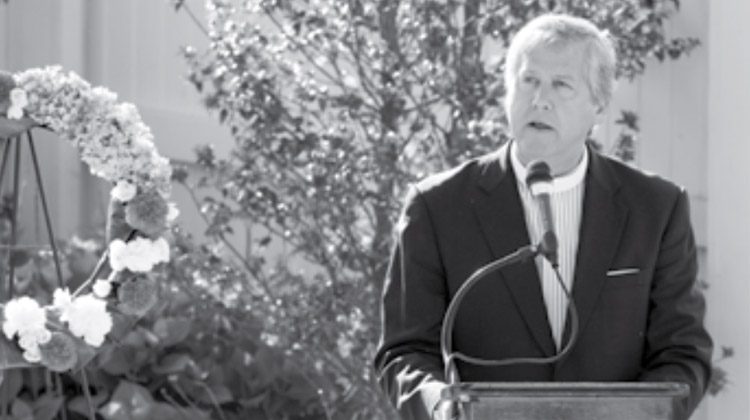 … Thank You, Greenwich, for Making Memorial Day So Special
By Marek P. Zabriskie
I have just experienced my first Memorial Day Weekend in Greenwich, and I cannot remember having spent a more glorious and memorable Memorial Day Weekend anywhere.  Greenwich really gets Memorial Day.
There was a sense of patriotism, joy and gratitude for the countless sacrifices made by so many so that all of us could enjoy freedom, liberty and the bounty of life that we savor each day.
A distinguished veteran processed with the American flag into church, where special prayers were said for those who died in combat while serving our nation and defending our freedom.  Patriotic hymns were sung, and the sermon spoke to the need for our nation to come together as one and to give thanks for our freedom and liberty. 
There was a service held at the Indian Harbor Yacht Club open to the entire community, where a retired female military colonel spoke about the evolution of women in the military and told gripping stories about women in combat. 
That was followed by the Old Greenwich Town Parade, a class American moment that resembled a Norman Rockwell Saturday Post illustration.  At a service in Binney Park, a long list of names of Greenwich residents who died in battle from the time of the American Revolution to the wars in Iraq and Afghanistan were read aloud. 
My wife and I were most fortunate to receive two tickets at the last moment to the Greenwich Town Party, which was great fun and a super way to see Greenwich come together for a festive communal event.
The words, "sacrifice," "freedom," "liberty," "patriotism" resounded everywhere, and American flags were seen flying everywhere – on boats and houses, in cemeteries and front yards and even attached to cars.  It was a weekend that made us feel proud to be Americans.
We have had far too much division in our country, looking at differing parties as if we were enemies.  We need to come together as one.  We need to meet in the center and rediscover our common purpose and recall what made our country great and what continues to make it stand out throughout the world.
I have known ministers, musicians, churchgoers and citizens who turn their nose up at anything patriotic, saying "Church and State should be completely separate."  There is some truth to this, because there are times in history when preachers need to address issues of national importance and speak out against our government or the military.
We need only recall how those preachers who were bold enough to speak out against the Nazi regime were arrested and not seen again.  Hitler created a state church of religious puppets called the Reichskirche to support the Nazis.  His government signed agreements with the Vatican allowing Roman Catholics to continue to teach and confirm in exchange for guarantees that Catholic Church would not speak out against the Nazis. 
This was a major step in silencing voices that could have resisted evil.  Subordination of the Church by the State is a dangerous thing.  The Church must be free to speak.
But those faith communities that fail to acknowledge the contribution of our government and our military and never mention the enormous sacrifices of those who have died on behalf of our nation miss something mightily important.  Those who laid down their lives for our freedom ensured that we are free to worship, pray, learn and raise our families in the land of liberty.
One of my first memories is seeing my father return from a weekend in the Army Reserve.  He was wearing his polished black military boots.  My grandfather, who was a pilot in World War I, and my father told me military stories.  I grew up with gratitude for our military and for those who dedicate their lives to preserving our liberty and freedom.  I listened to Barry Sadler singing "Ballad of the Green Berets" and dreamed of being one of them. 
It was clear to me this weekend that Greenwich understands the sacrifice paid by so many for all of us.  Sacrifice is at the center of the Judeo-Christian tradition.  It is found in our Scriptures. From the sacrifices offered in the Temple in Jerusalem to Jesus offering himself as a living sacrifice for us to the Gospel of John referring to Jesus as the "lamb of God, who takes away the sin of the world," the Judeo-Christian tradition sees "sacrifice" as part of the fabric of creation.
The word "sacrifice" appears as a verb or noun 213 times in the Bible.  The vast majority of references are in the Old Testament.  These passages prefigure Jesus' sacrificial death for us on the cross.  Jesus said, "Greater love has no one than this, that he lay down his life for his friends." (John 15:13).  Sacrifice is at the heart of our faith and how we see reality.
I have buried scores of men and women from the Greatest Generation.  As a generation, they embodied three words – duty, commitment and sacrifice.  I was taught, "Baby Boomers hate these three words.  Don't use them when you preach."  But I find duty, commitment and sacrifice to be three vital core values that we should never abandon.  They instill character and meaning in our families, communities and our nation.
How fortunate we are for all who have made profound sacrifices on our behalf.  Thank you Greenwich for making Memorial Day so special.  Thanks to those who gave their lives and paid the ultimate price.  How fortunate we are for the unfathomable sacrifice you made for us!
The Rev. Marek P. Zabriskie, is the Rector of Christ Church.
Tags:
greenwich
,
memorial day