May 24, 2019
St. Paul's Day School Dedicates Playground to Toni Natale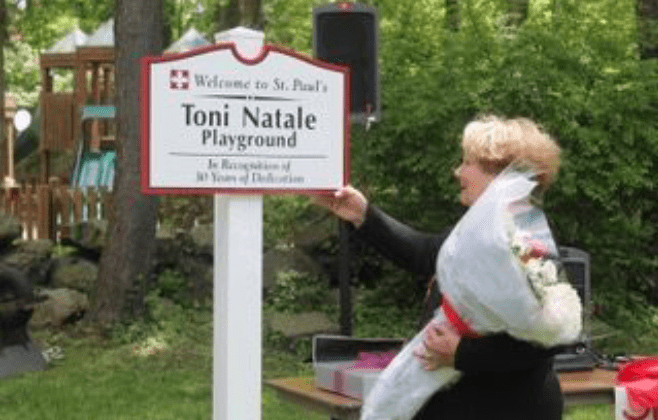 By Richard Kaufman
When Toni Natale announced she was going to retire in June after 30 years as the Director of the St. Paul's Day School in Riverside, the church decided to dedicate something of importance in her honor.
Last week, after the St. Paul's Day School Field Day, the playground officially became "Toni Natale Playground," which will be marked with a plaque.
Natale first came to St. Paul's Day School, a preschool located at the St. Paul's Episcopal Church in Riverside, in 1987, as a teacher. In 1989, she helped renovate the playground with her husband, Daniel, who owns a contracting business. She then became the Director of the school, and has been a staple there every since. 
"The playground is a very special place because the community is allowed to use it, so it's open to the public. It's a unique place and a very special place for a lot of the children who come to our school," Natale said. "Now, ironically, the parents I had as students are now bringing their children there."
Rev. Stephanie Johnson of St. Paul's Church said Natale has meant a lot to the church and school.
"There's this warm loving feeling that pervades the place because of her warm and generous heart. She's this person who knows all the parents and knows their stories, and walks through their lives and their journeys, and helps them to be parents in ways that she models as a grandmother and a mother," Johnson said.
Johnson said the playground "represents a little bit of life for everyone," so dedicating the playground to Natale made perfect sense.
"Kids with [skinned] knees, and parents give them hugs and love, and Toni did that. It's a place of conversation and wondering, and Toni did that. It's a place of laughter and happiness, and Toni supported all of that. So having the playground named after her sort of represents the essence of who Toni is," Johnson added.
The preschool became a second home to Natale over the years, she said, as she has cherished watching the young children learn and grow.
"They're like sponges. Anything you give them, they swallow it up and go forward with it. It's a special age group and a special place," she added.
The school, itself, has grown in many ways, too. Natale started out with 58 children enrolled, and at times, that number has increased to 140. Natale pointed out that the school has introduced music, art, gym and various activities and special events, like Field Day, over her tenure.
"There are so many different activities that go on there, and the church has always been very supportive of us, which is nice," Natale remarked.
She credited her staff, some of whom have been working at the Day School for at least 15 years, with making her time as Director special.
"I've had the most amazing staff anyone can have," Natale said. " I always say to my staff when I hire them, that they don't work for me, they work with me, to make the school the best it can be."
The most rewarding aspect of Natale's tenure, she said, is the fact that the Day School was one of the first schools to have children with special needs enrolled with an aide, before the town of Greenwich started a special integrated program for those students. 
"That's one of the highlights of my career, to be able to accept these children into our program and see them grow and interact with all the kids," Natale added. 
In July, Lisa Adorno will take over as the new Director. Adorno has served as the supervisor of the preschool division at Rippowam Cisqua, in nearby Bedford, N.Y. 
Natale believes she'll fit right in.
"She's a wonderful lady," Natale said. "I think she'll really do a wonderful job at St. Paul's. I think the parents will welcome her with open arms, and so will the staff."
Although Natale will be leaving in several weeks, what she brought to St. Paul's Day School for 30 years won't be forgotten. When asked how "Toni Natale Playground" sounds to her, Natale responded with joy.
"It's beautiful," she said. 
Tags:
greenwich
,
riverside
,
St. Paul's Day School
,
St. Paul's Riverside
,
Town of Greenwich