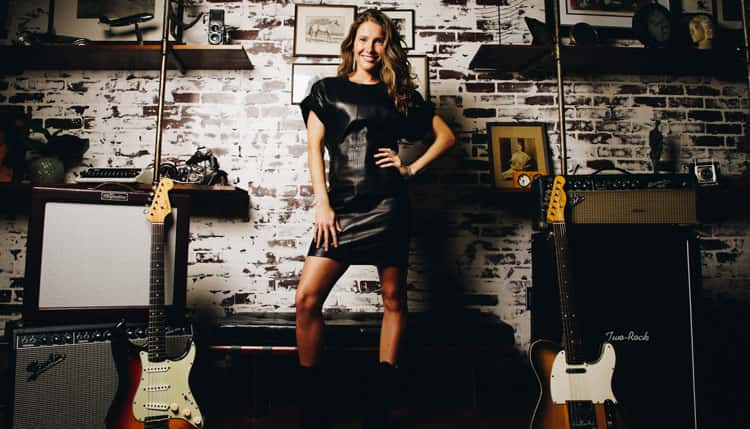 By Paul Silverfarb
Sentinel Editor
Throughout Greenwich, there's always a buzz in the air this time of the year, as Roger Sherman Baldwin Park gets transformed for the Greenwich Town Party. While town residents are eagerly awaiting the day of music and fun, it's safe to say that country music star and Greenwich native Caroline Jones is just as excited.
"We have been playing on the road now for two years and this is the first time that I have played at the Greenwich Town Party with a band," Jones said. "We're going to go for a high energy set. The nice thing about the Greenwich Town Party is that they really appreciate lyrics and they seem to love folk music as well."
Jones and her band is one of the acts that will participate in the annual Greenwich Town Party. In addition to Jones, The Beach Boys, Lynyrd Skynyrd, Trombone Shorty & Orleans Avenue, 8Track Band, and several local bands comprise this year's event.
"The lineup this year is, from what I understand, is a little smaller than in the past, so I am honored to be included," Jones said. "The diversity of their lineup is really unique. A lot of festivals we play in during the summer are country festivals or Americana festivals or a certain festivals built around a certain product or community events. But the Greenwich Town Party is much more diverse when it comes to the musical acts. You have rock and you have real blues. You have acoustic. The event is really high-quality real music and that's something very unique today."
Jones couldn't be more thrilled to showcase herself and her band to the GTP. Jones is slated to hit the main stage of the Greenwich Town Party at 2:15 p.m. She noted that her set is pretty high energy and emphasized how fun and musically deep it is.
"Hopefully we get to throw in some songs that we don't usually do in an arena," said Jones. "I am hoping it will be a beautiful day because the Roger Sherman Baldwin Park is such a beautiful place to play. It's going to be fun."
For Jones, giving back to the Greenwich community is nothing new. Last year she was the headliner for Greenwich Hospital's Under the Stars event and she also was one the singers during the annual Greenwich Wine & Food Festival.
"It's a pleasure for me because of how peaceful Greenwich is, especially this time of the year," said Jones. "It will always be home because I grew up here. There are so many people that I love in the area and in New York City and hopefully I get to see some of them this weekend. It just means a lot for me to have a community to call home and to come back and do what you love the most and travel all over the world doing what you love is such a beautiful thing."
To say that Jones has been enjoying every second touring during the summer is an understatement. Last summer she toured with legendary acts such as Jimmy Buffett, The Eagles, Zac Brown Band and One Republic. Jones was also able to open for top-level acts like Vince Gill, which was a dream come true for Jones. In addition, Jones opened for Tim McGraw and Faith Hill.
And 2019 has been just as busy. This spring, Jones released her new single Chasin' Me and it was a hit from the start, premiering as the No. 1 video on the CMT Music 12-Pack. It has been on the list for the past four weeks and currently sits at No. 2 as of press time. Jones started the year with a headline tour date on the East Coast, and she also had performances at the C2C Country To Country Festival overseas in both London, England and Dublin, Ireland. She also has been opening for Vince Gill.
And if that's not busy enough, Jones has been touring with Kenny Chesney during his 2019 Songs for the Saints Tour.
"It has been wonderful touring with Kenny Chesney," Jones said. "We have performed in a lot of smaller American markets that I have never played in before, a lot in the Midwest and the South. So that has been fun. And I love Kenny and his crew. They have been so nice to us. I am hoping that I get to tour with them again in the future."
But there's no rest for the weary, as Jones will once again join Zac Brown Band during their summer tour. The tour will stop at the PNC Bank Arts Center in Holmdel, N.J. on June 22-23 and will be back in the area when they land at Jones Beach in Wantagh, N.Y. Aug. 24-25. Jones finishes up her summer on Sept. 22 playing in the Bourbon and Beyond Festival in Louisville, Kent.
Last year Jones released Bare Feet, her full-length album that climbed to No. 16 on the Nielsen SoundScan Country Albums chart and No. 14 on the iTunes Country Albums chart.
And when she's not on the stage, Jones could be found in her studio, working on songs for her upcoming album.
"It's going to be another busy summer and hopefully we will be able to get back into the studio this year," Jones said. "It's become more of a challenge to get into the studio because we have been touring so much. But I am not complaining at all. I have been touring at this level for a few years now and it means the world to me. I dreamed about touring at this level for years and bout having these artist mentors. I have had that in Jimmy Buffet, Zac Brown and now Kenny Chesney.
"It's validating to me and it means the world to me that I am in the same room with these superstars," added Jones. "I get to soak in the energy and soak in the experience. It's been a beautiful journey and I feel like am doing a pretty good job at enjoying it. I am growing as a musician and a performer and taking all that knowledge and bringing it back to the studio. It's a wonderful time and I am blessed."