May 18, 2019
ECFF, GPC Ready for Some 'Good Chimes'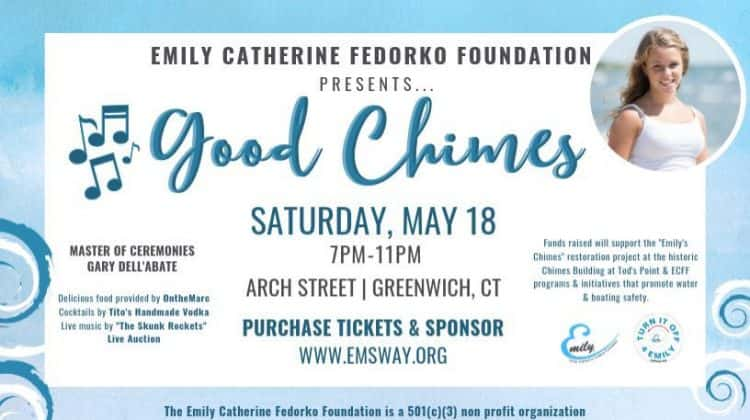 By Richard Kaufman
"Good Chimes" will be had by all on Saturday, May 18, at the Arch Street Teen Center, and for a good cause.
The Emily Catherine Fedorko Foundation (ECFF), which was formed by Pam and Joe Fedorko following the tragic death of their 16-year-old daughter, Emily, in a water tubing accident off the coast of Greenwich, in 2014, is hosting a fundraising event called "Good Chimes," to raise awareness about boat and water safety, and funds to help honor Emily.
In November of 2018, the ECFF partnered with the Greenwich Point Conservancy (GPC) in its project to restore the Tod's Point Chimes Building.
Money raised on Saturday will go towards restoring the building's chimes mechanism and bells, which will be known as "Emily's Chimes" once the restoration project is complete. A water safety center, which will provide education, advocacy and awareness of boating and water sports safety, will be housed at the base of the Chimes Tower.
"With the Chimes Building, we will have a permanent home that honors Emily and gives back to the community," said Pam and Joe Fedorko. 
GPC President, Chris Franco, said the Conservancy is happy to be partnering with Pam and Joe Fedorko, and the foundation, on the project.
"We think that the restoration of the historic chimes and tower will be a big benefit for the community, as well as a wonderful way to remember Emily and honor her love of music," Franco added. "It will also further the important goal of boating safety, with a permanent water and boating safety center at the base of the chimes tower."
The ECFF provides funding to spread education, advocacy and awareness of boating and water sports safety for adults and children, not only in Connecticut, but nationwide.
Gary Dell'Abate, a Greenwich resident, has been neighbors with the Fedorkos for over two decades. The families have vacationed together many times, and Dell'Abate's youngest son was good friends with Emily. Following the accident, Dell'Abate wanted to help in any way possible.
"When the tragedy happened, it was devastating for the whole community, especially for our family, because we just knew them so well. Almost immediately after the accident, [Pam and Joe] announced they were starting a foundation, and a bunch of us in the neighborhood said we wanted to get together and help," Dell'Abate said, who is now a Board member and will emcee the Good Chimes event with Lara Spencer.
"We're literally just eight people in a living room. That's who runs this foundation. It's very grassroots. We're all great friends of the Fedorko family and we all love Emily, and we're trying to do the best to help," Dell'Abate added.
Saturday, the day of the event, marks the start of National Safe Boating Week, which will run through May 24. As summer rapidly approaches and Greenwich residents take to the water for fun in the sun, it's important to remember safety.
"Everybody should use their head, and think about what they're doing. Double check yourself all the time when you're not in the boat. You want to go out and have fun, but at the end of the day, you just have to be responsible," Dell'Abate said.
Chris Franco added that the Chimes Building will serve as a reminder to those who frequent Greenwich waters.
"Our entire community mourned when Emily died in a tragic boating accident off the shores of Greenwich Point," he said. "We cannot help but think that when 'Emily's Chimes' ring out over the waters of Greenwich Cove, the good works of her foundation will be make boating safer for young boaters in those same waters," Franco said. 
Tickets for the Good Chimes event can be purchased at emsway.org. Donations to the foundation and to the Chimes restoration project can be made there as well.
Tags:
Emily Catherine Fedorko Foundation
,
greenwich
,
Greenwich Point Conservancy
,
Town of Greenwich