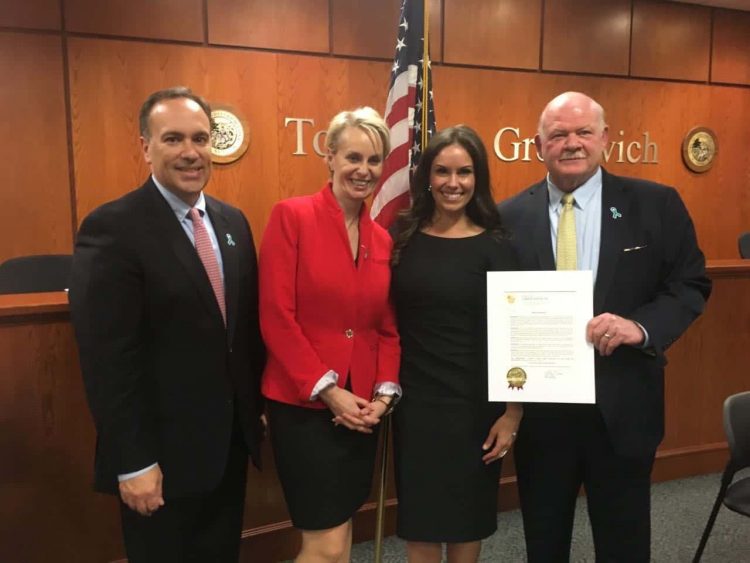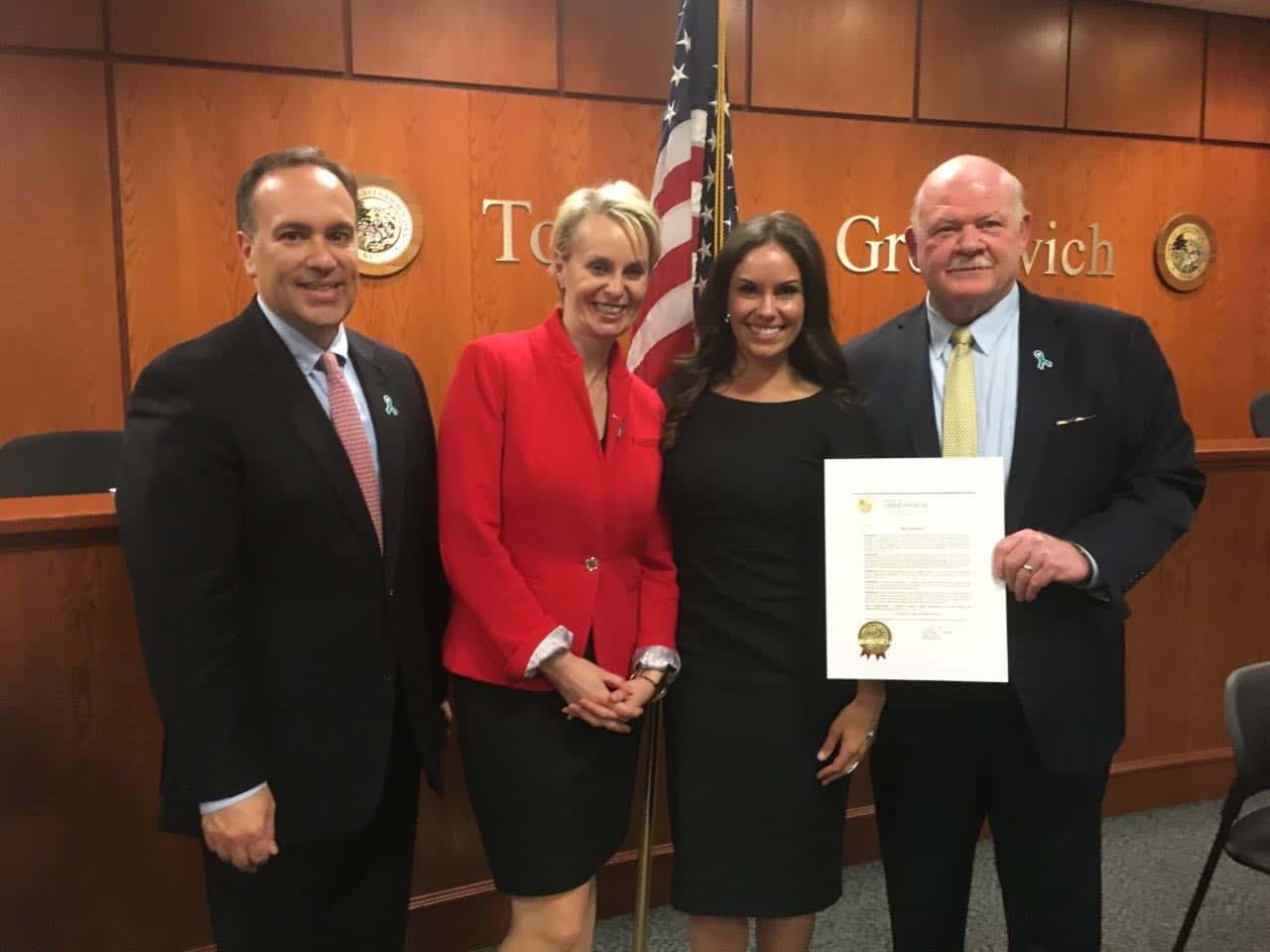 By Richard Kaufman
Sentinel Reporter
Greenwich Hospital will launch a new physician education program to help all doctors recognize potential early signs of breast and ovarian cancer in order to diagnose both diseases much sooner.
Kaile Zagger, a Greenwich resident, co-created the MAT Education Program with Dr. Elena Ratner, associate professor of Obstetrics, Gynecology & Reproductive Science at the Yale School of Medicine and clinical leader for the Gynecological Oncology Program at Smilow Cancer Hospital.  
Zagger lost her mother, Marilyn Ann Trahan (MAT), to ovarian cancer 20 years ago. She publicly announced the program last week on the anniversary of her mother's death, at Town Hall, during a ceremony that proclaimed May 1 as MAT Education Awareness Day. 
The program, the first of its kind, will be a rigorous curriculum and exam that will arm medical providers with critical information to appropriately risk strategy, assess vague signs and symptoms and take rapid next steps to make sure that breast and ovarian cancers are prevented and detected at early stages.
Zagger was overcome with emotion as she spoke about her mother, who experienced vague symptoms at the age of 38 before being diagnosed with stage 4 ovarian cancer two years later. She succumbed to the disease in 1999 at the age of 46.
"My family was splintered, but instead of coming together, we were torn apart," Zagger said. "The impact was devastating, and we never recovered. Her death left a tremendous void for all who loved and knew her. Cancer doesn't just impact the patient, it traumatizes the family, creates financial devastation, depletes communities and leaves scars that are unable to be healed."
According to a press release from Greenwich Hospital, 300,000 new cases of breast and ovarian cancer were diagnosed in the United States last year, and of those, 55,000 women died. Ovarian cancer is particularly difficult to recognize in its early stages, so the rate of death is the highest among all female reproductive cancers.
"Studies show that women with ovarian cancer have the disease for 24 months, and they've seen 4-6 physicians [over that time]. Symptoms are vague. They whisper, but they are there and they are just enough for us to ignore and prioritize something more interesting," Zagger added, noting that when women seek medical help for symptoms, they're often told that everything is fine. 
"The burden should not be with the woman to manage or think about signs and symptoms, yet we spend an incredible about of time and energy focused on this. It's not working and it must change," Zagger said.
Ratner developed the curriculum with her colleagues at Smilow Cancer Hospital and said that it will "be an example for other hospitals and other health systems."
She praised Greenwich's support for the program, which has several partners, such as the Breast Cancer Alliance, the YWCA of Greenwich and the UJA JCC.
"The future is prevention," Ratner remarked. "I'm not only going to cure cancer or find it early, we're going to find it before it even happens so you never have to hear those words: you have cancer."
First Selectman, Peter Tesei, spoke about his personal experience as a 10-year-old boy when he found out his mother was diagnosed with breast cancer. While she survived, his aunt unfortunately did not. Tesei's wife was also diagnosed with the disease, he said.
"What you're doing is saving lives, but really saving the future for those women and their families," Tesei said to Zagger and Ratner. "I've seen first hand what happens when a parent doesn't survive and how it indelibly changes the future for those children. I cannot thank you enough, and I think this is one of the most powerful things I've seen developed in my time in public life. I'm encouraged, and I feel inspiration and hope for the women of today."
President and CEO of Greenwich Hospital, Norman Roth, said he didn't think twice about sponsoring the program when Zagger and Ratner approached him.
"They didn't even get the words out and I said yes," he said. "This is such an important endeavor in terms of our mission, our responsibility and our commitment to community health."
Diane Powis, a Greenwich resident and ovarian cancer patient, spoke firsthand about her journey over the past several years.
Powis said that as a person of Eastern European Ashkenazi Jewish descent and with a family history of breast cancer — her mother and aunts died of the disease — she was aware that she was a high risk for developing breast cancer as well.
Powis was "hyper-vigilant" about scheduling mammograms and checkups, and was determined to detect and obliterate what she assumed was her genetic fate.
However, ovarian cancer wasn't on her radar. Starting in 2012 at the age of 44, a growing list of health issues began to trouble her. She bounced around from different doctors who couldn't find any serious medical problems. After awakening from what she thought was going to be a colonoscopy, her doctor informed her the procedure could not be done because her colon was obstructed by a large cancerous mass. 
Powis was diagnosed in 2013 with stage 3 ovarian cancer, which had likely originated in her fallopian tubes, and spread across her abdominal cavity.
"When I was finally diagnosed in 2013, my prognosis was at best, five years. I'm acutely aware that I'm only still alive today because of recent advances in gynecological oncology, as well as the amazing work of countless health professionals," Powis said.
Powis added that she wonders how her life would be different today if the MAT Program had existed in the years leading up to her diagnosis.
"Greenwich Hospital is leading the way to do everything it can to make sure that my story of multiple misses and consequently late stage diagnosis, will never, ever need to be retold by any other woman in our community," Powis said.
The program will officially get underway at Greenwich Hospital on June 1, and training for all personnel is expected to be completed by Oct. 31, the end of ovarian cancer and breast cancer awareness month. Zagger said the MAT team will launch a website this summer.
For more information, visit greenwichhospital.org.