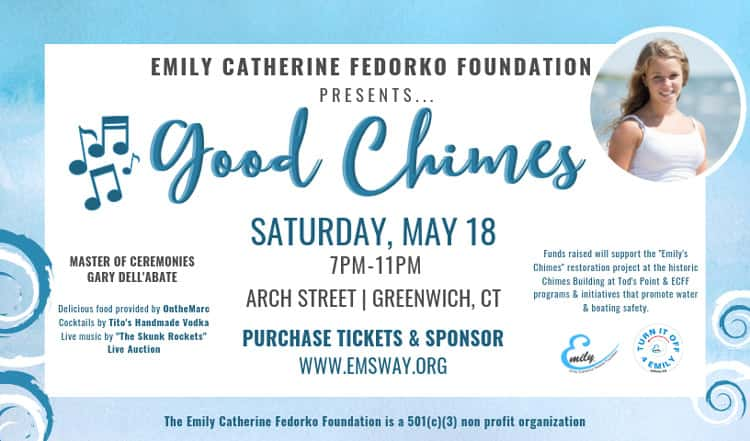 On Saturday, May 18, the Emily Catherine Fedorko Foundation will host "Good Chimes," an evening to benefit the foundation and the "Emily's Chimes" restoration project at Tod's Point. The event will take place at Arch Street Teen Center from 7 to 11 p.m. Tickets and sponsorship opportunities are available online: emsway.org/good-chimes
The event will support the organizations pledge to the Greenwich Point Conservancy to help fund the restoration of the Chimes Tower at Tod's Point, built in 1901 as part of the historic Chimes Building. Through the restoration project, the physical chimes and their mechanisms will be restored. Upon completion, the chimes will be named "Emily's Chimes" to honor the life of 16-year-old Greenwich High Schooler, Emily Fedorko, who tragically lost her life in 2014, during a water tubing accident on Long Island Sound. In addition to the chimes, a new Water Safety Center will be established inside the building, in an effort to further the Foundation's mission to educate the community about the importance of water and boating safety.
Emcee for the evening will be ECFF board member Gary Dell'Abate. Guests will enjoy food by OntheMarc catering, cocktails by Tito's Handmade Vodk, a Raw Bar provided by the Greenwich Shellfish Commission, live music by "The Skunk Rockets," dancing and a live auction. Guests are encouraged to wear casual attire, with a splash of blue.
Purchase tickets or become a Sponsor at emsway.org/good-chimes. For more information, contact info@emsway.org