April 19, 2019
Column: What's A Teardown Worth?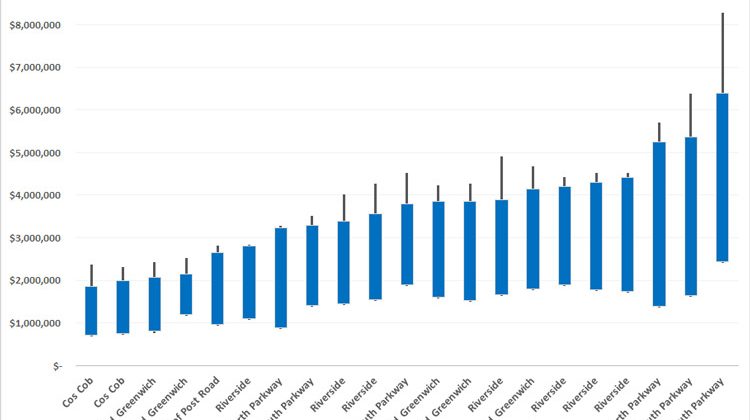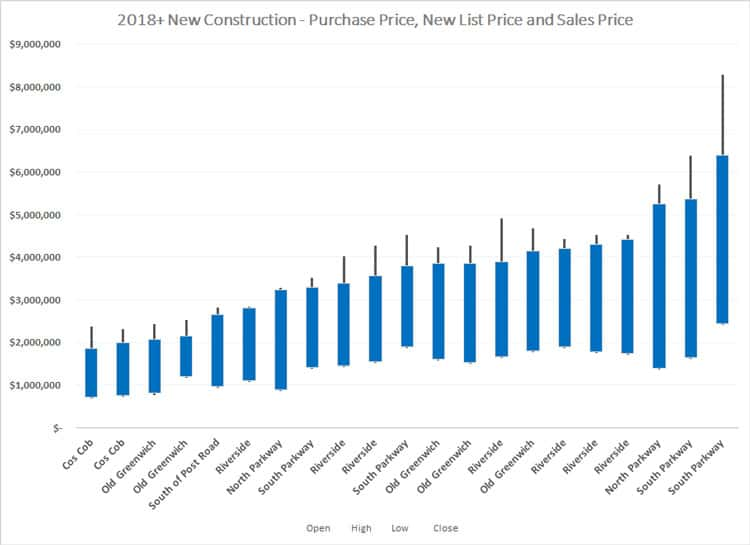 The 2019 New Construction Report In Greenwich
By Mark Pruner
New construction is hard, you have to buy the property, design the house, navigate the land use departments in Town Hall, get a building permit, build the house, and pass all the inspections, to finally get a certificate of occupancy. If you a developer, you have to do all that and make a profit. So how is our new construction market doing.
Houses
Since the beginning of 2018, we have sold 690 houses in Greenwich and have another 85 under contract. Of these 690 houses, only 46 were new construction completed in 2017 or later. This means only 6.7% sales or 1 in 15 sold houses are new construction. We have the same percentage in our 85 contracts. Only 6 houses or 7.1% are new construction. Of our inventory of 655 houses we have only 58 houses that were built in 2017 or later.
When you look at the new construction by price range 89 of our 110 newly constructed spec houses are between $2 and 6.5 million. Only 10 of the houses are under $2 million and none of them are under $800,000. The median list price for the 110 new houses is $4.1 million, while the median sales price is $3.4 million. Just as with the previously owned houses, new houses over $4 million have been a hard sell this year.
In total, we have $451 million of new construction has been built and listed since the beginning of 2018. This is a lot of jobs and business for one town. Of this $451 million of new construction, we have had $159 million dollars of actual sales. The difference of $291 million is attributable to several factors. First, that is just our inventory and contracts net of sales. We have 58 newly constructed houses in inventory and 6 under contract so you'd expect the difference to be higher.
The other factor is the difference in what's selling compared to what is being built. We have good sales up to $4 million, but there sales taper off. Much of the $291 million in difference is in the higher price ranges. Another factor is that often these houses are still under construction when they are listed.
I can tell you that selling houses while the work is still going on is more difficult. We put 598 North St on the market at $5.9M. It is one of three houses at the Estates at North St. that are being built. Even with nice websites and beautiful virtual renderings of the house, people here are reluctant to pay full price when they can't see the completed houses.
Lastly, this year, we are seeing a slow down across all price  ranges as buyers are waiting to see what will happen in Hartford with a myriad of tax bills. (A quick update on that, based on people that are paid to know this, the state property tax, probably the biggest threat to Greenwich real estate, is essentially dead as is a proposed buyer's conveyance tax. Tolls, a broaden sales tax base and a slight increase in the conveyance tax for sales over $800,000 are still in the mix.)
Condos
Our new construction condo market is different than it is for houses. We have a big bulge from $2 – 4 million and a smaller bulge from $800,00 to $1.5 million and practically no new construction outside of those two price ranges. The larger bulge is due to a change in the R-6 zoning.
Previously, you could build more than 2 condos on an R-6 zone lot. You see a lot of this up and down Milbank Avenue where 3 and even 4 condos were put on long,  narrow lots. Planning and Zoning changed the rules to limit R-6 lots to only two units max. As a result, we saw a rush of building applications to get in under the old rules. Some of these units have broken ground, while others haven't yet. As a result, we'll see an uptick in higher-end condo construction.
As with houses new condos under $1.5 million sell well, while there are slower sales in the $2 – 4 million range. The other curious thing about new construction condos is that the median is higher than the average. Our median sales price is $1.90 million while our average sales price is $1.84 million. This is something you don't see very often in Greenwich as our high-end is very high, usually pulling the average well above the median. This "inversion" is a result of that large bulge of new construction over $2 million.
What Are Teardowns Worth
Among builders there is the third, a third, a third rule of thumb. This rule says that the land and the construction cost should each cost around one-third of the sales price. This leaves a third of the sales price for profit. Now, the profit is not that much, partially, because the land is not a third of the cost, but how much actually is the land cost in the real world of Greenwich construction.
I'm part of the Greenwich Commercial and New Development group at Berkshire Hathaway. We spend a lot of time looking for properties that are appropriate for gut renovation or new developments. So, I really wanted to know just how accurate this shibboleth was.
It turns out that the one-third rule is probably a little low, but not that far off the mark.  If you take the 21 sales for which we have both the purchase of the land/teardown and also the subsequent sale, you get a median "land" cost for new construction of 38.1%. Nearly all of these "land" purchases had a house on the property.
Time was the other thing that was interesting when running the numbers on these new sale. The median time from purchase of the land to sale of the new house was 2.25 years. The shortest time period it took to buy, design, get approval, build, get a C.O. and sell was 15 months. This means that developers are likely to see their market change once or even twice during the development period.
If you are thinking about selling your house to developer, he or she will want to buy it at "wholesale" and anything that will delay getting approvals such as wetlands will make it less valuable. On the flipside a nice flat lot in Riverside, Old Greenwich or Cos Cob will peak their interest. Either way, I'd love to hear about it.
Mark Pruner is an award-winning real estate agent with Berkshire Hathaway. He can be reached at 203-969-7900 and mark@bhhsne.com
Tags:
greenwich
,
Real Estate
,
teardown