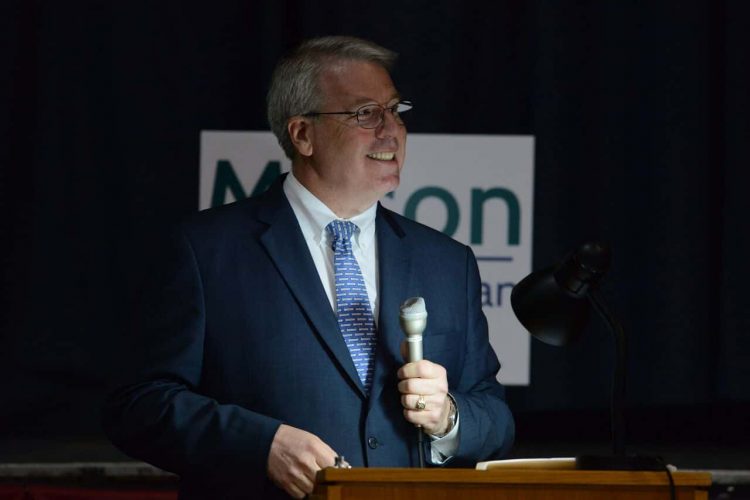 By Richard Kaufman
Sentinel Reporter
Michael Mason, a Republican and longtime member of the Board of Estimate and Taxation, announced his candidacy to run for First Selectman in February following the announcement that Peter Tesei will not seek re-election. On Tuesday, Mason officially launched his campaign in front of nearly 200 people at the Eastern Greenwich Civic Center.
Jim Lash, a former colleague of Mason's on the BET, and also a former first selectman (2003-2007), will serve as the honorary chair of Mason's campaign. Lash ran through Mason's 38-year career in the aviation business, and his near 30-year-career serving in town government, before he was introduced.
"He knows that what you do really matters. He knows he has to be careful with the decisions he makes, because they do affect people's lives. He's willing to do that work day after day," Lash said.
Mason spoke about his beginnings in Greenwich, from growing up middle class and attending Greenwich Public Schools, to becoming involved in various service clubs in town and even working as a volunteer firefighter.
"I found myself in leadership positions, which kind of led me to town connections. I decided that it was time to maybe get involved in town government," Mason said.
Mason joined the Representative Town Meeting in 1991, and was elected chair of District 8, three times. In 2004, Mason was elected to the BET, and became the chair of the Budget Committee, before eventually leading the full BET for three terms. 
"Education and experience about our town government is vital to the job I seek," Mason said. "With my 26 years as an elected official in town, 38-year career in aviation, I just think I'm uniquely qualified to be the next first selectman."
Mason added that his deep knowledge of every town department, and how they operate would serve him well as Greenwich's chief elected official.
"I've had the really good fortune of interacting with thousands of residents in the town: RTM members, town board members, concerned citizens. What I've learned to get things done in town, you need to work across the aisle. You need to work with all the town bodies, and I've done that, and I will continue to do that as your first selectman," Mason said.
If elected, Mason said he wants to ensure that Greenwich remains a premier community on the east coast. He also wants to preserve the civil discourse in town.
"Greenwich has always been a town, in my opinion, that welcomes diversity, invites all opinions and governs with civility and respect. It's important to me we continue that," he said.
He noted some challenges at the state level, such as an increase in taxes and the issue of unfunded pension obligations. In order to respond to future challenges, he said, Greenwich must improve the efficiency of its government, and improve the dialogue between the town's decentralized boards and commissions.
Maintaining town infrastructure, capital planning, and tracking capital projects would be priorities for Mason, he said. The town also must continue to support and invest in the Greenwich public schools.
"Our schools are one of the key reasons families choose Greenwich," he said.
"'I've been part of a lot of decision and policy for the community. I just want the opportunity to lead Greenwich's future visions," Mason said in closing. "Greenwich is a very special place to live. The task that we all should take on is to make Greenwich tomorrow a better place than today for the future generations."
Mason said the town will have great candidates for every position in November's municipal election.
"I just consider myself the best candidate for First Selectman because I've been in training for this position for almost three decades. I think it's a position I sincerely believe I would be successful at," he said.
Republican Town Committee Chair, Richard DiPreta, said Mason "would be an excellent first selectman" and praised his work on the BET over the years.
"Greenwich is fortunate to have such strong Republican candidates like Michael Mason willing to serve this town at all levels," DiPreta added. "I am encouraged that so many dedicated individuals have expressed a willingness to serve in all of the positions of town government for the upcoming municipal election this November."
Fellow Republican and current State Rep. Fred Camillo announced his plans to run for first selectman last month.
An endorsement from the RTC will come on July 24. Should Mason or Camillo not receive the nod, they can seek candidacy through a petition which would force a primary.
There will be another open spot on the Board of Selectman since John Toner announced in February that he will not seek re-election. Democrat and Selectman Sandy Litvack, who ran for first selectman against Tesei in 2017, hasn't announced what his future plans are yet.
Greenwich has not elected a Democrat as first selectman since 2001.