March 14, 2019
Greenwich Investment Banker Becomes Children's Author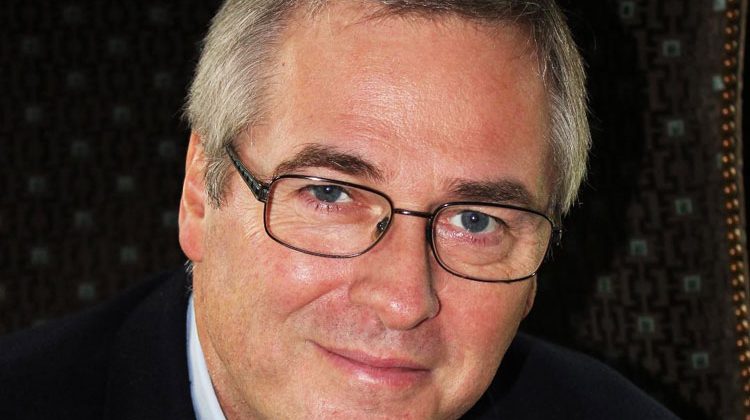 By Michelle Moskowitz
Sentinel Correspondent
Greenwich Resident Paul J. Collins has added a new title, children's author, to his repertoire which includes husband, father, and investment banker.
With the launch of his publishing company, Moonlight Puppies Press, Collins has written and developed a dynamic series of children's stories designed to entertain, educate and instill values and life principles in young readers aged 4-9.
The recently released books in the collection are thoughtfully crafted through vibrant storytelling, evoking action and adventure — while the characters encourage and inspire children to make good choices, care for others, and become their best possible selves.
Available titles include "Ellie the Eagle," "Tony the Tarantula," "The Seamstress and the Prince," "Moonlight Puppies," "Tickles the Tiger Cub," "The Dragon's Treasure," and "In Search of Bear," — a story about a little boy who, suddenly bored with his teddy bear, embarks on a journey in search of a better one, only to come to realize how special his own bear truly is.
Collins, currently a partner at Centerview Partners, a global, investment banking firm, previously served as Vice Chairman, Investment Banking and Global Head of Chemicals at Barclays Capital. He also held senior positions at Lehman Brothers, Merrill Lynch and The Blackstone Group.
Aside from building a lucrative career, Collins and his wife Elin, have been raising their children, ages 11, 9, and 7. Through the role of Dad, Collins tapped into one of his dormant talents of storytelling, which he developed as a child, often telling stories to his younger brother with whom he shared a room.
That passion became re-kindled when he began telling stories to his own children.
"Maybe it's the Irish in me," said Collins through a broad smile, who, along with his three siblings, was born and raised in Dublin, before coming to the States at the age of 21.
"I've always loved telling stories to my kids and so I started asking them more and more about the kinds of stories they would like me to tell them — such as about the American Eagle," said Collins.
This inspired his first tale, "Ellie The Eagle: The Rockefeller Christmas Tree," about a courageous country girl who helps her best friend, the eagle, rescue her four baby eaglet eggs hidden in the majestic tree.
Collins began using narratives to teach his children life lessons, such as learning how to count or about different types of animals, frequently featured in his books as his father was a veterinarian. His stories are embedded with the core principles that he and his wife instilled at home. "Family is the most important thing and we should all revolve around family."
Collins recalled the official "aha moment" to begin this new venture, which happened while on holiday with another Greenwich family.
He began telling one of the many stories in his repertoire during lunch (the story eventually evolved into "The Dragon's Treasure," a tale about a brave prince who risks his life to help others in need using clever solutions to solve challenges), when it occurred to him that what started out as an audience of just a few children, suddenly turned into a crowd of 30, huddled around him "like glue," listening attentively.
That's when it crystalized that perhaps he could captivate a much larger audience, and so began the process of formalizing these books on odd nights, weekends, and while on planes.
"I thought, what can I put together that will offer long-term value to kids, moms, dads, grandparents and what messages am I consistently trying to teach my own kids," said Collins.
Hence the creation of the Einstein-like ant, Professor Sci-Ants, who at the beginning of each book provides a framework with these "10 Principles of Life:"
Family is the most important thing
Appreciate what you have
Believe in your dreams
True friends will always be there for you
Always be willing to help others
Think before you act
Have the courage to act
Happiness comes from getting things done
Don't be a bully, everyone is special
Handicaps shouldn't hold you back.
One or more of these core principles are embedded within the context of each story, fostering a deeper connection to the characters through meaningful, value-based lessons.
Collins was also conscientious about building in elements that would appeal and resonate with adults as well, so that they could share right alongside their kids when constructing teachable life experiences.
For example, "The Seamstress and the Prince," is a heartwarming love story where the prince chooses a disabled heroic army veteran to be his wife, and at the end of the tale, she becomes the General of the Armies, while the Prince becomes a stay-at-home dad.
"To me, that was a way to teach my daughters that no matter what happens to you, you can go out there and be successful," said Collins. "It's all about you being strong as a person, that you can have the family, you can have the career, you can do well, no matter what the world throws at you."
Each book contains a dedication and a special message to the reader such as in "Moonlight Puppies" which Collins dedicates to his three children, "I hope you always believe in your dreams and work together to make them happen."
At the closing of each book, Collins includes a vibrant page of "Miss Ladybug's Bees," all of whom wear bright, white t-shirts proclaiming value-based messages such as, "be kind," "be a good listener," "be forgiving," and "be committed."
Collins was also fastidious when hand-picking illustrators (for which there are various ones) when designing each book, ensuring a particular vibrancy and larger-than-life appeal uniquely suited to each story.
"Kids are visual and if the art doesn't appeal to them, they are going to be less interested," explained Collins, who utilized 8 ½ by 11 full-size pages and high-quality paper to ensure an elegance and glossy texture so that pages feel solid in a child's hands and won't tear easily.
Collins' own children are often featured in the books and have influenced the stories in many ways, and Collins has been diligent about teaching them about the publishing process, such as how to work with an illustrator, and how one goes from the process of having an idea to a finished product.
"They have seen a business created which they can truly relate to because they heard the stories first and they are in the stories, which is just so much fun."
Slated for release at the end of April, is "Ellie The Eagle 9/11 Let's Never Forget," a historical feature about the terrorist attacks which teaches kids about empathy and bravery – among other important lessons. Collins said he would like to do more of these types of books in the future.
By the end of May, a total of ten books in the full series will be made available for purchase as a set. Future plans for the publishing company include books geared to teenagers, the creation of coloring books (of which there are already a few), as well as posters and plush toys that can be distributed at hospitals and at various charities.
When asked if his colleagues were surprised that given his day job as an investment banker, he could find the time to be a children's author, "I love my day job, it's a lot of fun helping companies figure out where they want to go and it's really important," said Collins. "But (Moonlight Puppies Press) is more on the creative side and adding value to the community long-term."
He added with conviction, "Our kids are the future and unless we invest the time in them, they are not going to be the kind of kids we want them to be."
A portion of the books' proceeds are given to a foundation that Collins created to benefit a number of charities including Doctors Without Borders, Prevent Child Abuse America, and St. Jude Children's Research Hospital.
Collins often referred to the strong family values that were imparted on him and his siblings while growing up.
"My Dad had a really big heart and whenever there was a crisis, he was always the first guy to try and do something. I'd like to think he would be very proud and say that's exactly what I would have done if I could have, as he too really loved to tell stories."
Visit Moonlightpuppies.com for more information and to purchase books for $19.99 each.
Tags:
Children's author
,
greenwich
,
Investment Banking
,
Paul Collins
,
Town of Greenwich
,
writing