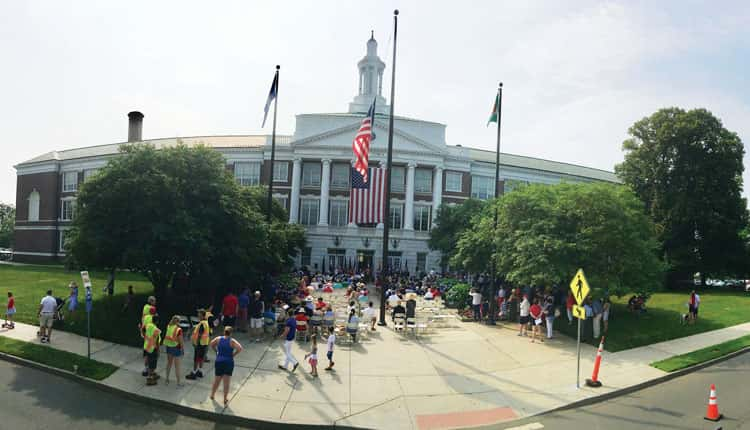 By Paul Silverfarb
Sentinel Editor
Freedom of speech has certainly been the topic of intense conversation in Greenwich recently. First Selectman Peter Tesei had a front row seat to that heated debate.
On Jan. 30 an event was held in Town Hall and hosted by Greenwich native and resident Carl Higbie, a former Navy SEAL who served two tours of duty in Iraq. The event, put together by the America's Voice Network, put all political topics on the table.
Gun control, taxes, and immigration had people from both parties talking about controversial issues, but it was Higbie's himself that seemed to spark the most controversy leading up to the event. Higbie has made controversial statements in the past. This fact caused some town residents to question why he was allowed to use space in Town Hall to host a forum. 
For Tesei, Higbie's right to rent space at Town Hall was never up for debate.
"Free speech is free speech," Tesei said. "You don't have to agree with what is said. It's a very dangerous precipice if we are going to start to select who is going to get it and who can't. That was my reasoning for saying, 'Look, you may not like what he is saying or you may not like him, but that's not our country.' He has a right to be a part of a group that held a town meeting that was televised through the Internet."
Until 2016, there wasn't a formal process to reserve rooms at Town Hall.
That's when Chuck Zsebik, Director of Purchasing & Administrative Services for the Town of Greenwich, put together a policy specifying that primary use of meeting rooms would be for town government but they could also be used by other organizations such as the Greenwich United Way, the Junior League of Greenwich, political committees, and others. Outside organizations are asked to provide some form of insurance to protect the town.
"Carl Higbie approached town administrators stating that he wanted to have a town hall forum for an entity called America Voice News," Tesei said. "He went through the process, provided the insurance and everything. And only when it became apparent that he is controversial because of his past incendiary, sexist, bigoted statements did people double over and ask why the Town was giving him this right."
Tesei said that the event was controversial because of Higbie's presence, but also thinks it's a left and right issue.
"It seems like people can't even have a normal conversation anymore because one is right and one is wrong," Tesei said, "rather than trying to get deeper in the topic, which is what I thought this whole program would be about and it did, to some extent, get into a fact-based discussion. At the end of the day, I am very pleased because of free speech and because the more people are talking, the less they are fighting, the less incendiary they are with their comments and perhaps a greater understanding of each other's perspective."
For Tesei, the ability to have free speech couldn't be more important.
"Civil discourse is something that I emphasized during this whole situation," said Tesei. "It's important that we keep to the standards that Greenwich is accustomed to, which is simple and respectful discourse. To be bullied not to hold a meeting because you have people on either side of the political pendulum is really an infringement upon on our fundamental rights as a free and open society."
"The outside of Town Hall is like a public plaza," Tesei said. "We generally like to know if something is going to take place because actually during business hours we need to assure access to the public who needs to do business at Town Hall.
Tesei added that he has been very clear that it's about safety and well-being, not content. "It's great and all power to anyone that wants to protest or speak or gather. We just need to know so we can ensure safety."