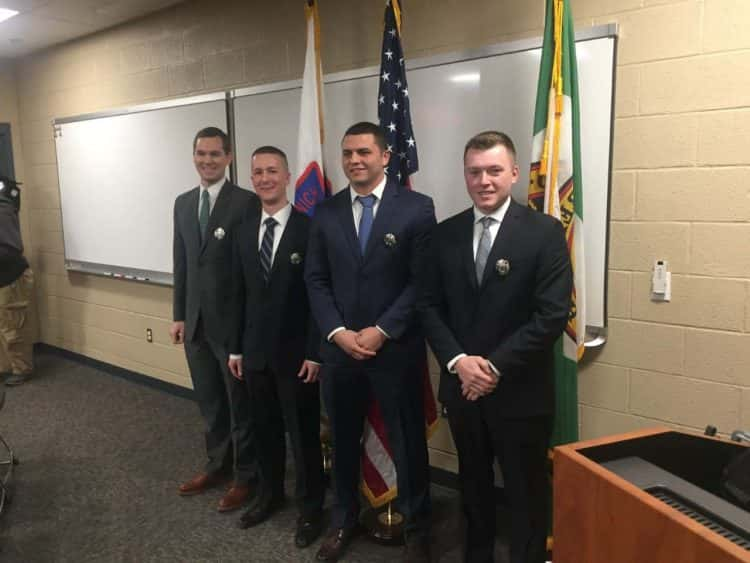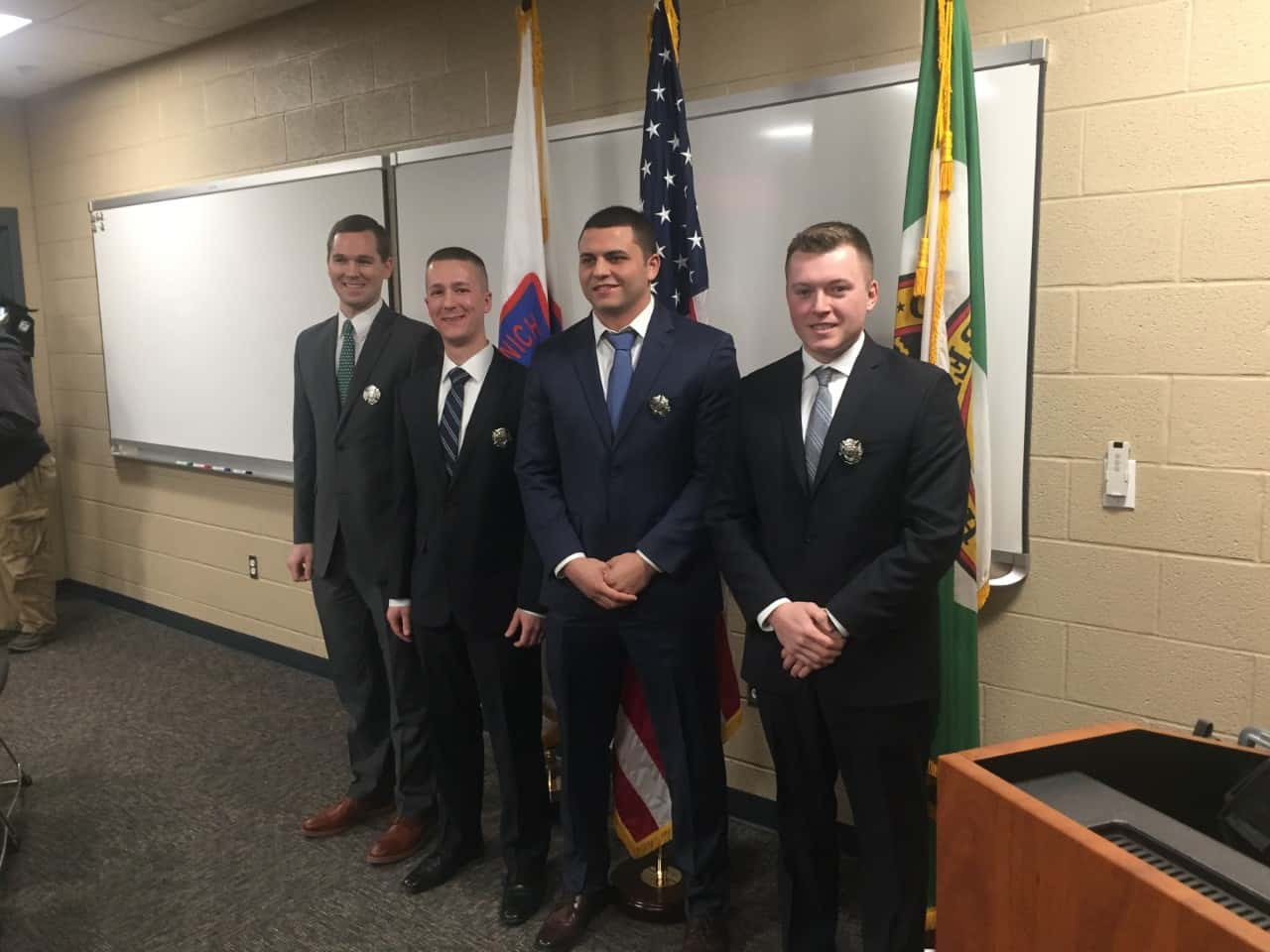 By Richard Kaufman
On Jan. 31 inside the Public Safety Complex, the Greenwich Fire Department welcomed four new recruits into the ranks.
Kyle Matthews, Forrest Armitage, Nick Reisman and Greg Brown were all sworn-in by First Selectman and Fire Commissioner, Peter Tesei. The recruits will fill the vacancies left by retired firefighters Rick Hayes, Terry Murphy and Chris Kear, and retired Deputy Fire Marshal, Rich Funck.
Although the retirees had 110 years worth of experience between them, GFD chief Peter Siecienski is confident the new recruits will represent the department and the town well.
"You've probably had many jobs up to this point, but this is a career, and with that career comes expectations," Siecienski said to the recruits. "Those expectations are that you are dedicated, loyal and you're compassionate to the residents and citizens of the town of Greenwich, to your fellow firefighters and to your families. That will be your measured benchmark."
The recruits went through a rigorous selection process over the past few years. 500 or so applicants were filtered through a written test, oral panel, background checks, psychological profiles and a department interview. 
"It's nice to say these four gentlemen excelled in all stages. We end up with the cream of the crop as is exhibited by these gentlemen," Siecienski added.
Each recruit brings a diverse background to the department.
Matthews graduated with a bachelor's degree in finance from Fairfield University, and was a volunteer firefighter in Monroe, Conn., before coming to Greenwich. He also previously worked in the aerospace industry as a product specialist. Matthews is a certified firefighter 2, fire instructor and Emergency Medical Technician. 
Matthews became interested in fire services because his grandfather was a career firefighter. He also dealt with tragedy at a young age. 
"When I was a senior in high school, unfortunately my own house burned down. So that really drew me to fire services," he said. "Knowing I'm going to make an impact on somebody's life in even the smallest way is definitely something that's an honorable profession."
Armitage comes to Greenwich having just completed his first semester at paramedic school at Hartford Hospital. He previously worked as an EMT for the city of Ansonia, Conn., and was an equipment maintenance technician for Medtronic. Armitage was also a motorsport mechanic, and is a certified firefighter 2, fire service instructor and EMT.
Armitage, who first became interested in public service growing up as a police explorer, described the swearing-in ceremony as "amazing."
"I've been pursuing this career for the past three years or so, and my dreams have finally come true. I couldn't ask to be a part of a better department," he said.
Reisman grew up in nearby Eastchester, N.Y., and studied human performance at the University of Tampa. He previously worked with the New York Yankees in Tampa, Fla., as a sports assistant.
"I feel like this has always been a place that's close to home for me," Reisman said. "I've heard so many great things about this town, and I can't wait to start serving it."
Brown graduated from Greenwich High School and attended the University of New Hampshire, where he studied construction and business management. Brown became a volunteer firefighter in Greenwich in 2009, and is a certified fire officer 1, fire service instructor, EMT, incident safety officer and hazmat technician.
Brown's father-in-law, Dan Ingraham, is a retired GFD lieutenant. Brown said it's exciting to begin his new career in the town where he grew up, and that his past experience as a volunteer will serve him well.
"It's beneficial that I kind of know the area and how some things work already. It will be a smooth transition," he said.
Before Tesei administered the oaths, he welcomed the recruits to the department and town.
"The role that you're going to play is an important one as firefighters. There's no greater service that this community or any community provides than life safety services. Protection of lives and property are critically important as people want to live in a secure and prosperous environment," Tesei said. "We depend on you day-in and day-out, and we thank your families for sharing each of you with us. You're coming to work and support this community of 62,000 people and doing a very difficult job."