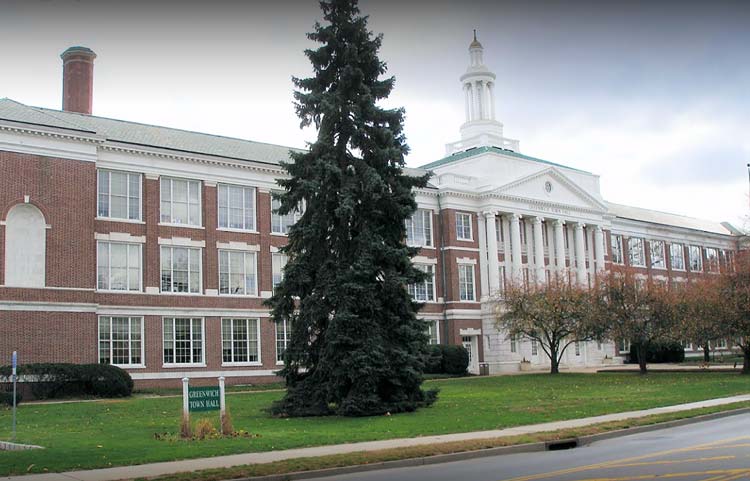 By Richard Kaufman
On Thursday night inside Town Hall in front of the public and the Board of Estimate and Taxation Budget Committee, First Selectman Peter Tesei unveiled his $442.3 million municipal budget for the fiscal year 2019-2020, which represents a $16.4 million, or 3.85 percent, increase in spending over the current year's budget.
"Following the tradition of the past 12 years of my administration, this budget represents a continuation of Greenwich's recognized sound financial and budgeting practices while managing the financial unpredictability caused by the budgeting and tax policies on both the Federal and State levels," Tesei said Thursday night.
"In particular, this budget reinforces my commitment to maintain the prosperous character of the Town of Greenwich and to grow its international reputation as the premier place to live, work and raise a family, and a place where residents hold in high regard the services they receive.'
In the proposed budget, the town's mill rate would increase 2.99 percent, which falls under this year's BET guidelines of a 2.25 to 3.25 percent increase. Tesei pointed out that since there was no mill rate increase last year, the increase over a two year period averages out to 1.5 percent. If the budget is approved as is, a taxpayer with a $1 million assessed home value will have a $340 increase in property taxes, Tesei said.
The proposed budget calls for $57.1 million in capital spending, which includes a $100,000 allocation to provide for continued work to identify and approve a location for a joint Northwest station for fire and GEMS. There is also $250,000 set aside to develop design plans for a new ice skating rink,  $300,000 for work on a new Eastern Greenwich Civic Center, $2 million to remediate the soil at Greenwich High School, and $500,000 to enhance and expand Roger Sherman Baldwin Park.
Following Tesei's presentation, Board of Education Chair, Peter Bernstein, and interim-Superintendent, Ralph Mayo, presented the Greenwich Public Schools' budget, which totals $163.3 million, a 1.95 percent increase over the current year.
Afterwards, there was a public hearing which lasted roughly 90 minutes. Residents mostly voiced their objection to turfing fields in town, citing various health risks associated with artificial turf. Others spoke in favor of a new Eastern Greenwich Civic Center and ice rink, while a few residents requested that the BET be fiscally prudent.
The BET Budget Committee will hold hearings on the budget beginning on Jan. 31, which will run through February. The Committee is scheduled to vote on the budget on March 1, the full BET will vote on March 28, and the Representative Town Meeting will convene to make cuts and approve the final spending plan in May.
For an expanded story and more on the 2019-2020 budget, be sure to check out next Friday's Greenwich Sentinel.