January 25, 2019
Seeing Through a Glass Clearly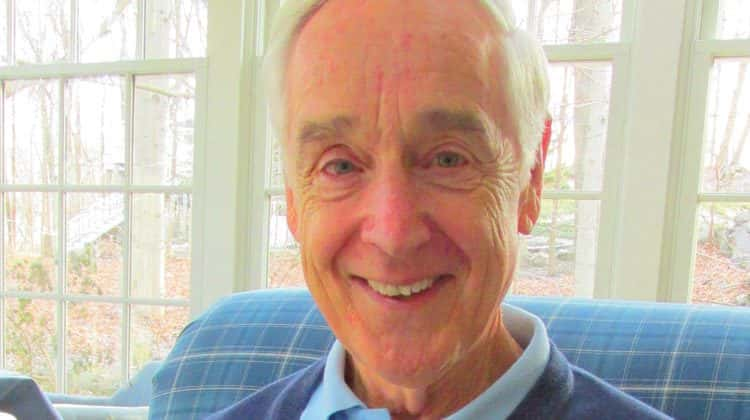 Greenwich Prognosticators Predictions For 2019 – And More
By Anne W. Semmes
It's a month down the road from that annual Greenwich December gathering of soothsayers, the Prognosticators, a group of town leaders, businessmen and other professionals who meet over lunch and a crystal ball to predict the next year's financial future – and presidential winner if it's an election year.
Goeff Parkinson, as seasoned investment advisor, presides over the luncheon, and has since he and the late Brooks Hoffman, who once chaired the Dept. of OB/GYN at Greenwich Hospital, co-founded the group 44 years ago.
The group now numbering 13 to 14 is a bit smaller these days with the passing of such erstwhile leaders as publisher Jack Moffly, presidential speechwriter Bill Ewald, CBS newsman Emerson Stone, columnist Bernie Yudain and Bottom Line entrepreneur Marty Edelstein. And women members are missing.
"Lolly Prince is not coming, I love Lolly," shares Parkinson of the former First Selectman who was a regular, as was former First Selectman Rebecca Breed. "I seem to lose the ladies every four or five years…but Ruth Sims [former First Selectman] was a member for some 10 years, then she left town."
So, picture around that prognosticating table First Selectman Peter Tesei, former First Selectman John Margenot, Selectman Peter Crumbine, Greenwich Police Chief Jim Heavey, Bob DeAngelo, CEO of the YMCA, realtor, Brad Hvolbeck, Probate Judge David Hopper, legal "guru" Bob Grele, Andrew Borner, executive at Bank of New York, and "our small business representative," Gary Miller. Missing were Bill Ferdinand, "a longtime executive at U.S. Trust," and former State Senator Scott Frantz.
Parkinson as chairman and custodian of the crystal ball [from a magician's shop in Manhattan] shared his group's winning Prognosticator for the Year of 2018, predictions for 2019, and much more, in the warmth of his backcountry home.
"Bill Ferdinand and Gary Miller were very close. A lot of weight is given to who predicts the Dow Jones best, and Bill predicted the Dow Jones would finish 25,141 on our anniversary date, the first Wednesday in December, and the market at that time was 25,538. But Gary was a little more consistent. Gary predicted that the NASDAQ would be 7,200, and it was 7,331, and he was close on the price of gold. His prediction was 1,300 and the actual price was 1,226."  Parkinson made a "chairman decision" and awarded Prognosticator of 2018 to Gary Miller.
For 2019, the numbers were fairly upbeat. "We look at it a year later from when we meet, anything that happens in between isn't really a factor.  Gary Miller was one of the most optimistic. He had the highest projection for the Dow Jones, something like 28,750. Interest rates were viewed as being somewhat stable, maybe two and a half to three percent in terms of the average Treasury rate.  Gold was generally expected to be about where it is to being slightly higher. Gas was expected to be anywhere from $2.50 to $2.75 for a gallon of regular."
But what began to ring out as clear as the hourly chime on the Parkinson Christmas Clock, was the concerns he and his group expressed for investing in the future.
"What did come up," he says, " is this concept of the market's being slightly disoriented by all of this mechanical aspect.  As we introduce artificial intelligence,  as we kind of substitute for the historical rules and whatnot,  as we yield to algorithms and things like that. I think we're creating the volatility we're now going to see. We're so confused by so much information. It just causes people to hesitate and to say, I'm holding back."
With such a representative group concerns for their community are part of their conversations. "David Hopper might be talking about probate issues and decisions. Estate taxes are a big deal.  Estate tax issues have had a material impact on the state itself, because of migration, people leaving the state. It's part of the reason that the deficit keeps coming up as a haunting issue in the state of Connecticut.
"Jim Heavey has been a very valuable edition. He's talking about the drug problem in town, how pervasive it has become. He's talking about some of the issues his department is dealing with Homeland Security, how his department has elements of Homeland Security incorporated into their policing. Police are dealing with people who have been hacked, with people who are using technology to steal money through ATMs, and how there are certain ways you can cover what you're doing on the ATM keypad."
Parkinson points to the importance of the Citizen Police Academy that he has experienced. "The Citizen Police Academy really educates you as to safety, and being part of the community because you report things, you feel comfortable enough to call the police department – you get the names of certain officers, and the sergeants and things.  And they say, here's my card,  call me, if you see anything say something and we check it out. And that Police Academy has now had over 700 people take it within the community."
Another concern Parkinson shares, "We're having a lot of trouble getting younger people interested in service organizations." A long time member of the Rotary Club, he says, "They're losing membership. The model of Rotary is service above self.  So, the concept is community people are more interested in the quality in community.
"Young people are under economic stress. They don't see themselves able to save money with the price of things and the taxes. They don't buy cars – they lease cars. Everything is on the short cycle. It's not on a long term and there's a pressure to that, you know. So, they live with less of that concept of investing in the future. "
The concerns Parkinson sees for the younger generation are writ large. "They're not pressuring the system for the right things. The right things would be for more responsible fiscal and monetary governance in all levels of government."
He has an uncanny way of approaching our country's debt that he shares with his Prognosticators. He begins. "Do you know how big a billion is? A billion seconds ago was 32 years. A billion dollars ago was only eight hours and twenty minutes in government spending.  So now the government spends four plus trillion dollars a year. We can't make sense of things when the numbers get so big. A trillion is a thousand billion. We have 21 trillion dollars of debt. This debt we're building is an inability to balance a budget, to even have a budget."
To close the meetings, Parkinson recites a Chinese Proverb:
"If you want happiness for an hour, take a nap, if you want happiness for a day go fishing. If you want happiness for a month get married. If you want happiness for a year inherit a fortune. If you want happiness for a lifetime, help someone else."
"We have a good time," he shares. "We are not really close associates, most of us. Some of us may only meet this one time a year. But I always feel like that everybody really enjoys just hearing everyone else contribute. It's a really warm kind of a environment. We always have fun."
Tags:
greenwich
,
Prognosticators