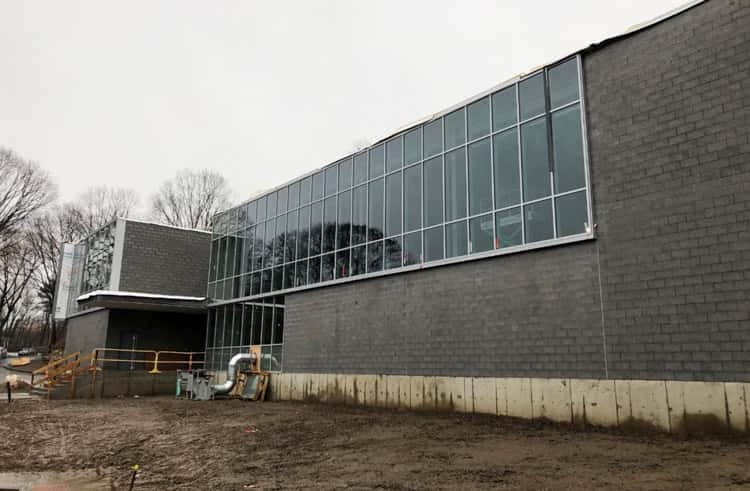 By Richard Kaufman
The brand new New Lebanon School continues to come to life with each passing month, as the February move-in date for students draws near.
On Monday, Greenwich Public Schools, in conjunction with the New Lebanon School Building Committee, released the January construction update.
Since the December update, Everource has completed their installation of the Electrical Transformer, which now provides permanent power. Elevator installation is now complete, media center glass has been installed, and the installation of the ceramic wall tile and epoxy flooring in the kitchen was completed.
Construction will shift to the interior in the coming weeks, with work involving things like flooring, bathroom partitions, classroom ceilings, light fixtures, lockers, carpeting and gym equipment.
Staff training of equipment and systems will begin in mid-January, according to the District.
The new school aims to reduce racial imbalance by attracting magnet students from other areas of town.
There will be a centrally located learning commons, instruction area, small group collaborative areas, independent study areas, a lego wall and a small-tiered read-aloud story corner.
The building is also designed to meet the sustainability goals established by the Educational Specifications and to achieve a gold-level LEED rating from the U.S. Green Building Council.
The building will serve nearly 400 students in grades PreK-5. It will contain 21 general classrooms, four dedicated classrooms for art, music and other activities, along with a media center, gymnasium and cafeteria.
Due to the historic budget impasse in Hartford two years ago, state funding for the project was put in jeopardy for several months. However, with perseverance and dedication, the District officially broke ground on construction in December of 2017. 
On Tuesday at Town Hall, the Greenwich delegation to Hartford presented a check worth $17.5 million from the State of Connecticut to the town of Greenwich and First Selectman Peter Tesei as reimbursement for the New Lebanon School construction costs to date. In total, the state has pledged to reimburse the town for 64 percent, or roughly $24 million, of the total estimated construction cost.
Construction Update Photos, taken Dec. 28, 2018, courtesy of Greenwich Public Schools: