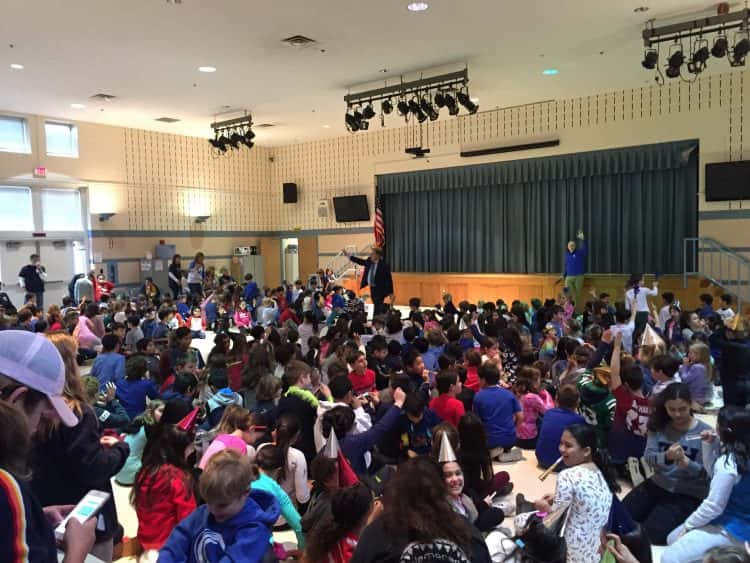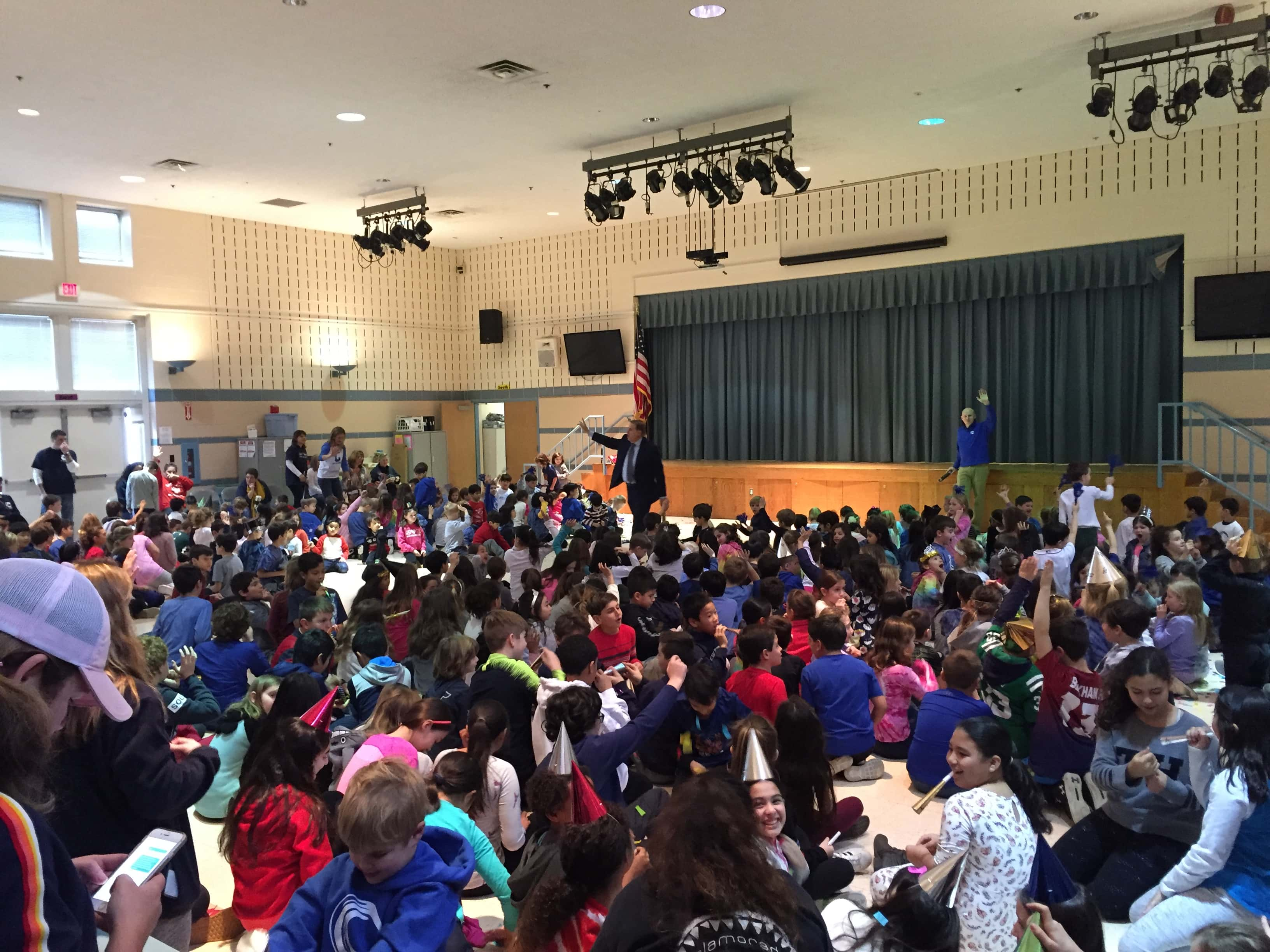 By Richard Kaufman
Confetti and the sounds of noise makers filled the air on Wednesday, at Cos Cob School, as students, faculty and staff celebrated the re-opening of their building following month's long construction and maintenance stemming from a major water leak.
There were nothing but smiles in the gymnasium, where everyone was treated to a surprise assembly featuring Mario The Maker Magician.
The re-opening of the school signaled the end of a tough few months for CCS. 
On or about Oct. 6, a plumbing fixture broke in the second floor art room, causing major flooding. The leak was discovered on Oct. 7, and the school was closed during the week of Oct. 8.
On Oct. 15, because of the damage to several rooms and areas on the first and second floors, Kindergarten was relocated to Parkway School, and grades 1 and 2 were moved to Old Greenwich School. Grades 3-5 remained at CCS on the unaffected third floor.
Some of the essentials rooms and non-classroom space aren't ready yet, including the music room, the media center, the main office and nurse's suite, but the art room, the source of the leak, is open for use. The main office is expected to be ready by next Monday.
CCS head custodian, Dale Ginise, said on Wednesday he hasn't had time to take in the fact that the building is fully re-opened. He's been busy coordinating maintenance efforts and working with contractors on construction.
"It was challenging and stressful," Ginise said of the last few months. "A lot of work was done."
Overall, $1.9 million was put towards flood remediation, construction and the relocation plan. The money was appropriated in mid-October.
For CCS Principal, Gene Schmidt, the last few months have been difficult to navigate at times, but the excitement and joy on Wednesday on the faces of students and teachers was rewarding.
"We had a plan and we were able to make it happen. It was a big team effort and it really panned out. We were able to get back [Wednesday], and that was the goal," Schmidt said. "I just see smiles everywhere. I haven't stopped smiling."
Kindergarten teacher, Holly Molis, was relocated to Parkway School, and said it was stressful at first. She also said the experience was positive because everyone pulled together.
"The staff at Parkway was extremely welcoming. We couldn't have asked for anything better," she said. 
Molis admitted that she didn't sleep much on Tuesday in anticipation of coming back to CCS. She said she had what the teachers call a "school dream," which she usually experiences at the beginning of every school year. 
In her dream, Molis' classroom was barren, her students were running around and she was unprepared to move back. 
However, her students came in Wednesday and settled right back into the routine they had before the water leak. 
"The kids came in, things were a little different in the room, but they ran with it. They came right in, sat down and knew what to do," she said. "We rolled with it."