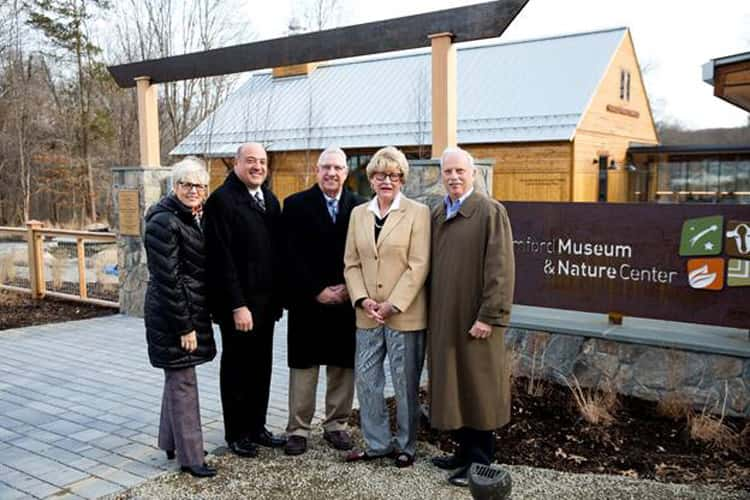 First County Bank has been a longtime supporter of the Stamford Museum & Nature Center (SM&NC). This includes executive leadership participation on the Board of Directors and Campaign for Future Generations Committee, as well as support of year-round events including sponsorship of the annual Maple Sugar Festival.
In conjunction with the Stamford Museum & Nature Center's Campaign for Future Generations, the First County Bank Foundation has committed $100,000 to help support ongoing educational programs that will take place in and around the new Knobloch Family Environmental Education Farmhouse, which opened earlier this month. This gift will be paid in $20,000 installments over a five-year period. Since 2001, the First County Bank Foundation has awarded nonprofit organizations individual grants worth more than $8.5 million.
"Giving back is part of who we are as an organization and, as education is a key focus of our Foundation activities, we are proud to support nonprofits such as the Stamford Museum & Nature Center, an organization that is a vital cultural and educational resource to us all," said Reyno A. Giallongo, Jr., First County Chairman and CEO, and President of the First County Bank Foundation.
The new Knobloch Family Farmhouse includes an indoor gathering space for nature and agricultural experiential learning, an overlook terrace with views of the SM&NC's existing landscape and pastures of Heckscher Farm, as well as a large multi-purpose room and mobile teaching kitchen.  Enrichment programs will be held year-round for school groups, campers and families.  The Farmhouse will also provide a teaching environment for the SM&NC's successful Aligned-With-Our-Schools-Program, which has increased by 300 percent, serving 33,350 school-age children.
"What this Farmhouse allows us to do is really transformational both in terms of our campus and the services we can provide," said Melissa H. Mulrooney, Executive Director & CEO of the Stamford Museum and Nature Center. "We are extremely grateful to all our friends at the First County Bank Foundation for taking the opportunity to support this exciting new facility and all of the educational activities that will take place in and around it for years to come."
It is very appropriate that the new Council Ring outdoor classroom was named in recognition of the First County Bank Foundation's gift, as it is located on the site of the former Maple Sugar House that has now been relocated west of the Farmhouse. The Council Ring, a place for learning and exploration, will serve as additional space for classroom instruction, an extension of the learning activities that will take place on the inside of the Farmhouse.
"It has been exciting to have been involved in the Farmhouse project and to now see it come to life," said Karen M. Kelly, First County Bank's Chief Digital Banking Officer, and the Foundation's Vice President. Kelly also serves on the SM&NC Board of Directors. "To have our institution associated with an organization at this level, especially one that is so beloved by the community, is very special and to be able to support the educational activities that the Farmhouse will provide is rewarding to us all."