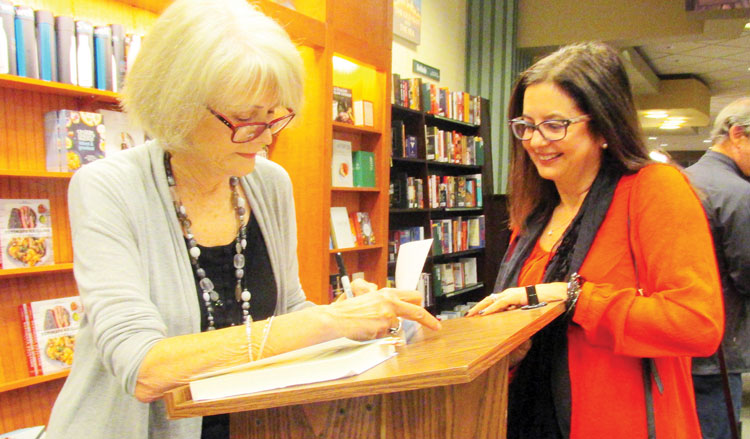 By Anne W. Semmes
Sentinel Correspondent
Jean Moore, a Greenwich author with especial empathy and imagination, launched her second novel Tilda's Promise recently at Barnes & Noble, in Stamford. She attracted fans and friends from the writing community of Greenwich, her fellow members of the Greenwich Pen Women, and her fellow volunteers of the Greenwich Library's Oral History Project (OHP).
Moore's first novel, Water on the Moon, was a 2015 prizewinner receiving a Gold Medal from the Independent Publisher Book Awards.
Moore's husband Steve Rubin introduced her, describing her new novel as a story of a widow's struggle to survive the death of her husband, living in a town called Water Haven, "very much like" Greenwich. Questions from her audience brought a special sharing of Moore's writing process.
"The story starts about four months after Tilda's husband dies unexpectedly," Moore began. "Her daughter is looking after her. She just wants to be alone…The first chapter is about the dichotomies of life, its joys and sorrows. How 'everything expires.'"
"The light that strays and vanishes and returns," quoted Moore from a favorite poem, 'Try to Praise the Mutilated World,' by Adam Zagajewski. "That's Tilda's frame of mind at the beginning, her commitment to the future, and to her granddaughter Tillie who is named after her."  Tilda makes a promise (hence the book's title) to her daughter, Laura, not to make significant changes in her life, not move out of her house, so as to pull herself together, "to just be able to deal with things."
Moore described her main characters as Tilda, daughter Laura, and granddaughter Tillie, who is experiencing a gender-identity crisis.
"Do you start your novel with your characters or with the situation?" was her first question.
"I begin to see a character. That character begins to take on a life. I then create the biography of the character." For example, in her first novel, she first envisioned her character "as a woman taking the garbage out to the garage. That's how it started. In this novel I wanted to write about loss, about family, about children. And I knew I would begin with a character named Tilda"
"Is it possible to understand loss without going through it?" she was asked.
"It's a question of empathy. I knew Tilda was an older person. I wanted to understand that level of loss, to get a handle on that. Light vanishes, it strays, and then returns. The story takes place over a year, from April 2014 to April 2015."
Did she have a role in creating the book cover? "I wanted a familiar beach scene,  like Tod's Point." And she wanted a woman not old with white hair, but with perhaps a touch of gray.
Had Moore read books on loss? "Yes," she answered, "Joan Didion, Joyce Carol Oates, and Elizabeth Kubler Ross and her five stages of grieving."
Did she have a writing routine? "I don't really have one. Writers are very different about that. Some may be up at five a.m. writing in their jammies. Truman Capote said some people write as they're thinking about their subject. With my writing I work diligently the closer I get to the finish. I leave home so I can write 24 hours a day."
How long has Moore been writing? "I'm a late bloomer," she replied. "I've been a teacher and worked in the corporate world, then got into publishing my work. I've belonged to a writers' group, and a writers' class. But I've always written. In elementary school I published a piece in the school newspaper, and I've wanted to be a writer ever since."
"Is there a theme of your work?" asked Greenwich author Sarah Littman. Moore's response was stark. "Death. The road ahead is a lot shorter than the road behind. I do a lot of reflecting."
Does she know in the writing how the book will end? "I have a vague idea. I want to be sure about the consistency of character. But the characters change things as you go along. You can cry over positions you put them in. It's like a child's imagination, and not losing what we have had. You're trying to tap into that imagination."
That gift of imagining and empathizing as expressed in Tilda's Promise seemed to resonate with Littman. "Jean is a thoughtful and empathetic writer. Her novel gives those who have suffered from sudden and unexpected loss a mirror to see that they aren't alone, and that healing, and even happiness, is possible when grief seems overwhelming."
"Jean beautifully captures memories of time's magic as well as its tyranny," offered Mary Ellen LeBien, who co-chairs the Oral History Project. "We are the lucky beneficiary of Jean's writing talents. She is OHP's blog director, writing blogs and mentoring others. You can sample her work at www.glohistory.org."